Brandon Avenue Projects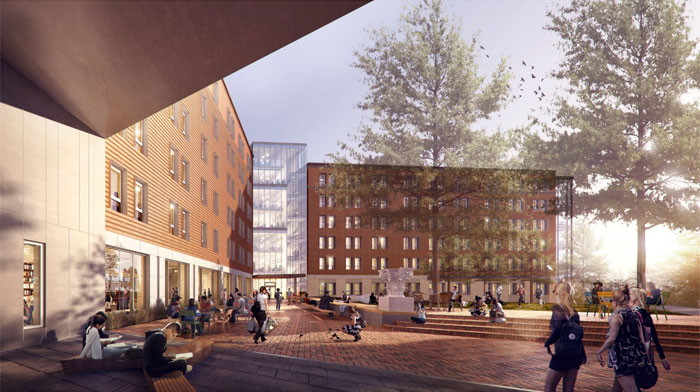 Bond House
Bond House (formerly called Upper Class Housing) is now complete and students moved into the building on August 25, 2019.
The building is approximately 208,000 gross square feet and six stories above grade with two levels of podium parking designed to accommodate 313 students in apartment-style housing and parking for 137 vehicles. There is some programmable space on the first floor of the building, including academic and multi-use spaces that will serve the Brandon Avenue district as well as others within the University community.
The main entrance to the building is accessed through a two-story portal facing Brandon Avenue. An open courtyard facing the south and west provides outdoor spaces for socializing as well as access to landscaped areas containing terraced seating steps and walkways integrated into the existing sloped topography of the site. Storm water is managed on site and incorporated into the landscape. There are ADA-compliant connections between Bond House and adjacent Bice House. Vehicle access to both levels of podium parking is by way of a new service road connecting Brandon Avenue to a parking lot along the railroad right-of-way immediately south of Bond House. Emergency vehicles will use this service road and existing lot for access to the east and south elevations of the building.
Green Street and Utilities
The Green Street vision builds upon a legacy of signature open spaces on the historic Grounds of the University. The redesigned streetscape combines a multitude of circulation, infrastructure and recreational functions, providing an attractive setting for new university buildings, including on-Grounds housing, new academic buildings, and a new Student Health and Wellness Center. The Green Street and adjacent park spaces will link significant circulation corridors, providing transition between historical and contemporary landscapes and character zones.
The Green Street project will have an urban streetscape design, with bioretention cells located in the median of the street. The central utilities to be installed include UVA electrical service, telecom, sanitary sewer and stormwater service, low-temperature hot water, chilled water, and domestic water service. Some of the existing City of Charlottesville utilities and Dominion Virginia Power electric lines will need to be relocated and/or upgraded in association with this project. The existing two stormwater management facilities located on the project site will be upgraded to improve the function and aesthetics of the facilities. In addition, the southern end of Monroe Lane will be realigned to a straighter road alignment that will allow for better access to the UVA Outpatient Surgery Center (OPSC) and also allow for more green space near the South Pond.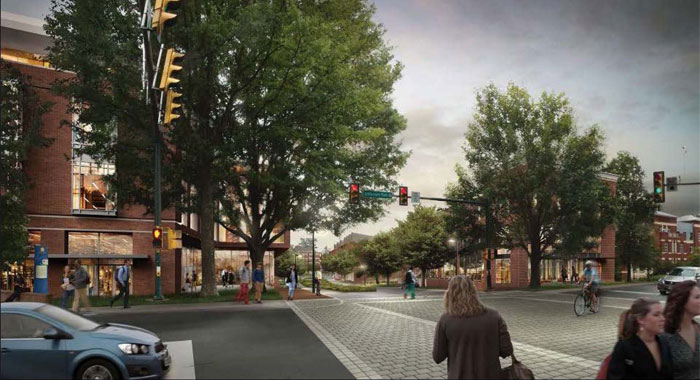 New Student Health Center
A recent assessment of current services, staffing and flow at the existing Student Health Center located at 400 Brandon Avenue, revealed a significant space deficit that could not be addressed by interior renovations or by a modest addition. The current space configuration and stacking of services also hinder Student Health's ability to effectively achieve its health and wellness objectives in support of the student experience and efficiently utilize clinician expertise.
Based on existing student needs, projected increases in student visits, full inclusion of wellness in its mission, and expanding its programs as described above, recent programming determined the need for a new facility to support student health and wellbeing. Consequently, the University has decided to construct a new Student Health & Wellness Center on a site near the southeast end of Brandon Avenue.
The new Student Health & Wellness Center building will be approximately 100,000 gross square feet with the possibility of including another 66,000 gross square feet for tenants. The entire structure, with tenants, will be three to five stories tall plus two lower-level parking platforms that will have grade access to Monroe Lane on the downward sloping east side.
Construction Alerts/Construction Project Status Reports
Resources
Documents
Contact information
Bond House (Upper Class Housing)
Green Street and Utilities
New Student Health Center