Custodial Services
We provide customer solutions to benefit the UVA Community and the environment.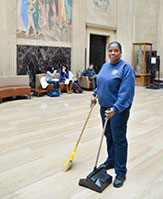 Custodial Services is one of the largest divisions of Facilities Management and provides environmentally-friendly custodial services for the University's facilities, including academic, medical research, residence halls and faculty housing, and other public buildings across Grounds.
In October 2013, the Custodial Services' cleaning program was awarded the prestigious Green Seal GS-42 certification. UVA became the first higher education institution in Virginia, and third in the nation, to receive this certification.
Custodial services for the UVA Health System, private clinics and related patient care areas are provided by UVA Environmental Services. The Environmental Services staff can be reached at (434) 982-1555.
Custodial Services gets published in APPA e-magazine!
Attention Facility Coordinators: Housekeeping special event form
Please use the event planning form that corresponds with your zone to submit any housekeeping needs for your next event.
Site-specific manuals address cleaning needs and unique challenges in most UVA buildings
A best practice in green cleaning is to carefully assess each building and develop a plan to address floor surface types as well as any unique cleaning challenge brought on by things such as live plants, animals or poor ventilation. The plan to address these issues is mapped out in the form of a manual and also includes customer communication protocols and policies that govern quality inspections, powered equipment use and what to do in the event of an emergency.
In 2013, UVA's Custodial Services department received national certification of its cleaning program by Green Seal, the leading organization that sets the standard for approved cleaning products and programs. As part of that certification, we made a commitment to develop site-specific manuals for most of the academic and public buildings where we provide services.
To inquire about a specific building manual, contact Sandra Smith, Custodial Services quality assurance and development manager.
Home-Green-Home


Learn about some green cleaning products and techniques to use in your own dormroom or home.
It takes a village


Partner with us to help keep working and learning environments healthier across Grounds.
You can contribute to an environment that supports better attendance, improved productivity and a greater sense of personal, intellectual and professional well-being. Learn numerous tips in the Support a Healthy Environment handout

.
We're GS-42 certified! Cleaning for Health ... yours, ours, your building and the environment


Learn more about what it means to be the third university in the nation and first in Virginia to achieve this designation

.

Custodial Services has initiated a comprehensive new housekeeping program called Green Cleaning. Green Cleaning is a unique housekeeping program that selects products and implements procedures that are less harmful to the environment. These programs also expose building occupants, visitors and housekeeping personnel to fewer health risks.

Programs that increase indoor environmental quality such as the one being implemented by Custodial Services are proven to reduce absenteeism by as much as 23 percent, increase employee retention by as much as 12 percent and improve productivity by as much as six percent.

The program is a more focused approach on the selection of products and the way that they are used with environment health and safety in mind.

Only products that meet the standards set by such agencies as Green Seal are selected for a Green Cleaning program. Green Seal is an independent, non-profit organization that identifies and promotes products and services that reduce pollution and waste, conserve resources and habitats and minimize global warming and ozone depletion. Product selection, however, is only the first step. In addition to products, there are also procedural changes. The housekeeping staff adheres to strict, regimented practices for everything they do, from cleaning a mirror to stripping the finish off the floor.

Our primary cleaner is hydrogen peroxide. Hydrogen peroxide is used as a glass and mirror cleaner, all-purpose cleaner, carpet spotter, degreaser and neutral floor cleaner.

Custodial Services employees use microfiber cloths as much as possible to dust and clean. The microfiber cloth is such a highly absorbent cloth that many cleaning applications can use only water and a microfiber cloth. We are converting the typical mop bucket and cotton mop to a flat microfiber wet mop with a mop bucket divided between the chemical solution and the picked-up mopping solution. This method avoids contaminating the clean chemical solution with the dirty water picked up from the floor.

Testing continues with zinc-free floor finishes. When zinc floor finishes are stripped off, there is a concern the heavy metal zinc may go into the waste stream.

Whenever possible, Custodial Services utilizes powered cleaning equipment approved by Green Seal and The Carpet and Rug Institute (CRI). The Green equipment has lower decibel levels than traditional equipment and minimizes water and chemical usage.

Green Cleaning protects health without harming the environment. Applying Green Cleaning at the University of Virginia protects the health of vulnerable populations among students, staff and faculty, parents and visitors and the custodial staff.

By applying Green Cleaning, Custodial Services is cleaning for health and replacing the traditional housekeeping services with a more efficient and environmentally sustainable practice.
The road to GS-42 certification took us to other destinations as well


Discover what else we achieved

.
Development of staff

The science of green cleaning
How to work successfully as part of a diverse team
How to perform research and identify best practices
How to manage a complex project
How to prepare and deliver presentations

Standards for quality

Custodial carts
Custodial closets (click to find out more)
Cleaning results
Customer service (click to find out more)
Develop an eye for detail
Site specific manuals will detail specific cleaning challenges and plans for each building (click to find out more)

Link to performance

Department-wide performance goals from associate director to front-line staff
Everyone had a role in achieving certification
Full team participation helped bring about increased buy-in to new procedures, products and tools
Want to know more about how we measure the quality of clean?
"What gets measured gets managed" is true in all industries. For Custodial Services, we use APPA cleaning levels to help benchmark the quality of our cleaning results.
APPA, the Association of Higher Education Facilities Officers, defines five levels of clean, with one being cleaning at the highest level and five equating to "unkempt neglect."
Our goal is to reach the second highest level of clean. To measure this, we designed and use an electronic inspection tool, named the Automated Audit Tool, which is based on APPA standards and appearance levels.
The inspection tool assigns numeric values to multiple items in various space types. In a restroom, for example, the tool primarily assesses the cleanliness of floors, sinks and toilets. Dispensers are also checked to measure re-stocking levels. Each item inspected receives a numeric value and when the total score for the space exceeds 2.5, supervisors are charged with investigating root causes and developing corrective action plans to help move the score closer to the targeted 2 level.
All scores and information collected get deposited into a database that can then be "mined" for reporting and benchmark comparison purposes.
Making it gleam


Find out what happens on Fridays

.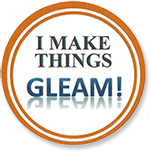 GLEAM Team Fridays! put the shine back in glass, mirrors, brass, wood, flooring and anything else in buildings across Grounds that need specialized deep cleaning. The objective is to spend concentrated time cleaning, polishing and burnishing areas of a building that may not be addressed during normal, routine service. On GLEAM Team Fridays!, staff members provide service on a limited schedule during the morning, so that several hours can be devoted to hardcore, intensive cleaning of elevators, baseboards and corners, brass kick plates and floor drains.
Employees who produce dramatic results are rewarded with an on-the-spot sticker proclaiming "I make things GLEAM!"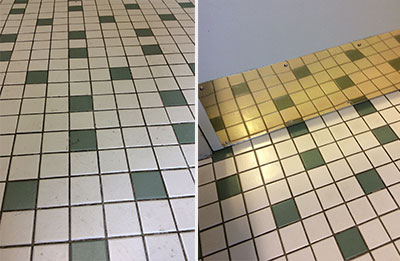 Front-line staff on the move UP


Learn about our unique Top Performer class.
Twice each year — in the spring and fall — supervisors and managers nominate front-line employees whom they feel demonstrate high potential for more development, skills, knowledge and success.

A six-week course of 90 minutes each week provides 10-12 candidates numerous opportunities to step outside of their front-line duties and focus on improving their skills in multiple areas including:
Elevate self-confidence and self-awareness
Analyze and solve problems
Provide some technical expertise in the science behind 'green' cleaning
Games are included in the course including a form of 'Jeopardy' that help instill important lessons within the context of fun.
One of the highlights of the course is each participant decides on a goal that is important to him or her and is attainable within the time frame of the course. The course culminates with a group set of Guiding Principles. Signed by each participant and framed, these principles express the most important take-aways for participants as a result of their six-week educational journey. To be included on the list, each principle must be agreed upon unanimously by all participants as an important lesson learned.
Graduates receive a framed certificate and framed copy of their agreed-upon Guiding Principles.
"This is How We Do It!" award celebrates the best in our team members


Learn more about this important recognition.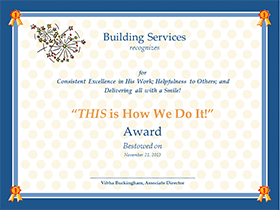 This is How We Do It! award is presented to front-line team members who demonstrate one or more of the following:
Demonstrates or recommends a "Best Practice"
Good, workable suggestion that is implemented
Consistent excellence in their work; a genuine concern for quality in everything that they do
Understands the customers' needs and works to meet them consistently
Consistent, speedy response
Provides help to co-workers (unrequested)
Works above and beyond without being asked
Improves a work technique, method or procedure
Exemplary role model or mentor to others
Excellent team player (puts the focus on the team and not themselves)
You can learn more about this award by viewing the This is How We Do It! handout

.
Going beyond customer service to customer delight


See our roadmap to wowing our customers.
We know who our customers are.
We know what our customers want.
We believe that communication is the foundation for strong, long term relationships.
We believe that it's important to manage customer expectations so that we are all on the same page when it comes to what is expected and what we deliver.
We listen to our customers and act accordingly.
We empower our staff to own and solve problems.
We realize that details count and that sometimes the smallest things have the biggest impact.
Training means improving and we take both seriously.
We keep our finger on our customers' pulse — how are they perceiving our services yesterday, today and tomorrow.
Wall of Shine!


Read what our customers are saying about us.
Wanda,
Good afternoon. I wanted to take a second to let you know that Norman and the team always do an exceptional job keeping the Leake Building immaculate however yesterday Norman and the team went above and beyond in preparation for yesterday's "Open House".
Please extend our gratitude to the team and let them know that we see the great job that they do!
Thanks again!
William Hussey, Jr.
---
I wasn't able to be at the open house – jury duty that Thursday – but was impressed to see last minute prep at about 6 pm on Wednesday for the event. Outstanding! Thank you!
Cheryl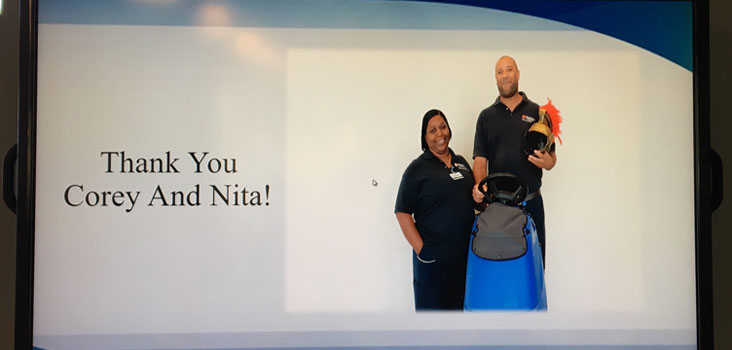 Featured in a main hallway of South Lawn.
Good morning Miss Buckingham,
Before the weekend began, I wanted to take a minute to let you know that we in H.R. are SO HAPPY to have Sandy back. She is excellent, always has been. We are hoping she'll be able to stay over here because of how great and friendly she is.
And also, because of how clean she keeps our buildings. She does a wonderful job, Vibha.
Have a wonderful weekend,
Erin Shelton
Dear Geri,
I wanted to follow-up on our conversation from Friday and share my gratitude for Reece's performance on Sunday, September, 17th.
Sunday, September 17th was a remarkable day in the Rotunda's history as the Confederate Memorial plaques were removed from the building's façade. This work was done early in the morning and was a tense and hurried endeavor. I was supremely impressed by Reece's composure and commitment to continuing his work notwithstanding the sensitive and potentially, though thankfully unrealized, conflictive nature of the work. His attitude was superb and commendable. On top of all of that, the work was messy and we managed to dump decades of dirt, birds' nests, and other assorted muck all over his clean floors which he was more than happy to re-clean.
I've been impressed by Reece since day one, but found him to be exceptional in this opportunity.
I hope these thoughts can be shared both with Reece and with management.
Best,
Adam
Dear Mr. Webb,
On behalf of the staff and membership at the Senior Center, I would like to thank you for your support of the 2017 United Way Laurence E. Richardson Day of Caring, 20 September 2017. Our excellent group of volunteers from UVA Facilities Management continues to do our Transparent Window project here at the Senior Center, and we truly appreciate the volunteer efforts.
Although the Senior Center is a volunteer driven organization, there are some volunteer projects our seniors are not physically able to do and washing windows and second story windows is one of those projects. The UVA Facilities Management Team under the direction of, Kevin Key and Reggie McGhee, plus your volunteer team of Hattie Agee, Phillip Cabell, Bucky Crickenberger, Jesse Johnson, Raymond Jackson, Sandy Morris, Kenny West and Duane Wood; along with your leadership and Wayne Mays, they did a magnificent job cleaning our windows. They not only did a first-rate job with the volunteer project, they did it with smiles, team-work and enthusiasm. We always enjoy having them on-site. Personally, Reggie, Kevin and I, have built a good relationship and we have the process under control, which makes everything run smoothly.
Senior Center, Inc. is an independent, 501(c)(3) funded entirely by private contributions, member and program fees, and special events; we do not receive federal, state or local government funding. We are now one of seven Senior Centers that has been accredited three times in the United States. Our mission is to positively impact our community by creating opportunities for healthy aging through social engagement, physical well-being, civic involvement, creativity and lifelong learning. With this mission, our next large goal is our Capital Campaign towards building the Center at Belvedere. Our local aging populations, in the greater Charlottesville area will more than double from 27,000 in 2000 to 56,000 by 2020. We envision a center that will transform our ability to support individuals and families, keep seniors living independently in their homes, help other non-profits, and relieve strained social services.
Thank you for your generosity and involvement in United Way Day of Caring.

Sincerely,
Kimberly K. Haynes
Coordinator of Volunteer Resources
Contact information
Management

Vibha Buckingham
Associate Director
Phone: (434) 924-3336
Email: vjb3d@virginia.edu

Ryan Gumlock
Custodial Services Superintendent
Phone: (434) 243-7782
Email: rpg4r@virginia.edu

Sandra Smith
Quality Assurance and Development Manager
Phone: (434) 243-6319
Email: sas7rs@virginia.edu
Area managers

Joe Newton
Central Grounds
Phone: (434) 924-0539
Email: jmn2v@virginia.edu

Tanyia Moore
Housing
Phone: (434) 924-3702
Email: tm2hf@virginia.edu

Hattie Agee
Health System Physical Plant (HSPP)
Phone: (434) 924-6470
Email: ha@virginia.edu

Tiffanny Morris
Newcomb
Phone: (434) 924-8822
Email: tdm5ef@virginia.edu

Reggie McGhee
Southwest McCormick
Phone: (434) 982-4971
Email: ram4k@virginia.edu