Custodial Services
We provide customer solutions to benefit the UVA Community and the environment.
Custodial Services is one of the largest divisions of Facilities Management and provides environmentally-friendly custodial services for the University's facilities, including academic, medical research, residence halls and faculty housing, and other public buildings across Grounds.
In October 2013, the E&G Custodial Services; cleaning program was awarded the prestigious Green Seal GS-42 certification. UVA became the first higher education institution in Virginia, and third in the nation, to receive this certification.
Custodial services for the UVA Health System, private clinics and related patient care areas are provided by UVA Environmental Services. The Environmental Services staff can be reached at (434) 982-1555.
Wall of
Shine

!



Read what our customers are saying about us.

Good morning Wanda,
I wanted to follow up in writing about the comments I made this morning regarding James Bledsoe and the work which he performs in Skipwith Hall.
I transferred into Skipwith Hall due to the large number of staff in my office and the response to COVID19. I have had the opportunity to observe James as he performs his duties. I wish to offer praise to you for him, regarding his work ethics. These are my observations:
James works well without supervision. Whenever I see him, he is involved with making Skipwith Hall clean, and SAFE for staff.
James always uses his PPE. Since the start of COVID19, I have not seen him without a face cover. Even with the face cover, you can perceive that he does his duties with a smile on his face. He is pleasant with every encounter.
James approaches his duties with focus and energy. Whenever I see him, he is engaged in his duties, whether it is cleaning a restroom or emptying trash cans, or various other duties. He accepts the responsibility he has to provide a safe environment to Staff here in the building.
I feel safer knowing that James is in the building. I truly appreciate all he does to help me perform my duties. It is a privilege for me to serve UVA alongside James. He is wonderful individual who contributes greatly to UVA. I am sure you are proud to serve with him. I know that I am proud of him, too.
Best,
Michael E. Duffy, CAFM
Transportation Operations and Fleet Manager
Dear Mr. Newton and Ms. Buckingham,
I hope you will not object to my writing you — but I felt I had to tell you the splendid job Lois and Eugene (our maintenance/facilities staff in New Cabell Hall) are doing to keep NCH clean during this difficult time of the pandemic. I cannot imagine two more dedicated and more accommodating people. They are model employees — always with a mask, always at the job, always helpful, and always ready to be of assistance. I have been at the University 46 years, and I have never seen NCH in better condition than it is right now — halls and rest rooms in spic-and-span condition. It is a pleasure to have a work area like ours, and we owe it to people like Lois and Gene.
We too often, I think, take our maintenance staff for granted. We expect our surroundings and work areas to be clean and in working order, and we forget the effort and hard work it takes on the part of colleagues like Lois, Gene, and others to achieve this goal. I therefore like to let it be known, from time to time, how much we appreciate them, especially in difficult situations like the present one. We could not do our work if they did not first do theirs. We are so fortunate to have such people on our team.
Sincerely,
Mark J. Elson
Professor of Slavic Languages and Literatures
Mark and Vibha,
I trust this message finds you both doing well. I write to provide acknowledgement to those on your teams supporting the School of Education and Human Development. I have received a number of kudos over the past several weeks regarding the work your teams have done to prepare for a safe return of students, faculty, and staff to Grounds. I know that this was an undertaking and we feel very well taken care in our facilities both on and off-Grounds. Our collective thanks to Tiffany, Jamie, Ryan, Kenny, and the teams supporting them for the outstanding effort this summer and fall.
Best,
Joey
Hi Tiffany,
I am Mary Greene, working at 2420 Old Ivy Rd. I am writing to inform you of a great job that the cleaning crews has perform here in the last two weeks. Allen. Benita and Titus has gone about and beyond the call of duty cleaning here at 2420 Old Ivy Rd.
They have been cleaning the bathrooms and door handles all day and mopping the bathroom and our break rooms — which I haven't seen since we move in over a years ago.
They are truly some awesome workers. We need more workers like them. Doing an excellent Job!
Mary Greene
Hello Mr. Katina,
This is William Bray with the Monitoring Station. I just wanted to let you know that myself and many of my colleagues have been thoroughly impressed with Simon's performance when maintaining our workspace. He is the most thorough custodial worker we have had yet, and has been very diligent in showing up both on time, and being consistent in sanitizing our area. In a time where we need to be extra careful of keeping a clean environment he goes beyond our expectations and we are very glad to have him. Please be sure to pass along our gratitude!
William Bray
UVA Police Dept Monitoring Station
A Message to All Members of the UVA Community:
How Custodial Services is working to minimize the threat of COVID-19
Dear Community Members:
More than ever, our focus is to provide services that protect the health, welfare and safety of all members of the UVA community.
To address recent viral threats, we've added

infection prevention

as a priority to our core business purpose.
To ensure the health and welfare of our team, we've provided comprehensive training to all front-line and management staff in the proper use of PPE, disinfection chemicals and other protective protocols.
A primary product in our cleaning toolkit is an EPA-approved disinfectant which effectively removes harder to kill viruses, including COVID-19.
We have upgraded our efforts to prevent cross-contamination by more regularly disinfecting high touch surfaces.
We have been trained in specialized disinfection so that we can provide emergency response for areas occupied by suspected or confirmed cases of COVID-19.
Proper inventory management has become an even greater priority to ensure critical products and PPE are in adequate supply so that necessary services continue without interruption.
We regularly clean, maintain and store powered equipment to avoid cross contamination and ensure readiness for use when needed.
More detailed information about our disinfection protocols can be found by clicking on the banner at the top of this web page.
Together when we remain vigilant in our shared efforts to minimize this viral threat, we will meet this challenge and emerge stronger than before.
Sincerely,
Your UVA Custodial Team
Questions: Reach out to Associate Director Vibha Buckingham at vjb3d@virginia.edu.
Frontline Heroes Perform "Infection Prevention" on Grounds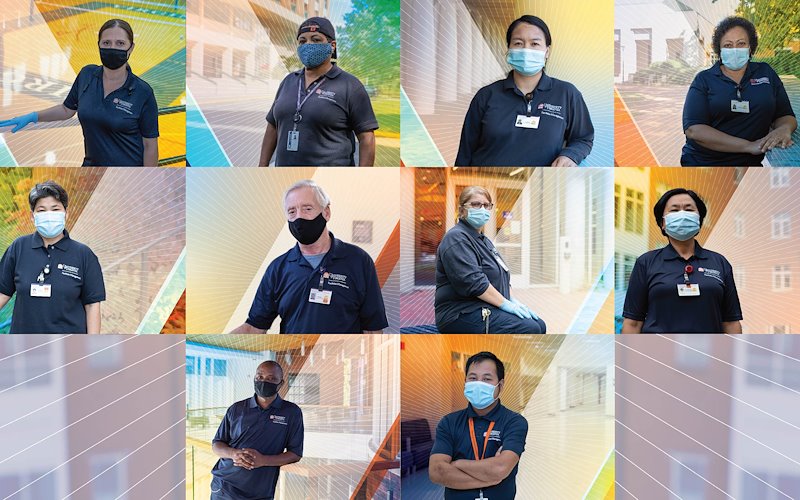 UVA President Jim Ryan Thanks Custodians in a Personalized Video
Cup-A-Joe: Customers Say "Thank You" to Frontline Heroes
This video was created and produced by UVA Facilities Management employee Joe Newton of Cup-a-Joe Films to support and celebrate the milestone accomplishments of the E&G Custodial Services team. This is the latest in a series of video "stories" that Joe has created to highlight individual and group successes. When he's not behind a camera, Joe is the manager of E&G's Central Zone, where he and his team manage custodial services for 36 buildings across Grounds.
UVA's E&G Custodial Services Team Honored by APPA for Innovation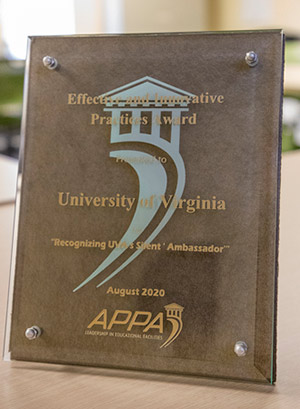 APPA has awarded UVA's E&G Custodial Services team its prestigious "Effective & Innovative Practices Award" for our development of a professional certification track based on Green Seal's GS-42 Standard. In a press release issued on August 3, 2020, APPA noted that UVA's program honors the dedication and hard work of UVA's "silent ambassadors" who create environments that attract thousands of students to the university every year.
This educational opportunity is thought to be the first such program to be based on the GS-42 standard. One of its core objectives is to award professional certification to frontline and management team members who demonstrate "substantial knowledge and application of job relevant GS-42 requirements." In 2019, 24 individuals, including 10 frontline associates, achieved this distinction. Plans are underway to offer certification to all remaining team members in the foreseeable future.
In accepting the award, department head Vibha Buckingham said, "We are honored that our program was selected for this special award; special mostly because it represents what we have long worked toward — recognizing individuals who work hard every day to create clean, healthful and stimulating environments across Grounds."
Custodial Services gets published in APPA e-magazine!
Attention Facility Coordinators: Housekeeping special event form
Please use the event planning form that corresponds with your zone to submit any housekeeping needs for your next event.
Site-specific manuals address cleaning needs and unique challenges in most UVA buildings
A best practice in green cleaning is to carefully assess each building and develop a plan to address floor surface types as well as any unique cleaning challenge brought on by things such as live plants, animals or poor ventilation. The plan to address these issues is mapped out in the form of a manual and also includes customer communication protocols and policies that govern quality inspections, powered equipment use and what to do in the event of an emergency.
In 2013, UVA's Custodial Services department received national certification of its cleaning program by Green Seal, the leading organization that sets the standard for approved cleaning products and programs. As part of that certification, we made a commitment to develop site-specific manuals for most of the academic and public buildings where we provide services.
To inquire about a specific building manual, contact Sandra Smith, Custodial Services quality assurance and development manager.
We're GS-42 certified! Cleaning for Health ... yours, ours, your building and the environment


Learn more about what it means to be the third university in the nation and first in Virginia to achieve this designation

.

Custodial Services has initiated a comprehensive new housekeeping program called Green Cleaning. Green Cleaning is a unique housekeeping program that selects products and implements procedures that are less harmful to the environment. These programs also expose building occupants, visitors and housekeeping personnel to fewer health risks.

Programs that increase indoor environmental quality such as the one being implemented by Custodial Services are proven to reduce absenteeism by as much as 23 percent, increase employee retention by as much as 12 percent and improve productivity by as much as six percent.

The program is a more focused approach on the selection of products and the way that they are used with environment health and safety in mind.

Only products that meet the standards set by such agencies as Green Seal are selected for a Green Cleaning program. Green Seal is an independent, non-profit organization that identifies and promotes products and services that reduce pollution and waste, conserve resources and habitats and minimize global warming and ozone depletion. Product selection, however, is only the first step. In addition to products, there are also procedural changes. The housekeeping staff adheres to strict, regimented practices for everything they do, from cleaning a mirror to stripping the finish off the floor.

Our primary cleaner is hydrogen peroxide. Hydrogen peroxide is used as a glass and mirror cleaner, all-purpose cleaner, carpet spotter, degreaser and neutral floor cleaner.

Custodial Services employees use microfiber cloths as much as possible to dust and clean. The microfiber cloth is such a highly absorbent cloth that many cleaning applications can use only water and a microfiber cloth. We are converting the typical mop bucket and cotton mop to a flat microfiber wet mop with a mop bucket divided between the chemical solution and the picked-up mopping solution. This method avoids contaminating the clean chemical solution with the dirty water picked up from the floor.

Testing continues with zinc-free floor finishes. When zinc floor finishes are stripped off, there is a concern the heavy metal zinc may go into the waste stream.

Whenever possible, Custodial Services utilizes powered cleaning equipment approved by Green Seal and The Carpet and Rug Institute (CRI). The Green equipment has lower decibel levels than traditional equipment and minimizes water and chemical usage.

Green Cleaning protects health without harming the environment. Applying Green Cleaning at the University of Virginia protects the health of vulnerable populations among students, staff and faculty, parents and visitors and the custodial staff.

By applying Green Cleaning, Custodial Services is cleaning for health and replacing the traditional housekeeping services with a more efficient and environmentally sustainable practice.
Want to know more about how we measure the quality of clean?
"What gets measured gets managed" is true in all industries. For Custodial Services, we use APPA cleaning levels to help benchmark the quality of our cleaning results.
APPA, the Association of Higher Education Facilities Officers, defines five levels of clean, with one being cleaning at the highest level and five equating to "unkempt neglect."
Our goal is to reach the second highest level of clean. To measure this, we designed and use an electronic inspection tool, named the Automated Audit Tool, which is based on APPA standards and appearance levels.
The inspection tool assigns numeric values to multiple items in various space types. In a restroom, for example, the tool primarily assesses the cleanliness of floors, sinks and toilets. Dispensers are also checked to measure re-stocking levels. Each item inspected receives a numeric value and when the total score for the space exceeds 2.5, supervisors are charged with investigating root causes and developing corrective action plans to help move the score closer to the targeted 2 level.
All scores and information collected get deposited into a database that can then be "mined" for reporting and benchmark comparison purposes.
"
This

is How We Do It!" award celebrates the best in our team members



Learn more about this important recognition.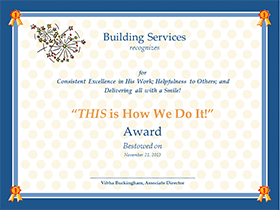 This is How We Do It! award is presented to front-line team members who demonstrate one or more of the following:
Demonstrates or recommends a "Best Practice"
Good, workable suggestion that is implemented
Consistent excellence in their work; a genuine concern for quality in everything that they do
Understands the customers' needs and works to meet them consistently
Consistent, speedy response
Provides help to co-workers (unrequested)
Works above and beyond without being asked
Improves a work technique, method or procedure
Exemplary role model or mentor to others
Excellent team player (puts the focus on the team and not themselves)
You can learn more about this award by viewing the This is How We Do It! handout .
Going beyond customer service to customer
delight
See our roadmap to wowing our customers.
We know who our customers are.
We know what our customers want.
We believe that communication is the foundation for strong, long term relationships.
We believe that it's important to manage customer expectations so that we are all on the same page when it comes to what is expected and what we deliver.
We listen to our customers and act accordingly.
We empower our staff to own and solve problems.
We realize that details count and that sometimes the smallest things have the biggest impact.
Training means improving and we take both seriously.
We keep our finger on our customers' pulse — how are they perceiving our services yesterday, today and tomorrow.
Contact information
Management

Vibha Buckingham
Associate Director
Phone: (434) 924-3336
Email: vjb3d@virginia.edu

Sandra Smith
Quality Assurance and Development Manager
Phone: (434) 243-6319
Email: sas7rs@virginia.edu

Ryan Gumlock
Custodial Services Superintendent
Phone: (434) 243-7782
Email: rpg4r@virginia.edu
Area managers

Joe Newton
Central Grounds
Phone: (434) 924-0539
Email: jmn2v@virginia.edu

Tiffanny Morris
Newcomb
Phone: (434) 924-8822
Email: tdm5ef@virginia.edu

Reggie McGhee
Southwest McCormick
Phone: (434) 982-4971
Email: ram4k@virginia.edu

Hattie Agee
Health System Physical Plant (HSPP)
Phone: (434) 924-6470
Email: ha@virginia.edu