Resources
University Offerings
The University offers a variety of classroom and online programs for employees. Some of the sessions FM employees may be interested in include:
Talent Development (formerly Center for Leadership Excellence)
Facilities Management Occupational Health & Safety
Occupational Health & Safety (OHS) provides a wide range of health and safety training options to help sustain a healthful and safe working and learning environment. These training courses are offered not only to meet numerous regulations, but also toward an effort to encourage health and safety throughout the entire university community.
To register an employee for training, supervisors should email OHS (no phone calls please) with: employee's first and last name as shown in Oracle, email (ex: abc5r), shop number, and department or zone name. For additional training details, class offerings or to request a training class that is not currently offered, please see the Occupational Health & Safety Training Calendar or contact OHS at 434-297-6379.
Hoo's Well
All IM-Rec Sports classes are free for Employees and spouses covered by the UVA Health Plan. Call 434-924-3791 to register for classes as space is limited. Some classes may be "drop in" and do not require advance sign up or notice. All experience levels welcome.
Visit the Hoo's Well website to see descriptions of all current classes offered.
EAB (Education Advisory Board)
FM subscribes to EAB (Education Advisory Board) – a company that offers best practice research and practical advice to higher education.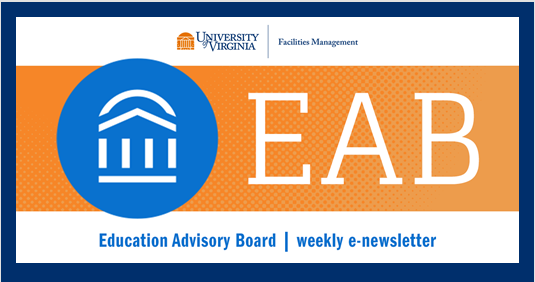 Interested in receiving the weekly EAB newsletter?
Email Suzanne Fox (stf5z) to be added to the weekly list!
Lynda.com
Learn skills on demand (any time) for free. Access Lynda.com's online training video library for courses and tutorials on hundreds of topics. Take a course on a topic like public speaking or management tips or search for a short video about software from Adobe and Excel. The Lynda.com online training library can be accessed by any current staff at UVA. Watch from a computer, tablet or mobile device. Switch back and forth as needed.
Outside Professional Offerings
In addition to these opportunities within the University, the following seminars are being offered right here in Charlottesville by outside professional training orgainizations.
Piedmont Virginia Community College Workforce Services
PVCC Workforce Services provides programs for industry certifications, professional development and continuing education. Learn More.
Fred Pryor Seminars
SkillPath
National Seminars Training
UVA Credit Union
UVA Community Credit Union is pleased to make financial education seminars available free to the general public.