Informatics
The mission of the Informatics team is to help people within the Facilities Management organization to access, view and understand the vast data we collect and to enable data-informed decisions that improve the business value Facilities Management delivers.
The Informatics team creates data visualizations and reports that answer questions posed by members of our organization and to explore questions about Facilities Management's operations.
Our work increases efficiency by replacing old applications or manual processes used in the past to gather information. Investigating building costs is now a process performed easily using data visualization tools, such as Tableau, with greater flexibility. In the past, this was a complex process that required the team to perform queries in AiM, export and manipulate the data in a spreadsheet and then draw conclusions.
By increasing awareness of our informatics capabilities and promoting participation in data analytics, we hope to provide people with tools to make their jobs easier and increase efficiency.
Tableau Server
Logging in
Only FM employees granted access can connect to Tableau Server (through NetBadge). If you don't have access, please submit a request through SysAid.
Production
https://tableau.admin.virginia.edu/
Development*
https://tableaudev.admin.virginia.edu/
*UVA internal network access
Tableau Server is an online environment where users can explore, interact with and consume Facilities Management data. Data visualizations created by the Informatics team live in Tableau Server. The department maintains two Tableau Server sites: Production (Prod) and Development (Dev).
Production (Prod)
Development (Dev)

Workbooks that have been extensively reviewed for business content
Workbooks that have been through a Quality Assurance (QA) process
Most data updates nightly, some update in real-time
No ad-hoc reporting
Faster performance

Ad-hoc workbooks, drafts, experiments, single-user workbooks (sandbox)
Varying degrees of QA
Most data updates nightly (some are static)
Users can build their own reports
Slower performance
Navigating
Navigate to a project that interests you. Within each project, there are workbooks that contain views of the data.
Download complete Tableau Server Basics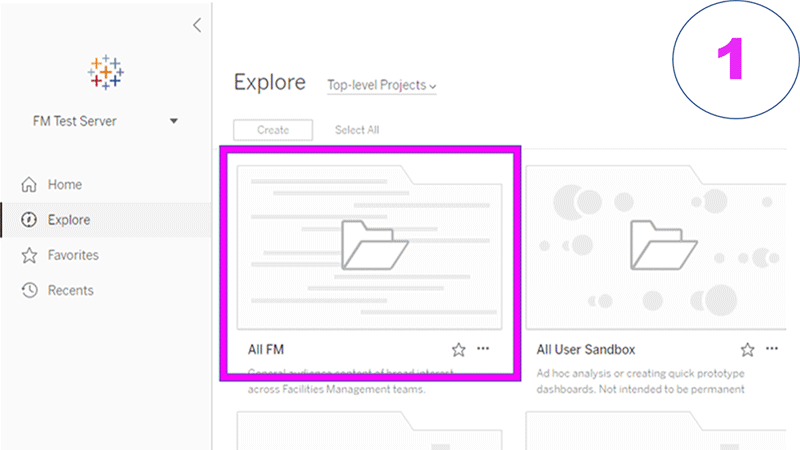 Click on a project folder - this takes you to the workbooks inside the folder
Click on a workbook - this takes you to the views inside the workbook
Click on a view
This is a view. Views can have graphs, tables, and filters.
Interacting with workbooks
Actions

are ways for the user to interact with the data. For example, clicking on a building on a map may filter a list of work orders to just that building's work orders.
The

information icon

contains an overview of the workbook and information about actions. It is found in the top left corner of the first view of a workbook.

Filters

generally default to some preselected values (to improve load speed). Be sure to review the filter selections when looking at a view to ensure you are getting the desired information.

Informational views

answer specific questions.

For example, What is the most frequent problem code associated with my building?

Interactive views

require user interaction and encourage data exploration.

For example, the following workbook allows the user to select a building from the map and view monthly cost trends in that building. Looking into the resulting graphs may pose additional questions, like why are the costs in 2018 exceeding 2017 costs? The answer to that could be found by diving into another workbook that addresses work orders in more detail.
Where do I start?
Here is a sample list of production workbooks that can answer the following specific questions:
Training
General use training
The following trainings provide an introduction to navigating and interacting with Tableau Server.
Creating your own workbooks
Helpful Documents
Read the most recent newsletters
Keep an eye out: the Informatics team emails a newsletter every couple of months with information about new workbooks, tips and tricks for using Tableau and training opportunities. To subscribe to this newsletter, please email us.