Custodial services
Academic and UVA Health facilities
The Custodial Services division of UVA Facilities Management provides custodial services on a scheduled basis to general funded University academic division buildings. A program of custodial care is provided to each building based upon need and funding.
Custodial services for UVA Health and related patient care areas are provided by UVA Health Environmental Services, which can be contacted at (434) 982-1555.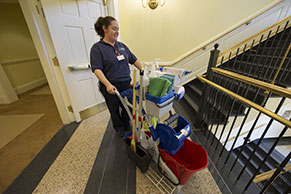 Services provided for the University academic division buildings:
Classrooms, offices, hallways, entrances and stairs are cleaned on a scheduled basis, Monday through Friday.
Chalk and erasers are supplied to classrooms in conjunction with the cleaning routine.
Restrooms are cleaned and serviced daily, Monday through Friday.
Carpets and floors are cleaned periodically.
Custodial services are not routinely provided on weekends.
Requests for service
Specific service problems should be handled as service calls to (434) 924-1777. Special or extra services may be provided on a reimbursable basis. An online customer portal request should be submitted to the Facilities Management Customer Support Center.
Housing and residence life facilities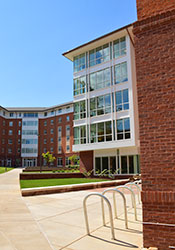 Housekeeping and maintenance services in Housing & Residence life facilities are provided by Facilities Management. Routine cleaning of public areas are provided in such areas as:
Hallways
Stairwells
Common bathrooms
Lounges
Housekeeping staff will replenish consumable items, such as toilet tissue and light bulbs, in the public areas.
For more information, visit the UVA Housing & Residence Life website.
To request maintenance or housekeeping, please submit a request through the online customer portal.