Safety Champions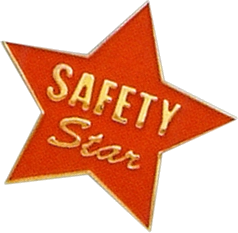 Nominate a Safety Champion
or Safety Star »
November 2022
Jon Bruneau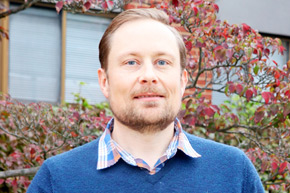 UVA Facilities Management would like to recognize Jon Bruneau as the November 2022 Safety Champion. Jon was nominated by his leadership for reporting an occurrence of high gas pressure at UVA's Observatory Mountain Engineering Research Facility as he was conducting a building audit. Jon went above and beyond to investigate why such a high and possible dangerous pressure level was being used. He notified the utility service, the maintenance zone, and other stakeholders to alert them of this unsafe condition and he continued to follow the situation through the weekend. He made sure the proper pressure regulator was installed and that the gas service was in compliance. Jon is an example for us all — when you see something amiss, speak up, ask questions, and get it resolved! Thank you, Jon!
October 2022
Jimmy Sayre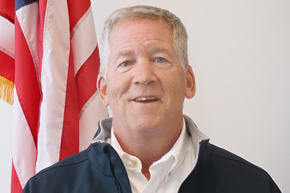 Jimmy Sayre, Housekeeping Supervisor with UVA Facilities Management Operations has been nominated and selected as the FM Safety Champion for October 2022. Jimmy was selected for many reasons, included his caring leadership manner and his attentiveness in following up on safety concerns and near misses reported by his staff members. He supervises the McCormick Custodial team, which cares for both academic buildings and student housing in a very active part of the University. This team is diverse, and Jimmy supports and celebrates their diversity: He works to make sure that accessible training is available for his employees that may not be comfortable learning in English; and he recognizes those on his team and those that work with his team for their good decisions related to workplace safety. A specific near miss Jimmy reported and helped to correct was a trip hazard present at the Wilsdorf Hall entrance near Wilsdorf Café patio between Jesser Hall and the Chemistry Building. This hazard has been reviewed with maintenance teams, the UVA Office of the Architect, FM Landscape, and FM Masons to find the safest solution. Offering robust support to custodial teams is one of the many keys to workplace safety, as these team members are located in all areas and are frequently accessing interior and exterior spaces. Jimmy has been a significant help with correcting hazards identified in his team's service areas and is an example for team leaders across Grounds.
September 2022
Mark Polk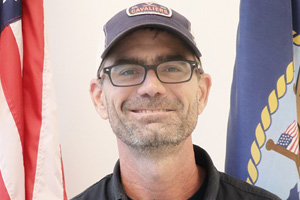 Mark Polk, a welder in the UVA Facilities Management Energy & Utilities group, was nominated by his FM colleagues and selected by the FM-OHS team as the September 2022 Facilities Management Safety Champion for his close attention to potential hazards and active participation in workplace safety. As part of his job duties, Mark has been assigned preventive maintenance on fire hydrants around Grounds. This task involves assessing and removing old paint from the hydrants and then repainting them to include a cap color that indicates how much flow can be taken from the hydrant. Due to Mark's recent Lead in Construction Training, he knew to request sampling of the existing paint before he began the removal process. Of the three paint samples taken from different hydrants in different areas, it was determined that any hydrants installed prior to the 1990s were painted with lead-based paint. The E&U team assisting in the hydrant PM process is now equipped to mitigate this hazard before moving forward with the project. This, in addition to Mark's service on the E&U Safety Committee, is a great example of taking "safety is everyone's job" seriously. Shout out to Mark for his attention to safety details and to the E&U Team for celebrating his safety improvements!
August 2022
Mark Evans and Forrest Johnson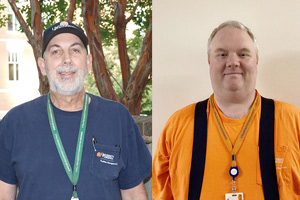 UVA Facilities Management recognizes HVAC Installation and Repair Technician Senior Mark Evans and Senior Fire Systems Supervisor Forrest Johnson as August 2022 Safety Champions. Although Mark and Forrest work in different areas of FM, they collaborate to inspect fire dampers in the UVA main hospital building to be sure the mechanisms remain operable. During one of these recent inspections, they had to move a few ceiling tiles to access an area above the drop ceiling, where they encountered something completely unexpected: A cinderblock was positioned on top of a conduit, roughly 8 to 10 feet above the drop ceiling. Further investigation found that the block had been left behind after recent renovations to the area. If this block was never noticed and later fell, it would have crashed through the drop ceiling and may have seriously injured someone below. This unexpected find underscores the necessity of regular inspections as well as the importance of being aware of your surroundings — If Mark and Forrest focused only on fire dampers, they may have completely missed this hazard! Thanks, Forrest and Mark, for your attention to maintaining safe facilities!
July 2022
Geri Findley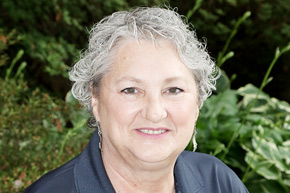 UVA Facilities Management would like to celebrate Geri Findley as the July 2022 Facilities Management Safety Champion for her willingness to act to correct a potentially unsafe situation. Geri is a housekeeping supervisor in the Newcomb Custodial Zone where she and her staff work to keep the buildings in their care clean and accessible for the UVA community. A true steward of her work zone, Geri took notice of a contractor worksite that may have been using unsafe practices. Despite this being outside of her typical responsibilities, Geri knew she had to keep everyone safe at work. She notified the UVA Facilities Management Occupational Health and Safety team who were able to visit the area of concern and collaborate with the workers on site to make sure that a safe work plan was followed. This type of proactive attention to the safety of ourselves, our coworkers, and other work partners is greatly appreciated. Thank you, Geri, for looking out for everyone at UVA!
June 2022
Jason Floyd, David Gowen, Adam Proffitt, Steve Shifflett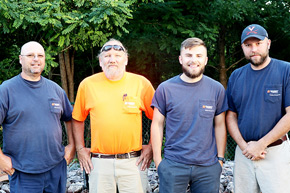 UVA Facilities Management would like to recognize a team of employees from UVA Chiller Plants as Safety Champions for June 2022: David Gowen, HVAC Mechanic; Adam Proffitt, HVAC Mechanic Senior; Blake Shifflett, HVAC Apprentice; and Jason Floyd, HVAC Mechanic. The original nomination was submitted by Jason Floyd for his teammates. The FM Occupational Health and Safety Team have made the decision to include Jason as a champion for contributing to the culture of safety and recognizing his colleagues for a job well done safely. This team was nominated for their safe work during a procedure to lower the ends off Chiller 1 located at UVA's Aquatics and Fitness Center. Jason says:
"I witnessed a perfect execution of ladder safety. The work performed required the safe use of several different types and heights of ladders. Not once did this group of men fail to use the team method of holding the ladder whenever a co-worker was aloft as well as ensuring that ladder footing was proper and secure."
Ladder safety is an often undervalued part of safety. However, falls are the number one cause of construction worker fatalities, accounting for one-third of all on-the-job deaths in the industry. Falls are preventable. Kudos to Jason and his team for selecting the right ladders for the job, knowing ladder inspection techniques, setting up ladders correctly, working as a team, and using caution and common sense to get the job done safely!
UVA FM Ladder Safety Resources:
---
May 2022
Cameron Ratliff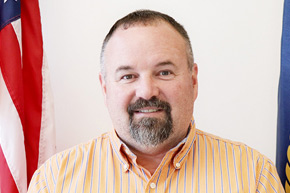 UVA FM would like to recognize Cameron Ratliff, E&U's Associate Director for Utility Systems Distribution, as the May 2022 Safety Champion. Cameron was chosen by the Occupational Health and Safety team because he has been a proactive leader in identifying training needs for his team and developing content for several FM-wide training topics including Rigging & Hoisting, NCCCO (crane operation), and confined space. He maintains open lines of communication with the OHS team to be sure the health and safety needs of his team are met. Thank you, Cameron, for being a model in safety planning and support!
---
April 2022
Jonathan Racey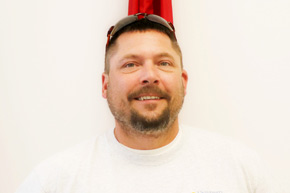 Jonathan Racey, a UVA Facilities Management landscape & grounds worker, was nominated by an FM colleague and selected by the Occupational Health and Safety Team as the April 2022 Safety Champion for his efforts to have UVA FM's dump trucks outfitted with backup cameras. The purpose of these backup cameras is to decrease the driver blind spots that occur around large vehicles and to help drivers to make safer decisions. These backup cameras additionally serve many uses year-round to the Landscape team operating dump trucks: During snow removal, FM dump truck beds are outfitted salt and sand spreaders, which drivers cannot see using rearview mirrors. Backup cameras allow the driver to monitor the spread of salt and sand, as well as more clearly see any hazards or pedestrians that may be behind the truck. Also, every autumn, the FM Landscape team is responsible for leaf collection and removal across Grounds. With a backup camera on the leaf collection truck, drivers can see the employee operating the leaf vacuum, improving jobsite awareness and communication. Jonathan noticed this need for FM dump truck operators and spoke up with a solution, possibly preventing an incident. Safety is every employee's job, and with the support of leadership, FM continues to work towards its goal of being the safest workplace in higher education.
---
March 2022
Hasan Al Mulhem
Facilities Management would like to recognize Hasan Al Mulhem as the March 2022 Safety Champion for his attentiveness and actions after the last January snowstorm. Hasan, a senior trades assistant in FM Housing Maintenance, was on the way back to the maintenance shop at Lambeth housing when he noticed an underground electrical service enclosure had been damaged near the road. The damage had created a hole in the top of the normally weather-sealed enclosure, creating a trip/fall hazard, as well as allowing rain and melting snow to encroach on fragile equipment and connections within the enclosure. Assessing the hazard present, Hasan immediately placed a caution cone near the opening and reported it to his manager for further correction. Hasan's attention to detail and quick thinking prevented a possible accident and absolutely prevented further water intrusion into an electrical enclosure. FM would like to extend our thanks to Hasan for taking action and knowing safety means looking out for and correcting potential hazards in our surroundings.
---
February 2022
Snow removal teams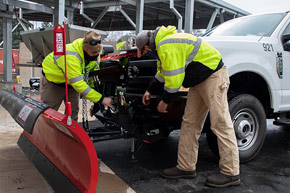 UVA Facilities Management employees came together after snowstorms on January 3, January 6, and January 16 to get UVA back up and running. This included some employees staying locally instead of returning home, and other employees continuing to do their job at home. Their work during this time helped keep UVA safe and accessible.
FM employees use their expertise and knowledge of Grounds to identify priority areas for snow or debris removal and create plans for repair or maintenance. In addition to maintaining operations at UVA, many staff members were also dealing with power outages at their homes.
FM employees who were a part of the snow response have received heartfelt thank yous from Rollie Zumbrunn, director of FM operations (UVA Today article), Don Sundren, UVA FM AVP/CFO, as well as UVA President Jim Ryan (Twitter).
See photos and the "By the Numbers": Snow support article on Exposure
---
January 2022
Vince Marshall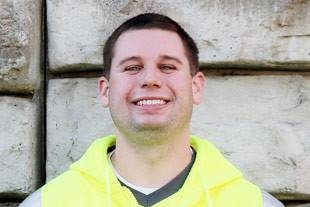 Vince Marshall was nominated by his leadership and selected by the Facilities Management Occupational Health and Safety team as the January 2022 FM Safety Champion. In late 2021, Vince approached his supervisor with the idea of adding reflective safety tape to the sides of our dump trucks, trailers, salt spreaders, and even some of the larger pickup trucks to make them more visible at night, in winter weather conditions, and in all low-light conditions. With the support of his supervisors and the FM Fleet office, Vince took the initiative to source, purchase, and install reflective safety tape on large vehicles, trailers, and salt spreaders in FM Landscape, enhancing safety for equipment operators as well as those around them. Vince's resourcefulness and the support of his supervisors made this safety improvement possible.
---
Archive