Safety Champions
October 2021
Mark Conner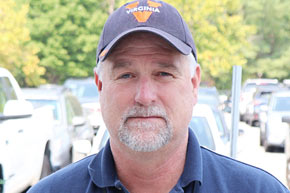 UVA Facilities Management would like to recognize Mark Conner as the October 2021 Safety Champion. In addition to his commitment to safety for his own group, he recently went above and beyond to help a contractor perform their work in the safest way possible. Mark's extra effort to check that the vendor had a safe plan of work protected the vendor, Mark's team, and potentially the University. Mark's leadership and Facilities Management took note of this extra effort and will use it as an opportunity to reach out to other areas at UVA and within FM to educate and inform parties the correct work procedure. Mark's willingness to work with OHS to find a viable solution so that the vendor can complete their work in a safe manner is an example for all of UVA.
---
September 2021
Chris Harvey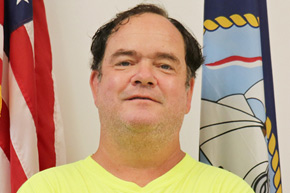 Chris Harvey, Trades Utility Senior Worker with Housing Maintenance, has been selected as the September 2021 Safety Champion for UVA Facilities Management. Chris was nominated by his colleague for his thoughtful actions during a recent service call: Chris was called to Metcalf dorm to correct a motion sensor not working on a light. He checked the breaker to ensure nothing had been tripped or turned off. As he cycled the power to the breaker, he noticed a faint hissing sound, which concerned him. He called a coworker for an opinion and another set of ears. Together, they de-energized the panel and noticed that the bolt attaching the breaker to the busbar had been cross-threaded and stripped. Because of the poor installation, the breaker was not making a proper fit with the busbar and was causing a small arc which created the hissing noise they heard. Chris fixed the situation with a fresh bolt and correct fitting. Had Chris walked away from this issue without investigating it further, the outcome may have been much worse, resulting in fire or electrocution.
---
August 2021
Barry Wood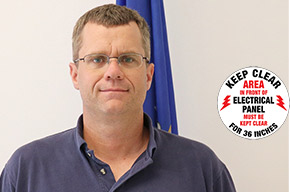 Barry Wood, a supervisor in Facilities Management Housing Maintenance, was nominated and selected as the August 2021 Safety Champion for his initiative to help keep electrical distribution panels accessible. It started with a panel one of the maintenance zones kept finding blocked. When Barry was looped in to help solve the problem, he enlisted the FM Sign Shop to create special signs to place on the floor in front of the panel to alert building occupants of its presence. West Grounds Zone is already seeing the benefits, reporting improvements. Barry's innovation can be easily instituted across Grounds and can alleviate hazards associated with blocked panels, including fire hazard and fire marshal citations, as well as improving access and response for maintenance and emergencies. If you are aware of areas on Grounds that need these stickers, create a work order for the Sign Shop!
---
July 2021
Tony Love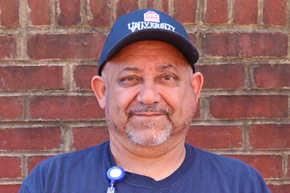 Tony Love was nominated for the July FM Safety Champion by his Health System Physical Plant Zone 2 colleagues for his safety mindedness at work. Tony, a Trades Utility Senior Worker, is lauded by his colleagues as being "a huge asset to Zone 2 with his work ethic and safety mindset." He ensures that his colleagues and other teams on the job have access to up-to-date, well-stocked first aid kits, PPE, and other needed safety equipment. It's seemingly small actions and a disciplined routine that can make a world of difference in safety on the job site. The FM OHS team applauds Tony for keeping the workplace safe and healthy!
---
June 2021
Jerry Craig & Jay Ortengren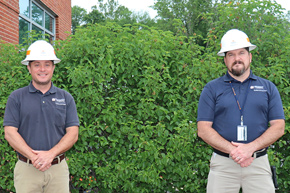 Jerry Craig and Jay Ortengen are managing a large HVAC renovation project by UVA FM's Construction and Renovation Services at the Lambeth Field Apartments. Before construction started, both Jerry and Jay identified several safety concerns to be addressed such as roof-top fall protection, electrical hazards, and the need for readily available first aid kits and fire extinguishers. They contacted and collaborated with Facilities Management Occupational Health and Safety while the project was still in the pre-construction phase to resolve these issues to insure a safe work site for all employees. This job involves UVA FM employees as well as multiple contractors. Jerry and Jay also had to plan and prepare for this project while many students were still in the dorms and COVID-19 restrictions were still in place. Jerry and Jay have made safety a top priority and an integral part of this project and did not allow hazards to go unaddressed due to financial or scheduling constraints. Their foresight and preparation should be a model for all FM projects.
---
May 2021
Glenn Tolbert, James Pace, Travis Eubanks and Matt Proffitt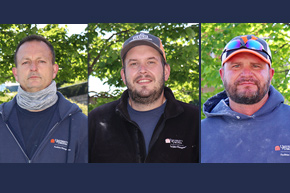 UVA Facilities Management Historic Masonry team members Glenn Tolbert, James Pace, Travis Eubanks and Matt Proffitt are FM's May 2021 Safety Champions for their work piloting a new Job Hazard Analysis (JHA) app. The work of the pilot group, in addition to implementing a new process, was to provide feedback on the app and its usability to the FM Occupational Health and Safety team. Once the app has been vetted and tweaked to appropriately serve the many teams at UVA FM, OHS hopes to deploy it across the organization. A JHA app on UVA mobile phones will mean that more FM employees can easily access one of the tools needed to start work safely and eliminate hazards and prevent jobsite incidents. Thank you to this masonry team for their usage and review of this new app!
---
March 2021
Ronnie Herring and Kenny Graham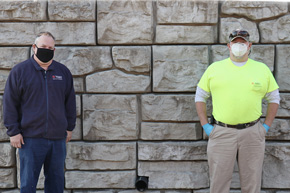 University of Virginia Facilities Management would like to recognize McCormick Zone Carpenter Lead Kenny Graham and Recycling Worker Ronnie Herring as March 2021 Safety Champions for their quick action last month: Their clear thinking and willingness to respond helped a fellow employee who had fallen on icy steps. Ronnie and Kenny jumped into action, performing first aid, and calling in a Medevac to help assess the injury and transport to the emergency room. Their quick response helped the employee receive the care needed in a timely manner. Thank you to Kenny and Ronnie for working as a unit to support an employee who was hurt on the job and for keeping UVA safe for everyone.
---
February 2021
Ryan McCarthy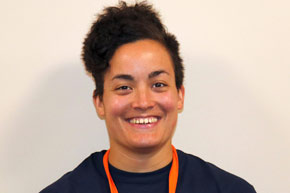 Ryan McCarthy, second year plumbing apprentice at UVA Facilities Management, has been selected as the February 2021 Safety Champion. All UVA FM apprentices attend two weeks of intensive occupational health and safety training as part of their onboarding in order to best prepare them to enter the skilled trades workforce. Not only did Ryan excel at this initial training during her onboarding, she has embraced all aspects of workplace safety and wellbeing: She serves at the apprentice representative on the UVA FM Inclusive Excellence team, which engages employees to improve the culture at FM through the lenses of diversity, equity, and inclusion. In addition to this, she assists OHS along with other FM tradeswomen in finding better fitting personal protective equipment (PPE). We appreciate Ryan's enthusiasm and perspective as she works with the Occupational Programs team to create a safer, more inclusive culture at UVA FM.
---
January 2021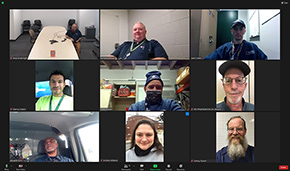 UVA Facilities Management is celebrating the 2020 Safety Committee Chairs with the January Safety is Ours to Shape recognition. Marcus Klaton, Kristina Williams, Victor Martin, Jim Murphy, Johnny Gooch, Forrest Johnson, Zach Carter, Bernard Curry and Benji Boatwright have all done an amazing job engaging their respective Safety Committees this year. Throughout 2020 they made safety a top priority by submitting Safety Recommendations, hosting FM All-Staff Toolbox Talks, creating newsletters, increasing awareness, and engaging their peers to recognize safety hazards and Near Miss reporting. Their dedication to safety, safety mindedness, proactive approaches, and positive attitudes have truly made a difference in one the most trying years we have experienced. Thank you for being role models and leaders when it comes to everyone's safety!
---
December 2020
Mike Richard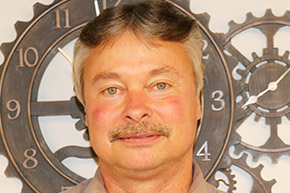 Mike Richard, UVA FM Elevator Programs Specialist, has been nominated and chosen as Facilities Management's December 2020 Safety Champion for his initiative and willingness to share his time and expertise to create a safer working environment for his colleagues. Throughout the year, the FM Fire & Life Safety Team and the Elevator crews on Grounds team up to perform necessary fire safety testing of UVA's elevators. Mike took this opportunity to train the fire crew on elevator and hoist safety so that the team could be aware of needed safety precautions and hazards that may be present. Forrest Johnson, UVA FM's Fire Protection Service/Install Supervisor said, "I was impressed at the level of dedication and the effort he made to put it together and schedule the training. He offered the training three different times so that all my employees could be in it. He is a great example of FM employees looking out for one another."
---
November 2020
Hattie Agee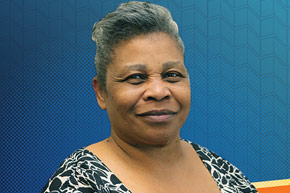 Hattie Agee is being recognized as the November 2020 UVA Facilities Safety Champion for her dedication to keeping FM a safe workplace for herself and her employees. She consistently displays positive, collaborative behavior with the OHS team. She leverages their knowledge to obtain proper procedures for disposal of waste, training for fit testing of and respirator use for her employees, reviewing incidents, and keeping her department's SDS resources up to date. Hattie is a good example for all of her employees and colleagues and we look forward to working with her to keep FM safe!
---
September 2020
Mark Roach
UVA Facilities Management would like to recognize Mark Roach from FM Energy & Utilities as Safety Champion. Even prior to our new working normal, Mark worked hard to ensure that his employees remained safe and healthy on the jobsite. His employees work on the many tunnels at UVA that connect buildings on Grounds to heat and water. These employees need to be aware of the possibilities of encountering heat and enclosed spaces and be prepared for any number of situations as they enter a tunnel to maintain or repair lines and equipment. Mark has provided his group with personal heat strain monitors based on a Safety Recommendation from FM Occupational Health & Safety, educated all E&U employees about heat exposure hazards, as well as implementing a work-rest schedule for employees in warm working environments. FM appreciates his commitment to workplace health and safety as an E&U leader.
---
May 2020
Nate Wilson & Mark Todd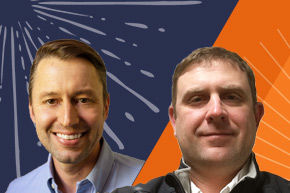 Nate Wilson and Mark Todd were nominated and selected as Safety Champions for May 2020 due to their efforts to keep employees and contractors safe on their jobsites. These have been difficult times and they have taken the extra measures to not only keep employees and contractors safe from construction related incidents, as well as taking further steps to keep employees and contractors as safe as possible from COVID-19. A recently implemented directive specific to these jobs from FM Project Manager Nate ensures that regulatory guidelines are being followed in addition to masks being worn all the time while on the jobs. Mark is the FM site superintendent responsible for making sure that everyone on the job is following the directive and is doing a great job! These guidelines have made working more challenging, but Mark and Nate are committed to getting it done. Thank you for looking out for your jobsites!
---
April 2020
Tyler Kraft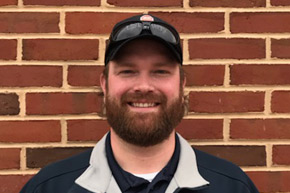 UVA Facilities Management is proud to recognize Tyler Kraft as April 2020 Safety Champion. Tyler has been a part of FM Housing Facilities' leadership team for seven months, and in that time, he has fostered an improved culture of safety within his team and organization. He helped implement the safe handling of heavy equipment and ensures that all required PPE is in use. He works to provide a safe working environment for not only for his employees, but also the residents his group serves. He is dedicated to training and ensures his team doesn't miss an educational opportunity. He keeps working environments clean, organized, and free of hazards, including cleaning and reorganizing of the shops under his charge and the complete revitalization of the Housing carpentry workspace. His proactive focus on safety has elevated his group's ability to maintain a safe working environment embodies what a Safety Champion is.
---
March 2020
Jim Murphy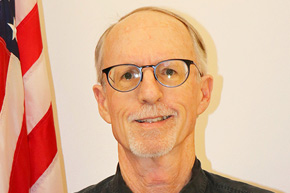 UVA Facilities Management's March 2020 Safety Champion is Landscape Supervisor Jim Murphy. Jim also serves on the Landscape and Recycling Safety Committee. Jim is passionate about his group's safety culture: He immediately reports any safety concerns he finds on grounds and has requested noise sampling on some of the landscaping tools and equipment to ensure he and his employees are not exposed to noises that will damage hearing. Jim is an advocate for safety and has proven this not only during the safety committee meetings but in his interactions with his employees, as well.
---
February 2020
Dennis Edwards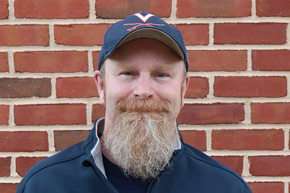 UVA Facilities Management is delighted to recognize Dennis Edwards as the February 2020 Safety Champion. Dennis is an historic mason supervisor with FM's Capital Construction and Renovations group who proactively identifies job hazards across grounds, keeping UVA and contractors safe at work. He maintains robust engagement with FM Occupational Health & Safety to address job hazards and safety concerns, to implement safeguards, and to develop safety standards among other shops' employees and contractors. He is proactive in making sure that his employees have taken required OHS trainings, as well as safety trainings that are not required but that have a positive impact on employees' performance, as additional training increases safety awareness. If his employees must work with chemicals, he reviews the related SDS and makes sure that his employees have a safe work environment and proper, up-to-date PPE. Dennis' positive and proactive attitude and commitment to health and safety at work prevents incidents, injuries, and chronic health issues. Dennis truly believes in safety — when he works on a project on grounds, you can be sure that UVA employees and contractors are working in a safe and healthy environment.
---
January 2020
Terry Maynard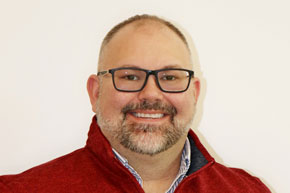 Terry Maynard is the January 2020 Safety Champion. He has been working as a maintenance supervisor in FM Housing for less than a year and has already demonstrated many times his commitment to safety. Terry ensures the equipment, procedures, and tasks his employees perform are up-to-date in order to keep employees working in the safest manner. In addition, he has already planned a 2020 Safety Meeting for his team to address concerns and hazards faced at work. His attitude enhances the safety culture among his teammates and helps everyone get home to their families safe and healthy.
---
December 2019
John Marshall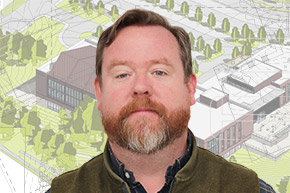 John Marshall of UVA Facilities Management's Facilities Planning and Construction department has been selected as the December 2019 Safety Champion. John's attention to detail has ensured safety requirements on the Ivy Mountain Musculoskeletal Center project are adhered to by contractors and UVA personnel working on the multi-year project. John is active in reaching out to Facilities Management's Occupational Health and Safety office for guidance on a variety of subjects related to the project. John is an active participant in site safety walkthroughs with FM-OHS personnel and has ensured that all parties are working together to ensure risks are identified and managed by responsible contractor partners. John has been a participant in many health and safety trainings during his tenure and is always keen to keep OHS "in the loop" on any unique activities taking place on the Ivy Mountain Musculoskeletal project. John is a great advocate for health and safety for both FM employees as well as those that work on Grounds on FM projects.
---
November 2019
Vic Martin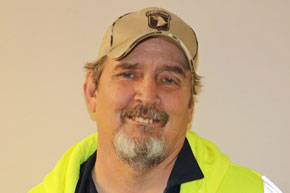 Vic Martin is UVA Facilities Management's November 2019 Safety Champion. He was nominated and selected as Safety Champion due to the steps he's taken to support his employees and create a safer working environment. Most recently, after a near miss, Vic worked with FM-OHS to create a standard operating procedure (SOP) for the proper handling and disposal of wooden pallets (View Full SOP). Vic's initiative in taking extra steps to create an SOP and educate his employees is a great example of a supervisor demonstrating leadership, supporting safety initiatives, and encouraging employees to work safe. Thanks, Vic, for creating a culture of safety in your workplace!
---
October 2019
Armiss Ferguson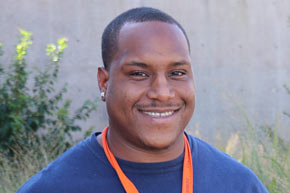 Armiss Ferguson has been nominated and selected as the October 2019 Safety Champion for reporting a hazard he encountered during his rounds with HSPP Electrician Bernard Curry. They noticed one of the steps leading to the Aurbach generator were loose. (Bernard Curry was the March 2017 Safety Champion for requesting that these steps be installed, as the bank leading to the generator was a significant slip and fall hazard.) In the last 2 years, one of the steps had become loose, creating a new hazard. Armiss reported the new hazard via the Safety Obs app on his FM mobile phone, as well as turned the paver up so that it was immediately noticeable to anyone using the steps. This seemingly small act prevented an injury to an FM employee or the contractor that is responsible for servicing the unit. We are recognizing Armiss because small acts add up to an awesome Safety Culture!
---
September 2019
Alex Harlow
Facilities Management would like to recognize Alex Harlow as the September 2019 Safety Champion. Alex took the lead on a project in a parking garage, where traffic could create some safety concerns. He was very conscientious throughout the process, including holding a preconstruction meeting with the parking attendees to discuss his concerns and to let them know that he would be working in the garage and what his plans were to stay safe. He also identified his safety needs with those he was working with and made sure everyone had the proper PPE. On the scheduled day of the work, employees showed up in high visibility pants, a vest, and gloves. The crew also used high traffic cones to help drivers know to be on alert while turning the corners of the garage. Thank you, Alex, for stepping up and taking safety seriously and making sure others on the team are doing the same!
---
August 2019
Mike Rose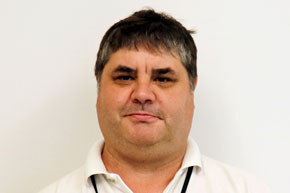 UVA Facilities Management would like to recognize Mike Rose as their August 2019 Safety Champion. Mike has been lauded by his employees for being "front and center" and "leading by example" in his department's safety efforts. Preparedness is specifically an area in which Mike prides leading his team. This includes everything from restocking first aid kits to training for a mass casualty situation. Mike also oversees a number of shift workers as well, and his efforts to ensure that their training is kept up-to-date, despite their irregular schedules is appreciated by all. Mike is an example of building safety culture from the top down. Thank you & keep up the good work!
---
July 2019
Casey Graham
Casey Graham was nominated as July 2019 Facilities Management Safety Champion because he and a coworker were tasked with replacing pipe fittings off at a chiller at one of the FM chiller plants as welding in new lifting lugs. When the duo arrived, they were informed the chiller had been out of service for quite some time. However, instead of just going straight to work on it, Casey wanted to be sure that there were no combustible gasses present inside or near the tank before they created any sparks. He located a probe to get an air reading inside the tank. To everyone's surprise, the combustible levels were above what would be considered safe. Casey and his colleague exercised their stop work authority and waited for about a week until the air reading was acceptable. Once the hot work portion was complete, Casey also insisted that an appropriate 30 minute fire-watch take place. Casey was nominated by his colleague that completed this job with him, who stated "This is exactly the safety mindset that exemplifies the culture we strive for. Taking your time, stepping back, double checking, triple checking, to avoid catastrophic events from occurring." Thank you to Casey and the safety-minded Energy and Utilities crews for making UVA FM a safer workplace!
---
June 2019
Jamie Watkins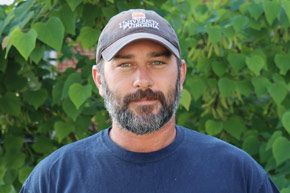 UVA Facilities Management would like to recognize Jamie Watkins as the June 2019 Safety Champion. Jamie is a mason within UVA FM's Construction & Renovation Services. His supervisor reports that Jamie's attentiveness has made a large impact on the awareness of his fellow workers. Jamie goes above and beyond to become properly trained, having traveled out of state twice for advanced training and is currently one of two trainers for FM's Scaffold User and Competent Person Courses. He is also trained to use the specialized equipment that scans interior floors and walls for dangerous conditions prior to demolition. Both of these training courses and jobs are done voluntarily. Jamie also serves as the safety committee representative for the masonry shops. His attention to the safety related details makes all of FM safer. Thank you, Jamie, for going above and beyond to keep your workplace safe!
---
May 2019
Thomas Evatt and Tyler Cameron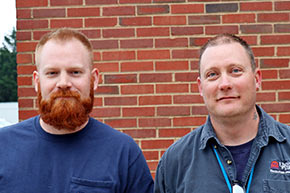 UVA Facilities Management is proud to recognize Thomas Evatt and Tyler Cameron as the May 2019 Safety Champions. In mid-April, they noticed a strange smell on a jobsite and reported it to their supervisor. Thinking it was gas, they then secured the area outside of the building. Tyler, Thomas, and supervisor Lee Bryant checked the building's boiler room for any possible leaks and found the gas regulator had malfunctioned. The concentration of gas present was determined to be at dangerous levels. They locked- and tagged-out the gas supply to both hot water boilers until the fault could be determined. The potential for gas to enter the building was averted. Due to Thomas' and Tyler's response to this they prevented injury to other workers, students, and building occupants, as well as prevented property damage. Their quick response and critical decision making averted what could have been a disaster. Thank you, Thomas and Tyler for going above and beyond to protect your colleagues and students from unseen dangers.
---
April 2019
Keith Payne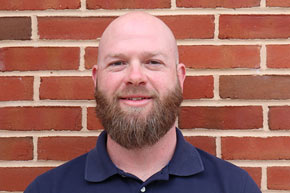 UVA Facilities Management is proud to recognize Keith Payne as the April 2019 Safety Champion. Keith is a Construction Administration Manager within FM's Facilities Planning and Construction department. Keith has been proactive in engaging FM Occupational Health and Safety and contractors on jobsites that he manages. Keith takes a risk-based approach and arranges for monthly site walks with contractor personnel and OHS. He ensures that safety concerns are addressed and mitigated immediately. Contractors, visitors, and UVA employees on Keith's jobsites are well aware of the safety expectations on those sites and, as a result, the working relationships between FM and outside parties has been greatly enhanced. Keith's suggestions and input has been very valuable to OHS and will help to ensure the continued mitigation of workplace hazards on his projects.
---
February 2019
Hoist & Rigging Training Team
UVA Facilities Management is celebrating the team that created and teaches FM's revamped Hoist and Rigging Safety Training Course with the all-new Safety is Ours to Shape recognition, created in honor of UVA president Jim Ryan's new Ours to Shape initiative. Cameron Ratliff, Randy Higgins, Dakota Peregoy, William Simmons, and Marcus Klaton regularly use hoist and rigging techniques as part of their daily job duties. Led by Cameron Ratliff with the support of their supervisory chain, this group created a one-day classroom and hands-on course which covers general requirements for proper rigging, how and why proper rigging practices improve safety, as well as rigging requirements for steel chains, wire rope, and synthetic fiber. Instruction includes crane set-up, load dynamics, lift planning, load charts, rigging, and signaling. A passing grade achieved by a participant indicates that the participant has the knowledge to safely use Hoists and rigging equipment at UVA Facilities Management. The initiative these employees shown, coupled with the support from their supervisors is helping FM develop and maintain a culture of safety.
---
January 2019
Mike Light
UVA FM-OHS is honored to recognize Mike Light as the January 2019 Occupational Health and Safety Champion. Mike works as a Senior Electrician in Zone 1 of HSPP, where he is responsible for training FM's electrician apprentices in addition to his regular day-to-day tasks. A few years ago, at his then-supervisor Alex DiGiacomo's request, Mike put together a board with switches and wiring to allow apprentices to attempt wiring in an environment with no hazards. Since then, Mike has expanded the board to include additional devices, including a photo cell, time clock, and a low-voltage relay. This "Knowledge Board" is capable of being wired in different configurations, teaching student apprentices the different circuitry needed for different applications. The Knowledge Board continues to grow, with additional items being added as the need for training arises. Mike's dedication to a safe learning environment for FM's more inexperienced apprentice employees is greatly appreciated by all groups at UVA FM.
---
December 2018
Chris Hoy
Chris Hoy of UVA Facilities Management's Capital Construction & Renovations (CC&R) department has been selected as the December 2018 Safety Champion. Chris has been diligent about ensuring contractors working on the complex, multi-year University Hospital Expansion project abide by the safety requirements set forth by UVA FM. He is active in reaching out to Facilities Management's Occupational Health and Safety (OHS) for guidance on various subjects such as crane pick plans. In addition, Chris is active in CC&R Safety Committee undertakings and other meetings within the Health System CC&R group where a focus on safety is needed. Chris has been instrumental in arranging project walkthroughs with general contractor personnel and OHS. He is open, engaging, and has provided valuable insight into ways OHS can continue to partner with CC&R as well as outside contractors. Chris is a great advocate for health and safety for both UVA FM employees as well as those that work on ground on FM projects.
---
November 2018
Ed de Bary & William Evans
Ed de Bary and William Evans have been selected as the November 2018 UVA Facilities Management Safety Champions. Ed and William both serve on the UVA FM Electrical Safety Focus Team, comprised of members from across UVA FM that regularly work with electricity or encounter electrical hazards. This dedicated team created UVA FM's Electrical Safety Program as well as made personal protective equipment (PPE) recommendations that were adopted by FM. As a part of this team, Ed and William were tasked with creating an electrical safety training that complies with applicable regulations specifically for UVA FM employees. Not only did William and Ed create this training, they also teach it several times a year. More than 620 seats have been filled in their classes in the two years they have been training. Thanks to Ed and William, new and current FM employees are more protected by being taught to recognize electrical hazards in their assignments.
---
October 2018
Randy Campbell
Randy Campbell is UVA Facilities Management's October 2018 Safety Champion thanks to his ongoing efforts to be sure that his employees are working at the highest possible level of safety. Most recently, Randy has taken on the initiative of laboratory safety for FM employees, ensuring that employees and apprentices under his supervision are safe while providing a variety of support services in different types of laboratories on Grounds. He has gone above and beyond to protect his employees, integrating his professional experiences from the health system in order to identify possible hazards in the labs. He has worked to increase his employees' awareness of hazard identification and the related acute and/or chronic impacts of the identified hazards. He has documented the laboratory safety instruction process to ensure consistency of laboratory safety knowledge among his employees, as well as set up brief on-the-job training about laboratory safety prior to his new employees/apprentices entering lab spaces. Currently, Randy is collaborating closely with FM-OHS to providing a comprehensive/practical laboratory safety manual for Maintenance Zone employees. Thank you Randy for all your efforts and concerns about safety and your coworkers' health!
---
September 2018
Tanyia Moore
UVA Facilities Management is proud to recognize Tanyia Moore as FM's September 2018 Safety Champion. Tanyia is being recognized because, as a supervisor, she encourages a positive safety culture among her employees. Many of her employees are Safety Stars and have utilized the Near Miss reporting system without fear of getting in trouble. She leads by example and encourages others to work safely, creating a safety culture among her employees.
---
August 2018
Phil Brown
Phil Brown has been chosen as the August 2018 Safety Champion for University of Virginia Facilities Management. Phil was nominated by the UVA FM Health System Physical Plant (HSPP) Safety Committee for always having needed personal protective equipment (PPE) and proper tools on hand to ensure the job can get done safely, correctly, and on time. Although Phil declined to be photographed, his shop speaks for itself. The shop maintains regular hours and has a central location for employees to access as needed. Thank you, Phil, for always keeping your inventory stocked for FM's HSPP employees!
---
July 2018
Jesse Johnson
UVA Facilities Management is pleased to recognize Jesse Johnson as the July 2018 Safety Champion. Jesse has been a part of the Custodial Services Safety Committee for many years, offering input to make his and his colleagues' workplace safer. In addition to this service, during a recent series of rainy days Jesse went above and beyond his typical job duties when he blocked off the top of a flooded stairwell. Jesse knew that his chain of command would stand behind his decision to protect his coworkers from this unsafe situation. This is another seemingly small act that can add up to a much safer workplace. Kudos to Jesse for looking to create a ssafer workplace!
---
June 2018
Darrell Morris & Vu Nguyen
UVA Facilities Management would like to recognize Darrell Morris, carpenter, and Vu Nguyen, carpenter apprentice, as the Safety Champions for June 2018. Darrell and Vu were working together in Poe Alley on McCormick Road, and as Darrell was coming off the scaffold, he saw an elderly gentleman fall in the alley. Darrell ran over to help, but the gentleman was non-responsive. Darrell quickly yelled up to Vu who was on the scaffold to call 911. Darrell and Vu didn't stop there! Vu acted fast and started chest compressions and rescue breaths, all while the 911 dispatcher remained on the line supporting them through the situation. Two military personnel then approached with an AED machine; and they took over the compressions and shocked the gentleman as the Charlottesville Fire Department arrived at the scene and continued administering emergency treatment. Through everyone's efforts, this gentleman was breathing on his own as he left to receive further treatment! From beginning to end, Darrell and Vu acted quickly, remained calm, acted as a team, and did everything they could to help everyone, especially the gentleman, through a frightening situation. Kudos to Darrell and Vu for your compassion to put others first. UVA is proud to have you in the FM Family!
---
May 2018
Page Fox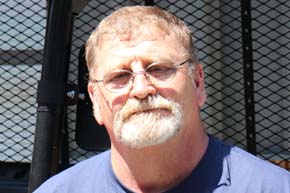 UVA Facilities Management is proud to recognize Page Fox as the Safety Champion for May 2018. Page received his nomination for Safety Champion when he witnessed a young lady wearing sandals cut her foot on a piece of metal left in a patio from the removal of a picnic table. Page recognized the problem could be easily mitigated and had a work order created so he could remove these pieces. Page's colleagues are quick to say that Page is always looking out for his colleagues and the students at UVA. Page's actions may seem small, but the regular reduction of hazards like this helps keep our colleagues from getting hurt. Thank you, Page, for your conscientious effort to improve safety for everyone!
---
April 2018
Kevin Beal
UVA Facilities Management would like to recognize Kevin Beal as Safety Champion for April 2018. Kevin has worked hard as the chair of the Landscape & Recycling Safety Committee over the last several years. He has helped create chainsaw training and trailer user training, and elevated safety concerns to keep FM employees out of harm's way. Most recently, he has taken the initiative to have signs placed on the FM fuel pumps to remind employees of the dangers of improperly handling gasoline. UVA FM is grateful for all of Kevin's (and his committee's) efforts to keep our colleagues safe!
---
March 2018
Phillip Cabell & Norman Hughes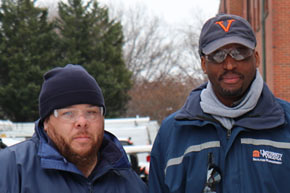 The UVA Facilities Management Safety Champions for March are Norman Hughes and Phillip Cabell. As part of the FM Alderman Custodial Services team, Phillip and Norman are always on the lookout for how safety can be improved, from adding warning signs to keeping cords properly stored. However, in addition to this, Norman and Phillip went above and beyond during a recent period of freezing rain: Several downspouts had stopped up, and sheets of ice were quickly forming in areas frequented by pedestrians. Before anyone could get hurt, Phillip and Norman were on the scene, scattering ice melt and/or taping areas off as needed. Phillip and Norman are shining examples of taking a proactive approach to safety, mitigating hazards before anyone is exposed or gets hurt.
---
February 2018
Randy Spencer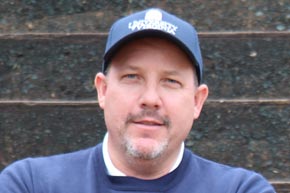 Randy Spencer is the University of Virginia Facilities Management Safety Champion for February 2018 because of his quick thinking during the UVA Bicentennial Celebration Kickoff Weekend. He noticed an unsafe issue and worked quickly to correct the situation. Because of his safety knowledge, he knew he could count on his leadership to stand behind his decision and he had the confidence to speak up and divert a potentially unsafe event. Because of Randy's actions, a number of injuries were prevented.
---
January 2018
Mike Duffy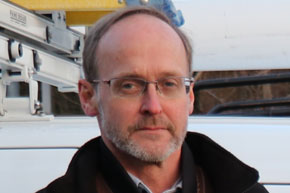 Facilities Management Occupational Health & Safety is privileged to recognize Mike Duffy as the Facilities Management January 2018 Safety Champion. As FM's Transportation Operations and Fleet Manager, Mike took action when many of the same model FM vehicles were turning up with similar brake problems. In addition to remedying the reported defects, he initiated a fleet-wide safety check of all of that make and model. He took defective vehicles out of service and elevated the issue to University-wide. Mike's actions resulted in a "global concern report", which prompts the manufacturer to further review the condition of these vehicles worldwide. Mike's fleet experience and keen mechanical aptitude kept hazardous vehicles off the road and prevented many possible accidents.
---
December 2017
Joe Groot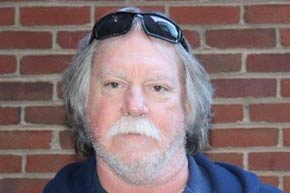 Joe Groot was nominated and selected as the December 2017 Safety Champion for his recent work identifying a confined space hazard at Pinn Hall. The Confined Space Focus Team were called in to review and the team found that the space in question was very close to the street. Fumes from idling vehicles could enter the space, causing a deadly buildup of carbon monoxide. The space has been declared a permit-required confined space. Joe's attentiveness to the possible dangers of this space and his recognition of the hazards posed has made the workplace safer for many FM employees!
---
November 2017
Travis Sly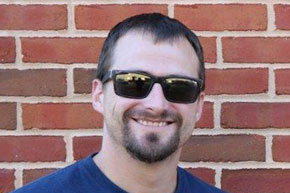 Travis Sly is the November 2017 Facilities Management Safety Champion thanks in part to his hard work on UVA FM's Fall Protection Focus Team. In his time on the team, Travis has been proactive with program reviews and revisions, ensuring that Facilities Management's Fall Protection Program is up to date and compliant. Travis coordinated a fall protection rescue demonstration at the Fontaine Fire Station for the Fall Protection Focus Team and other key players involved with FM fall protection. As a supervisor, Travis is committed to fostering a dialogue with Occupational Health and Safety. He consistently asks "Why?" in the effort to come to a better understanding of safety requirements and to create more efficient, safer work practices.
---
October 2017
Dave Roberts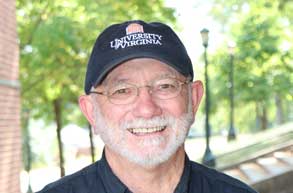 UVA Facilities Management is proud to recognize Dave Roberts as the October 2017 Safety Champion. Dave recognized a hazard at an intersection on grounds and brought it to his Safety Committee's attention. Dave has worked tirelessly both within FM and with other University groups to address the issues at the intersection, mitigating hazards for both drivers and pedestrians. Dave is constantly looking out for the safety of others and we commend him for his hard work!
---
September 2017
John Cloutier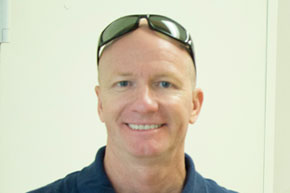 John Cloutier is the UVA Facilities Management Safety Champion for September 2017 because of his quick-thinking and ability to act in an emergency situation: John witnessed an individual collapse in the hallway in between Pinn Hall and the Hospital. He put his First Aid/CPR/AED training to use as he rushed into action, grabbing an AED for the nurse attending the individual and then jumping in to do chest compressions after the AED shock was ineffective. He continued chest compressions until the nurse was able to detect a pulse. Medical Center CEO Pam Sutton Wallace said,
"Never have I seen a team jump into action so quickly, ably and collaboratively. It was an absolute miracle to watch you bring someone back to life – literally! I couldn't believe my eyes. I was reminded of why we all work so hard to put the patient at the center of what we do...I am absolutely in awe of your skill and honored to work with such an incredible team."
In addition to this life-saving event, John is an active member of the Special Trades Safety Committee, where he has introduced the Dutch Reach and other helpful tips to committee members. Thank you, John, for your efforts to keep everyone around you safe and healthy. We are glad you're part of our team!
---
August 2017
Shawn Ragland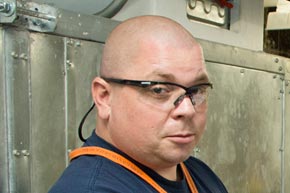 UVA Facilities Management is proud to announce Shawn Ragland as the August 2017 Safety Champion. Shawn has embraced UVA FM's recent initiative to standardize the Lockout/Tagout Program throughout all departments, spending long hours writing lockout/tagout procedures for each piece of equipment (or "asset") in Newcomb Hall. His efforts began after Shawn took FM's revamped lockout/tagout training, established by the FM Lockout/Tagout Focus Team. He contacted Bill Kirby from the Focus Team (and the June 2017 Safety Champion) for guidance creating procedures for his area. Shawn's area – a Zone on grounds – differed greatly from Bill's Chiller Plant, but together they came up with ways of making lockout/tagout procedures easily accessible by attaching the procedures to the assets, ensuring that all employees can access the needed information quickly and easily. Shawn has his colleagues read through and test his procedure to ensure their user-friendliness. Now that Shawn has Newcomb Hall's lockout/tagout procedures 90 percent done, he is expanding his range to the rest of Newcomb Zone. He is also offering his help to other zones begin the process of cataloging assets and creating procedures. Shawn's passionate investment of his time and talent are greatly appreciated as a part of UVA FM's culture of safety.
---
July 2017
Sheila Jones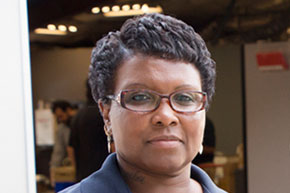 Sheila Jones has been selected as the UVA Facilities Management July 2017 Safety Champion for her dedicated attention to safety in the workplace. Sheila is responsible for the Materials Warehouse forklift, including having a working knowledge of forklift safety and UVA regulations, as well as ensuring the forklift receives regular maintenance and needed repairs. When the forklift is in need of repair, Sheila places it out of service until it is repaired and operational. Sheila has also stopped work by not allowing unauthorized individuals to use the forklift, keeping everyone involved safe. She is also dedicated to UVA FM employee safety by keeping up with changes in uniform requirements for the many employees that work across grounds. Sheila's detail-oriented take on safety makes her a great Safety Champion for UVA Facilities Management.
---
June 2017
Bill Kirby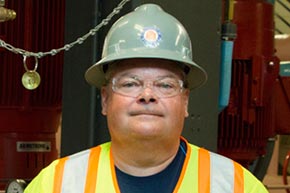 UVA Facilities Management is delighted to feature Bill Kirby as the June 2017 Safety Champion. Bill has been at the University of Virginia for more than 25 years, currently serving in the Chiller Plant as a Master Maintenance Program Technician. He is also a member of Facilities Management's Lockout/Tagout Focus Team, which has spent the last year revamping UVA FM's Lockout/Tagout Program, ensuring that the most current standards are being met. Bill has worked tirelessly creating lockout/tagout procedures and rolling out a system for the chiller plant using a computer program that will be adopted across FM. His work pioneering a standardized lockout/tagout system and training groups on this system make him a true UVA FM Safety Champion.
---
May 2017
Brian Tinnell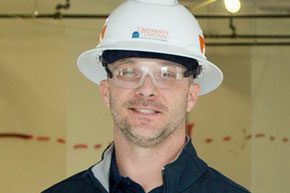 Brian Tinnell is being recognized as the UVA Facilities Management May 2017 Safety Champion due to his dedication to construction safety across grounds, not only for UVA employees, but also for outside contractors. As a construction superintendent in FM's Construction & Renovation Services department, Brian is responsible for being a leader at a number of jobs. Outside contractors have applauded Brian's expectation for everyone to follow safety rules at work. Support of leadership is key to establishing a culture of safety and the promotion of safety at the jobsite ensures that all everyone can get home safely.
---
April 2017
Dakota Peregoy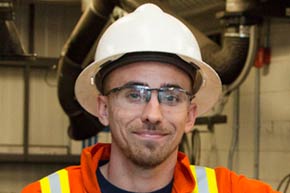 UVA Facilities Management is proud to recognize Dakota Peregoy as the April 2017 Safety Champion. Dakota is a Plumber Steamfitter with Energy and Utilities. He is described by his colleagues as having a "keen eye for safety," along with being patient, cautious, and watchful in all situations. He is a great example for his coworkers and apprentices learning with his group, encouraging them to wear proper Personal Protective Equipment, hazard assessments, as well as correct tools and materials. Dakota's careful attitude is to be admired and is an integral part of maintaining UVA FM's culture of safety!
---
March 2017
Bernard Curry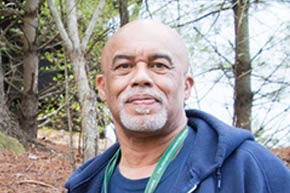 The UVA Facilities Management March 2017 Safety Champion is Bernard Curry. Bernard has been an electrician with Health System Physical Plant (HSPP) for a number of years and is an active member of the HSPP Safety Committee. Bernard was nominated and chosen as Safety Champion because he noticed and took steps to correct a dangerous situation: A generator near the Aurbach building is located up a steep hill with no walkway or stairs. Navigating this hill was treacherous even in fair weather. After witnessing the fuel delivery driver struggle up the hill in good weather and bad, Bernard brought the issue to the HSPP Safety Committee. The committee submitted a work order for the stairs to be installed. Landscaping did a wonderful job building stairs that will be helpful for both UVA employees and those responsible for maintaining the generator. In addition to this, Bernard has used his talents to create the art for the upcoming HSPP Safety Committee poster, reminding all of FM to "Be Safe!" UVA FM commends Bernard for his efforts to create a safer workplace for everyone.
---
February 2017
Jonathan Ragland & Michael Shumaker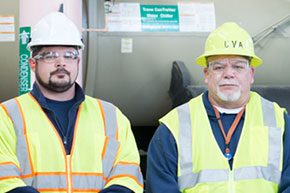 Facilities Management Occupational Health and Safety would like to recognize Jonathan Ragland and Michael Shumaker as the February 2017 UVA Facilities Management Safety Champions. Jonathan is a member of FM's Energy and Utilities Safety Committee, which has been evaluating the B4 U Start app as a Job Hazard Analysis (JHA) tool. The B4 U Start app requires the user to list a 911 address for the job location, which made Jonathan and Michael realize that they and a few of their colleagues knew the street address of their buildings. In order to be better prepared in the event of an emergency, Michael and Jonathan had signs made for the Chiller Plant doors and labels placed on telephones, so anyone making a call to emergency services could clearly report on their location. Thank you, Michael and Jonathan, for taking the extra step to make everyone safer.
---
January 2017
Tom Castellanos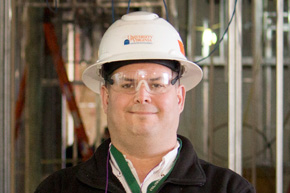 Tom Castellanos is UVA Facilities Management Safety Champion for January 2017. His dedication to making UVA FM a safer workplace is apparent through his efforts piloting new safety initiatives in FM and his membership on the Construction & Renovation Services Safety Committee, where he helped develop the PPE program. He is a consistent advocate for greater safety for employees in UVA FM: Tom is willing to speak up and point out safety issues and potential issues and apply solutions with a good attitude and open mind. He is also an advocate for proper training, ensuring that his employees are comfortable and competent in the work their assigned to do. Tom also offers support to UVA FM apprentices, continuing to foster the environment of safety UVA Facilities Management promotes.
---
December 2016
Judy Kingrea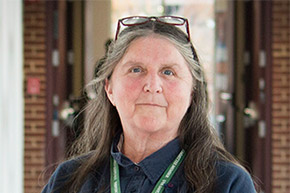 Facilities Management Occupational Health & Safety is delighted to announce Judy Kingrea is UVA Facilities Management's December 2016 Safety Champion. Judy is a housekeeping supervisor who believes in empowering her staff to speak up to improve safety in their workplace. She has instituted a Daily Safety Tip for her employees, so that everyone stays mindful of possible dangers at work; she nominates deserving employees as Safety Stars, recognizing their contributions to making their workplace safer; and she and her staff take part in Stretch and Flex daily to warm up their muscles and prevent injuries. She has created a safe environment of reporting for her staff without fear of retaliation, allowing everyone to learn from events and circumstances that may lead to injury if they go uncorrected or unrecognized. Judy is a safety ambassador for employees at UVA Facilities Management, having served as a member on UVA Facilities Management's Safety Committees for many years. She leads by example and looks forward to continuing to make working conditions the safest they can be for Facilities Managament employees.
---
November 2016
Brad Pace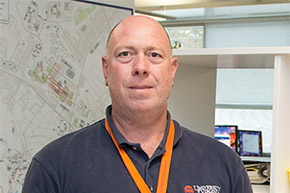 Facilities Management Occupational Health & Safety is proud to honor Brad Pace as the November 2016 Safety Champion. As the Damage Prevention Technician with UVA Geospatial Engineering Services, Brad displays his dedication to keeping the UVA Facilities Management community and outside contractors safe, not only by marking sometimes hard-to-locate underground utilities on construction sites, but also through his promotion of resources; repeat visits to construction areas; and by training employees, contractors, and subcontractors on the importance of complying with Virginia's Underground Utilities Damage Prevention Act.
Brad uses the latest technology to locate utilities and makes them more easily locatable for future jobs. However, his job is so much more than just "paint on the ground," thanks to the vision of Geospatial Engineering Services manager Jennifer Heckman, who created his position. Brad's part in CFO Donald Sundgren's goal of making UVA the safest university in the nation is key, with damage prevention playing a major role in preventing loss of life, injury and in preserving necessary infrastructure. Brad, along with the technicians and archivists of Geospatial Engineering Services, work together to keep everyone safe from dangers hidden just below the surface.
---
October 2016
Marcus Johnson
This month's Safety Champion is Marcus Johnson. Marcus epitomizes the idea of looking out for those around you. While at a loading dock, Marcus observed an employee getting ready to walk behind a vehicle that was in the process of moving. Neither the spotter nor the driver saw the employee. At the same time, Marcus observed two children playing on a Kubota unsupervised. Marcus approached the children and asked them to move away from the Kubota and inquired about the location of their parents. Both of those situations did not put Marcus in harm's way, but he went above and beyond to make sure other people were safe. For setting such a great example of how we should all look out for each other, Marcus Johnson is this month's Safety Champion.
---
September 2016
Marcus Klaton and Freddie Rogers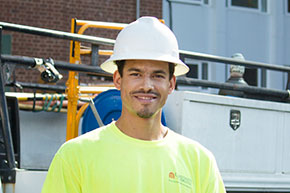 Making Facilities safer – one cord at a time.
Marcus Klaton and Freddie Rogers have been tasked with looking for ways to improve their safety program. Drawing from their past experience, they created a system of color coding electrical cords which raised attention to problems that might have otherwise been overlooked. Once this system was implemented, there were many deficiencies noted and quickly remedied. Freddie states that "through this process the safety committee has stood behind us 100%, and been open minded to any suggestions." This process has now begun to spread throughout other business groups, leading to safer workplaces throughout UVA Facilities Management.
---
August 2016
Teresa Dillard and Glenda Walton, Construction & Renovation Services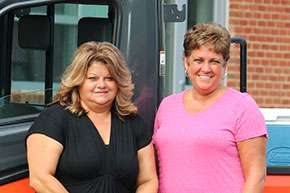 Teresa Dillard and Glenda Walton are the Safety Champions for August 2016. The heat and humidity increased rapidly, creating not just an unpleasant work experience, but creating a health and safety risk as well. Glenda and Teresa, as they do so often, rose to the occasion by supplying weary workers with much needed hydration. Delivering both water and snacks to not only Construction & Renovation Services, but to any worker who asked, they made challenging conditions not just more comfortable, but also much safer.
---
July 2016
Ryan Taylor, Central Grounds Zone Superintendent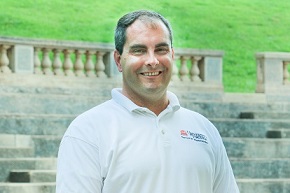 Ryan Taylor has been selected as the Safety Champion for July 2016. Occupational Health and Safety is proud to recognize Ryan because of his humility and compassion to others. With the recent disastrous flooding in West Virginia, Ryan knew immediately he wanted to make a difference in the same state he grew up in and still has family living. Ryan remembers a flood from when he was 9 years old, and he remembers just how the community was affected. More so, he knew how the Facilities Management family community would come together to help and make a difference to people in need. Because of Ryan's kindness, he was able to transport a truck load of donations from the University of Virginia to West Virginia, where the people needing it most would be able to benefit and receive safe and healthy relief in such a difficult time.
Thank you, Ryan!
---
June 2016
Kenny Bower, West Grounds Zone Manager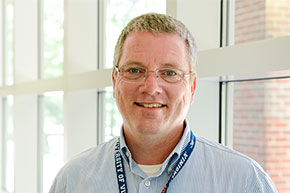 Kenny Bower has been selected as the Safety Champion for June 2016. Kenny reported a "near miss" that occurred when a contractor was working in a laboratory with an active laser. Because of this proactive behavior, a collaboration with UVA Environmental Health and Safety identified several opportunities for safety improvements. If Kenny had not reported the incident, a serious hazard would have gone unidentified.
Dr. Tom Leonard, director of Environmental Health and Safety stated "Kudos to your team for an exemplary response. This is how we all improve. Thank you and well done."