Mission statement, vision and core values
Mission statement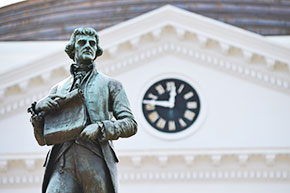 We serve and plan for our community today while assessing and adapting to the needs of tomorrow.
Vision
Excellence, innovation, and leadership in our support of the education, research, health care and public service mission of the University.
Core values
Collaboration:

Striving to work together and with others to accomplish the purpose and vision of the University by sharing knowledge, learning and building consensus

Respect:

Sharing a common respect for ourselves, each other and our University community

Integrity:

Striving for honesty and equity in all our endeavors

Excellence:

Striving to be second to none in all that we do

Pride:

Taking pride in the beauty of our grounds, the grandeur of our buildings and the quality of our work

Community:

Making the University and our community a better place to study, work, heal and live
Initiatives
Facilities Management has adopted five initiatives to support the core values:
Diversity and inclusion

– Facilities Management is committed to improve awareness of and increase appreciation for diversity, inclusion and equality. The Facilities Management Diversity, Equity & Inclusion Team was created to continue the efforts and foster greater respect and understanding of diversity within the organization.

Safety

– UVA Facilities Management operates under the highest ethical standards and possesses exceptional communication skills to inspire, enthuse and stimulate a culture of health and safety stewardship. Facilities Management strives to offer a model occupational health and safety training program in the effort to sustain UVA as an incident- and injury-free work place and a model for higher education institutions across the country.

Sustainability

– Sustainability at UVA introduces new initiatives and incorporates sustainability into existing practices that requires collaboration and partnerships across the University.

Respectful workplace

– Facilities Management fosters a respectful workplace that actively supports mutual respect, the dignity of all employees and is free from discrimination and harassment. Visit Respect@UVa for more information about this University-wide initiative.

Training and development

– Facilities Management Training & Development initiative was instituted to enhance the current and future organizational effectiveness by increasing employees' abilities to maximize performance. This is accomplished through the existing apprentice program and implementation of a cohesive training and development plan which utilizes innovative learning concepts and technology. Facilities Management is committed to the continued growth and development of the department's most valuable resource, its people.