FAQs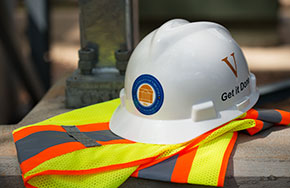 General
If I have a safety question or concern but I do not know the right person to contact in the safety department, what should I do?
Employees can contact the Facilities Management Occupational Health and Safety Department (FM-OHS) by calling the main number (434) 297-6379 or sending an email to fm-ohs@virginia.edu.
Who should I contact for general information or questions in the Facilities Management-OHS office?
For general information and questions, please call the FM-OHS main line at (434) 297-6379, or send an email to fm-ohs@virginia.edu. As always, if you see or have an emergency, please call 911 immediately.
Isn't safety FM-OHS' job?
Safety is the responsibility of every individual. FM-OHS is not responsible for your safety, but is here as a resource to give you all the tools that you need to work safely.
Why are FM-OHS rules different than what we think OSHA says?
Facilities Management's health and safety programs are developed from a variety of resources, and employ the best practices that are available. OSHA regulations represent the minimum standards required by the law, but not always the most current, or best practices available. We believe that our workers deserve the safest possible work environment, and will always afford the best protection available.
Can FM-OHS get me fired?
It is important to understand that FM-OHS has no authority to discipline employees. Our role is to inform, train, observe, and to investigate, but not to police. If you break a safety rule, we may be asked to investigate, or to supply information, but no disciplinary action comes from our office.
If there is more than one person in a Facilities Management vehicle and no one gets out to spot the vehicle in reverse, is the driver the only one that could get disciplined?
It is the driver's responsibility to instruct the other employees in the vehicle to spot, but discipline could be given to all in the vehicle.
If I am taking medication that might make me drowsy should I let someone at work know?
Yes, inform your supervisor. They do not need to know why you are taking the medication, but they may need to change your job task while you are taking the medication.
Is it alright for contractors or other non-UVA personnel to use our equipment such as an aerial lift, scissor lift, etc.?
No. Due to liability reasons as well as safety reasons, contractors have to supply their own equipment. Learn more about risk management by visiting UVA's Office of Property & Liability Risk Management website.
Industrial Hygiene
What is industrial hygiene?
Industrial Hygiene is the science of anticipation, recognition, evaluation, control, and prevention of health and safety hazards in the workplace that may cause injury, illness, or affect the well-being of workers and the community. These hazards can be biological, chemical, physical, or ergonomic (i.e., dust, metal fumes, solvents, radiation, noise, work posture).
How do industrial hygienists conduct hazard assessments?
Hazard assessments are made by identifying potential hazards and by looking at employee activities and exposure. In order to evaluate the severity of hazards, air or noise sampling is often utilized to quantify an employee's potential exposure. Once an employee's exposure is quantified, we try to find ways to manage their exposure.
What is sampling?
Sampling is the practice of capturing a representative amount of a contaminant that an employee is exposed to during his/her work activities.
One example is air sampling, which involves taking air samples while an employee is working around airborne hazards. This involves an employee wearing collection media (i.e., a small plastic cassette) around their breathing zone, so that airborne contaminants are collected at the rate that an employee may be breathing it in.
Another example is noise sampling, which involves measuring noise levels while an employee is working around high-noise activities. This involves an employee wearing an electronic measuring device on his/her shoulder, which measures sound energy that reaches the employee's ears.
Can I request sampling be done if I am concerned about my exposure to something?
Yes. On the OHS website, listed under Forms, there are two Sampling Request Forms. Currently, you can request either Air Sampling or Noise Sampling. Remember, before sampling is conducted, a hazard assessment will be conducted to determine what the potential exposure is and if sampling is warranted.
If I'm using my PPE, aren't I protected from hazards?
Usually. However, PPE has specific uses and limitations, which is why engineering and administrative controls should be considered before using PPE. If PPE is the only way to manage exposure to a hazard, you need to confirm that the appropriate PPE is being used correctly.
For example, a respirator must have the correct filter for the airborne hazard; ear plugs need to be properly inserted to sufficiently protect you from noise; or using protective clothing may be required when working around skin hazards. OHS can be contacted to confirm that your PPE is being used properly.
Injury related
Who is responsible for First Aid Kits in vehicles and buildings? How do I get my area's kits restocked?
Check your area's vehicles and buildings for First Aid Kits. These kits include a variety of items that can treat minor ailments/injuries and help prevent infection. These kits also contain a limited supply of goods that may expire. These kits are your responsibility to inspect and keep up-to-date. If you need a first aid kit for your vehicle, or you have a kit that needs updating/refilling, contact you department's purchaser to request the needed supplies.
Where can I find the accident report form (Worker's Compensation Packet)?
Worker's Compensation & Accident Report Form
The accident report form (also known as Worker's Compensation Packet) is processed through Facilities Management Occupational Health and Safety. The official record is then kept by University Human Resources.
If I am injured on the job, do I have to report it even if I don't want to go to the doctor?
Yes, Facilities Management requires employees that are injured while working to report the injury to their supervisor on the day of injury. The supervisor can assist the injured employee with filling out the proper forms found in the Worker's Compensation Packet. Injured employees have the right to decline medical services but can change their mind. However, the employee must report the injury and complete the paperwork.
Where can I find the vehicle accident report form (Auto Loss Notice Form)?
Auto Loss Notice Form
The Auto Loss Notice Form is maintained by UVA Office of Property & Liability Risk Management.
Lockout/Tagout
How do I order UVA-standard Lockout/Tagout Equipment?
Determine what equipment you need, and with your department's purchasing agent:
Access the UVA Marketplace via Workday.
Select Connect to Supplier Website and fill out needed requisition items.
Once on the Fastenal page, go to My Account and My Fast Favorites, select My Account.
Go to Order Templates.
Click Brady Custom Locks.
Select needed items and click Add to Cart.
Once in the cart, update quantities as needed.
Checkout as usual per the Marketplace system.
Read the full Lockout/Tagout Program
Personal protective equipment (PPE)
Does FM Occupational Health and Safety have a list of preferred PPE - including items, product numbers/descriptions, approximate costs, and how to order PPE?
Yes, FM-OHS has developed a list of preferred PPE. However, anytime questions arise, please don't hesitate to contact us to clarify your PPE questions!
What if I need prescription safety glasses/eye protection?
UVA FM provides vouchers so that employees who need them may get prescription safety glasses. The safety glasses voucher will cover basic prescription lenses and frames for safety glasses. The cost of upgrades or other customizations are the responsibility of the employee. If you have any issues when purchasing your prescription safety glasses with a voucher, please email FM-OHS@virginia.edu.
Employee steps:
Be sure you have a current eyeglasses prescription (less than 1 year old).
Obtain your supervisor's permission via email.
Coordinate with your department purchaser to create a requisition.
Purchaser steps:
Start a Purchase Order by accessing Workday Purchasing.
In the Search bar, type Create Requisition and select the task.

Change Requester Name to the name of the employee needing glasses.
Set the following:

Deliver-To: FM Shop #5 > Floor 01
Designated: DN000311 FM-Education and General
Cost Center: Set the Cost Center to that of the employee
Program: PG00215 FM-Overhead
Additional Worktags: Business Unit: BU16 CO-Operations Admin

Click OK to move to the next screen.
Choose Request Non-Catalogue Items.
Set the following:

Item Description: Prescription Safety Glasses with side shields (Name of Employee-Computing ID)
Spend Category: Supplies Apparel (SC0259)
Supplier: Visionworks
Quantity: 1
Unit Cost $175.00
Unit of Measure: Each
Memo: Prescription Safety Glasses with side shields (Name of Employee-Computing ID)

Add to Cart

Go to Cart >> Checkout

Set the following:

Requisition Type: 1. Standard
Memo to Supplier: Prescription Safety Glasses with side shields (Name of Employee-Computing ID)

Submit. Await requisition approval.
When approved, go to your Workday alerts and select the approved requisition so that it opens.
Select PDF in the top right of your screen (under your profile picture).
Save PDF.
Email to employee or print and give to employee.
Email FM-OHS@virginia.edu if you have any questions.
Can I wear a dust mask while working?
A "filtering facepiece" (dust mask) is only to be used in instances of nuisance-level of dust or odor. It is not to be used in place of a respirator.
Before using a filtering facepiece:
If I have a condition that prohibits my wearing PPE can I get an exemption?
There is no exemption from wearing PPE that is deemed necessary for a job task. PPE is the last line of defense between the worker and a known hazard, and the failure to utilize PPE would represent an unacceptable exposure to that hazard. If a situation arises that prohibits you from wearing required PPE, please notify your supervisor and contact FM-OHS immediately.
Can I bring personal protective equipment from home if I don't like what my supervisor gave me to use?
No, Facilities Management is responsible for providing your personal protective equipment (PPE). If you cannot use what was given to you, let your supervisor know and other brands will be tried.
Who is eligible for safety shoes and how often is an employee eligible?
UVA Facilities Management employees who work in the field and across Grounds are likely eligible for safety shoes due to their work duties. On average, employees typically need replacement shoes on an annual basis. However, there may be different guidelines based on different responsibilities and different types of shoes. If you need new shoes, you must submit a request via the Shoe Request Portal.
What do I need to do to receive safety shoes and where do I go to get them?
Employees needing new safety shoes must submit a request via the Shoe Request Portal. FM employees and their supervisors will be emailed approval once the shoe request is processed. After an employee has received this email, they will receive a voucher from Red Wing in their email and via text message, if they have an FM-issued mobile phone.
Vouchers usually get sent out every Wednesday for processed requests. All employees must have a valid UVA ID badge when picking up shoes. All employees must pick-up their own shoes. An employee cannot send another person in their place to pick up shoes.
Red Wing Shoe Program information and truck schedule
Where can I wear my UVA-issued safety shoes?
UVA-issued safety shoes, as with most UVA-issued materials, are to be worn only during work hours and to perform work related duties. UVA-issued safety shoes are not to be worn for personal use.
Is there a deadline for shoe requests?
Yes, shoe requests must be made no less than 7 days prior to the shoe truck visit. Requests made on the Monday or Tuesday (day before and day of) the shoe truck visit will not be processed until the next shoe truck visit. Unfortunately, last minute requests cannot be accommodated.
Where do I pick up safety shoes?
UVA's main safety shoe provider is Red Wing Shoes, and shoes can be picked up at the on-site Red Wing shoe truck during the designated times (see schedule).
I ordered my safety shoes more than two weeks ago. How do I check the order status?
You can call the local Red Wing store at (434) 529-6761. If they are unable to help, fill out the Safety Shoe Comment Form
Can I stop by the Red Wing shoe truck if I am not eligible for shoes?
You must be eligible and have a valid UVA ID badge to pick up shoes from the shoe truck. However, the truck does have some ability to perform repairs onsite, if needed. Please only stop by during a slow time, as employees needing shoes have priority. Please note: Some repairs may need to be made off-site. If so, plan to have another pair of qualifying shoes available for work during this time.
Does the Red Wing shoe truck carry a large inventory of safety shoes?
Yes, the Red Wing shoe truck has a large inventory of different types and styles of shoes to accommodate all of UVA's employee needs and various working environments.
Is there a set allowance for safety shoes? What if the shoes I desire are more than the designated allowance?
Yes, there is a set allowance for safety shoes. If you desire a shoe that costs more than the allowance, you are responsible for paying the difference. Accessories are not part of the shoe allowance.
What if I have a special circumstance or special/medical shoe requirement?
If your requirement is medical, please scan and email your doctor's note/prescription to fm-ohs@virginia.edu. FM-OHS will notify Red Wing prior to the shoe truck visit so that they can stock the needed shoes, supplies, or equipment to fit your needs.
Red Wing shoes are able to accommodate all types of needs and special circumstances. The shoe truck attendant is highly knowledgeable and skilled in providing the proper fit or special requirements to all Facilities Management employees.
What if my shoes are worn out, damaged or unsafe, but I am not eligible for shoes yet? How do I go about handling this?
First, visit the Red Wing shoe truck during a scheduled time and let the attendant assess your shoes. There may be an option for repair. There are many instances when an employee's shoes wear out due to work requirements prior to their eligibility date. Contact your supervisor and determine your needs, then submit or have your supervisor submit a request via the Shoe Request Portal.
Is the Red Wing shoe truck able to assist with routine maintenance and repairs of shoes?
The Red Wing shoe truck is able to assist with routine maintenance and repairs on-site. In some cases, repairs may require something to be ordered, or even the shoe to be serviced beyond the truck's repair capabilities at a remote location. Red Wing offers free monthly maintenance, and everyone should take advantage of this perk. This will help maintain your foot's comfort, and the quality and integrity of your safety shoes.
What if I miss both dates that the Red Wing truck will be here? Will I still be eligible next month?
Yes, employees remain on the list for 90 days or until they pick up their shoes, whichever is first. After 90 days, you or your supervisor must re-submit a request via the Shoe Request Portal.
Training
Does UVA Facilities Management-OHS offer health and safety training classes for employees?
Yes, training classes are offered on a routine basis. Please visit the training section for a list of available classes. Some examples are Forklift, OSHA 30, Confined Space and Fall Protection. Contact FM-OHS for more information.
What if the class I need/want isn't on the schedule?
Email fm-ohs@virginia.edu
Email must come from employee's supervisor.
Include:

Employee's name (first/last)
Computing ID
Class(es) requested
Preferred date, if desired
What are your typical working hours?
I want to take a training class. Who do I talk to?
Your first stop should be your supervisor, to determine if the training is required for your job, or if not, if they otherwise approve of your attending. Visit the FM-OHS training webpage, which lists all of the upcoming training courses that are scheduled, choose the course and the date, and then contact FM-OHS to be registered. If you have a need for a training that is not listed, fill out the Training Request Form and submit it to fm-ohs@virginia.edu. Someone will contact you.
When is New Employee Safety Training and am I required to attend?
New Employee Safety Training is scheduled the first Tuesday of every pay period and begins promptly at 7:30 a.m. New Facilities Management employees, including temporary workers are required to attend. Employees can bring a snack and beverage. Also, employees that receive a promotion to a supervisory role are required to attend. Notices are emailed to employees' supervisor from Facilities Management Human Resources & Training as notification and includes the training date and training location/meeting room.