Sign services
COVID-19 Signage & Products
Protection guards and designs for social distancing, hygiene and more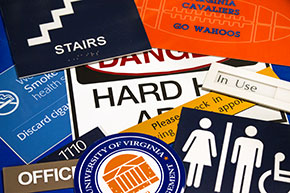 Facilities Management's sign shop is a full service provider with employees who specialize in custom design, fabrication and installation. The sign shop also offers consultation services to help determine each client's needs.
Custom sign products include:
Interior and exterior signs
Banners
Lettering
Nameplates
Nametags
Stickers
To request sign service, please submit a service request form.
Light pole banners on Grounds
As an iconic institution of higher education, and as a UNESCO World Heritage Site, the University has important guidelines and a process that direct how light pole banners and other pageantry can be placed and displayed on and around Grounds.
This process — which brings together the Office of the Architect for the University, University Communications and Facilities Management — helps ensure light pole banners are hung with consideration for the historic importance of the University. The process also helps University Communications design artwork that is consistent with University brand identity and that creates a coherent experience for University visitors and community.
As a key step in the process, the three groups listed above will review all light pole banner requests that involve installation on and around buildings, bridges, light poles, etc. on or bordering Grounds. To request light pole banners, please download and fill out the Light Pole Banner Request Form

.
Print & Graphics Guidelines
Have questions about sending files to be printed? Please consult our Print & Graphics Guidelines PDF.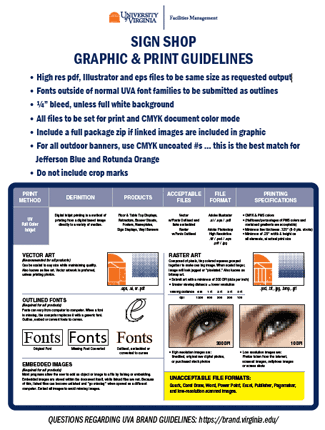 ---
For more information about the light pole banner system and/or University branding, visit the UVA brand website (visitors to the website will need to register as a user).