Energy & Utilities
Facilities Management operates and maintains all University utility plants and distribution systems with the exception of telephone and data communication services, which in most cases, are provided by UVA Information Technology and Communication.
Energy & Utilities oversees high voltage electric systems, central heating and chilled water plants (for building air conditioning), water storage and pumping facilities, and the associated distribution systems required to transport these services to most University buildings.
Energy & Utilities is comprised of six divisions:
Energy & Utilities Maintenance Systems
Heat Plants
Heating plants at UVA generate steam and hot water that are distributed through networks of underground distribution piping to most facilities on Grounds.
Did you know ...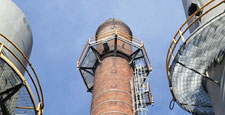 The University of Virginia district heating plants used 1,290,275,000,000 Btu of natural gas, coal, and oil to provide 84% of the heating energy used at the University. The main heat plant used 94% of that to produce 986,929,000 pounds of steam at 180 psi and 380⁰F.
Chiller Plants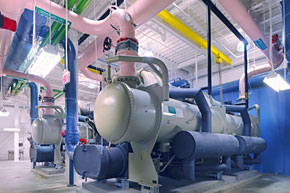 The Chiller Plants team provides year-round chilled water services for air conditioning and process applications to more than 10 million square feet. The team takes great pride in providing reliable and efficient cooling to customers.
The current systems consist of central plants that generate chilled water, underground piping to distribute the chilled water and cooling systems throughout the University that utilize the chilled water. The district, or centralized, approach to chilled water delivery significantly improves energy efficiency and cooling reliability.
In addition to the plant equipment, the team also maintains, repairs, and operates two portable air cooled chillers mounted on trailers which are used to provide emergency, standby, or supplemental cooling when needed.
Power and Light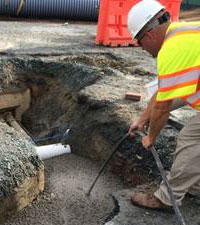 The Power and Light team maintains the electrical substations and associated underground distribution power lines. In addition to normal maintenance, the Power Systems team routinely works on construction projects of varying sizes to support the growth and expansion of the University's electrical distribution and other systems.
Three 34.5 kV to 12.5 kV electric substations serve University grounds. These substations are equipped with redundant service from Dominion Virginia Power (DVP), which significantly increases service reliability to University facilities. The Power and Light team maintains these substations which results in a much lower electric rate for the University. The team is also responsible for maintaining more than 200 building pad-mount transformers and approximately 375 switches, breakers, manholes and emergency telephones. In addition, the team monitors and upgrades power distribution equipment to improve reliability and efficiency, and performs lamp and fixture replacement for exterior lighting to reduce maintenance costs and improve efficiency and light distribution.
Utilities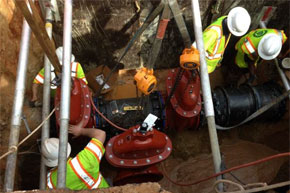 The Utilities team maintains more than 150 miles of underground systems including heating (steam/condensate, medium temperature hot water), cooling (chilled water), water and sewer, and storm sewer distribution lines. In addition to normal maintenance, the Utilities team routinely works on construction projects of varying sizes to support the growth and expansion of the University's distribution systems.
The Utilities team also collaborates and partners with other Facilities Management divisions on sustainability and reliability initiatives.
Engineering & Energy — Metering & Billing
Metering & Billing have joined the Energy & Utilities team within the Engineering & Energy group. The Metering & Billing team measures and collects energy management data and maintains the utility metering systems throughout the University. The team works to collect data from various utilities, including steam, heating water, chilled water, electricity, and domestic water. Energy management and sustainability goals are supported through the use of data collected from over 1,300 physical meters that measure and record commodity consumption. The collected data is used for utility billing, consumption comparisons, identifying anomalies, and troubleshooting.
Contact information

Paul Zmick, P.E.
Director of Energy & Utilities
Phone: (434) 982-5883
Email: pgz5z@virginia.edu
Peter Kowalzik, P.E.
Associate Director of Heat Plant Operations
Phone: (434) 924-7850
Email: pnk8a@virginia.edu

Sathish Anabathula, P.E.
Associate Director of Power and Light
Phone: (434) 982-4641
Email: sa4nb@virginia.edu

Justin Callihan
Associate Director of Chiller Plants
Phone: (434) 982-5907
Email: jhc4h@virginia.edu

Cameron Ratliff
Associate Director of Utilities
Phone: (434) 982-1090
Email: cdr5z@virginia.edu
Assistant Director of Plant Maintenance
Vacant

Paul Stevens, P.E.
Engineering and Energy Manager
Phone: (434) 924-7822
Email: pss7p@virginia.edu