Lock and key services
Locks, keys and lock changes are provided by Facilities Management for all academic and health system buildings.
Service hours: 7 a.m.-3:30 p.m.
Key services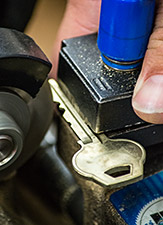 Authorized requestors may obtain keys by submitting an online key request form. Please include the building, room and/or key numbers and the quanity of keys required on the request form.
State law prohibits reproduction of any academic or health system key by anyone other than the University Lockshop.
Lock services
Lock cylinder changes are arranged by submitting a service request form to the Facilities Management service desk. No one except a Facilities Management Lockshop employee is authorized to change lock cylinders in academic and health system buildings.
Resources