Office for Sustainability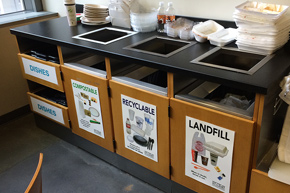 The Office for Sustainability supports University-wide collaborative leadership and implementation of environmental sustainability across Grounds. The office partners with students, faculty staff and community stakeholders to promote a culture of environmental, economic and social stewardship in alignment with the University's Sustainability Plan 2020-2030. The office's full-time staff members, plus numerous student employees and volunteers, lead a wide range of programs, projects and services, such as:
Greenhouse gas and nitrogen footprint tracking
Building Efficiency Program
Energy conservation measure research and implementation
LEED representation
Recycling, composting and waste management
Annual outreach and engagement events
Green Workplace
Sustainability Advocates
General sustainability communications
Visit the Sustainability at UVA website for more information and broader sustainability initiatives at the University.
Contact information

Andrea Trimble
Sustainability Director
Phone: (434) 982-4526
Email: atrimble@virginia.edu