Secure your team's future by preparing now
Author: Sandra A. Smith, E&G Custodial Services Manager, QA & Staff Development; published by SRAPPA, spring 2021. Full article available in the SRAPPA Spring 2021 newsletter.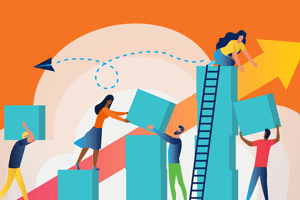 If 2020 has shown us anything, it's that it takes everything we've got just to maintain daily operations. Success during such times demands high levels of engagement and commitment from every team member every day. Absent these two qualities, we couldn't reach our core business goals of providing APPA level 2 service and healthy work and study environments.
But what about the future? What is leadership doing today to help team members prepare to take the reins when opportunities present themselves tomorrow?
At UVA, the Educational & General Custodial Services department works hard every day to keep our "feet" firmly planted in the present and the future. In addition to meeting current customer expectations for clean and healthy environments, we also provide focused learning opportunities to help team members prepare for greater roles for whenever they become available.
We feel so strongly about providing ongoing professional development that we named it and created a process to drive it. It's called Continuous Advancement Preparation (CAP), and like a multi-rater feedback process, (i.e., 360-degree performance feedback), CAP employs multiple tools and people to reach individual development goals for our associates. All we ask of candidates is a commitment to want to grow and apply what they've learned. Here are some of the program's concepts:
Identify needed competencies for upcoming roles.
Establish one-on-one customized mentor-ships.
By ninetieth day of employment, new hires complete an innovative Good Starts! developmental program.
Encourage professional certification.
Send an enthusiastic candidate — instead of a seasoned manager — to a conference or industry association meeting.
Assign an "own it" project for candidates to assess and successfully complete.
Engage a third-party professional to address any interpersonal impediments that may be blocking progress.
Overall, the benefits include earlier wins by new hires; each is motivated to become a "positivity champion," and, of course, many have moved into progressively greater roles or have demonstrated advanced skills.
Whether or not candidates move "up" in the organization, it is clear that they enjoy the process offered by our Continuous Advancement Preparation initiative. Sometimes the mere act of learning something new is enough.
Full article available in the SRAPPA Spring 2021 newsletter