Tiny Trash Bins = Huge Impact!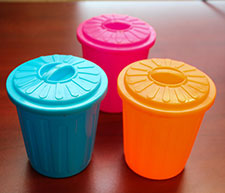 Sustainability is one of four core values in UVA Facilities Management. To support this particular core value, Custodial Services is promoting sustainability through a program of centralized trash collection and removal.
This means the responsibility of trash and recycling removal is being transferred from custodial staff to office occupants. When trash and recycling is managed properly, the reality is trash doesn't add up to much on a daily or even weekly basis. Through vigilant monitoring, we have concluded that "paper" is the majority content receptacles; through individual conscientiousness and collection, very little will go into landfills. Facilities has begun another pilot to compost food scraps and other organics; this will further reduce trash, and therefore the "tiny bins" will need occupant needs.
Custodial Services is promoting and providing free miniature bins for non-recyclable and non-compostable contents. And, to add a splash of fun, the tiny trash bins, which are only a little over four inches high, come in assorted colors!
While a large benefit to centralized (DIY) trash is landfill reduction, there are two other significant pluses. First, for every 1000 office occupants who retire their regular trash can and cease use of plastic liners, UVA  will save $6000 per year. Second, custodians will apply saved time to higher impact work in rest rooms, lobbies, etc. Or maybe just spend a few extra minutes improving the shine on that mirror or glass table top.
Occupants in any building can 'take the first step' and trade-in their regular trash can for a tiny bin. They can contact their building supervisor and ask them to do the exchange on any given day and receive this bin in a color of their choice.
Bottom line: This is a very achievable and painless change that everyone can make and at the same time, make a significant contribution to landfill reduction, cost savings and increased attention to higher priority cleaning tasks. Tiny trash=huge impact!
If you want to exchange your trash can for a tiny bin, please call the housekeeping supervisor for your building or send a request via email to Sandra Smith, sas7rs@virginia.edu.