Vaccines for UVA employees
April 6, 2021
All UVA employees are now eligible to schedule a vaccine appointment with UVA Health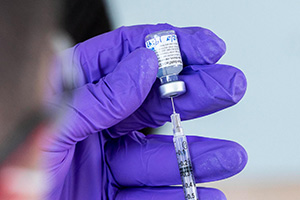 All UVA employees — including all Facilities Management staff — are now eligible to schedule a vaccine appointment with UVA Health.
Employees will receive an email with a button to click to schedule their vaccination appointment (this email may come via UVA Health MyChart). The invitations are unique to each individual and should not be shared with others. If you cannot immediately find an appointment that is convenient, you can check back later at the same link.
Vaccinations will be provided at the COVID Community Vaccination Center at Seminole Square, 393 Hillsdale Drive, Charlottesville.
The speed at which the University can schedule and vaccinate all UVA employees will depend on the number of doses the Virginia Department of Health allocates to UVA Health each week.
Those who have already registered for vaccinations through the Blue Ridge Health District (BRHD) or Vaccinate Virginia website may receive invitations from both the BRHD and UVA Health. You are welcome to take advantage of either option to be vaccinated at the first available opportunity.
Scheduling a vaccine appointment during normal work hours requires supervisor approval. Employees may use the Public Health Emergency Leave (under Occasional Time Off) when recording leave for a vaccine appointment within Workday. If recording time within AiM, it may be entered as "admin time."
For Facilities Management employees who need assistance with scheduling their appointment due to technology challenges or language barriers, Occupational Programs is offering walk-in hours during April.
Please see Frequently Asked Questions about UVA's employee vaccination process on the UVA Coronavirus website.
For medical information on the vaccines and COVID in general, please see the UVA Health website. Additional information can be found on the CDC COVID-19 website.
---
Jane Centofante
Communications senior generalist
UVA Facilities Management
(434) 982-5846
janecentofante@virginia.edu