Environmental compliance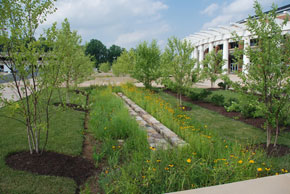 Facilities Management's Environmental Resources provides oversight for environmental compliance requirements for all areas of UVA Environmental Resources serves as a liaison between UVA and state and federal regulatory agencies on environmental permitting and regulatory compliance issues. Environmental Resources also participates in sustainability programs across Grounds. Areas overseen by Environmental Resources include:
Air permitting

Boilers
Emergency generator
Miscellaneous emissions
Greenhouse gas emissions reporting

Stormwater permitting

Stormwater management
Illicit discharge reporting
Stormwater pollution prevention programs
Erosion and sediment control planning and inspection

Petroleum Spill Prevention Control and Countermeasures Plan (SPCC)

Petroleum storage requirements and testing
Spill response
Tank decommissioning

Training (spill response, SPCC, stormwater pollution prevention, Class C UST Operator)
Sustainability – programs to improve air and stormwater discharges
Questions or concerns regarding environmental permitting or other environmental concerns should be referred to Kristin Carter, acting associate director for Environmental Resources at (434) 982-5034 or kma4z@virginia.edu.
For emergency spill response, call the UVA Office of Environmental Health & Safety at (434) 982-4911.