UVA Sustainability launches new website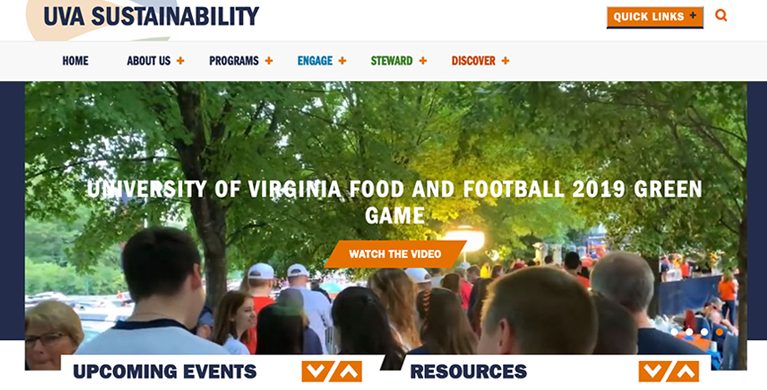 A new, comprehensive sustainability website has been launched to better capture the breadth of sustainability initiatives at UVA. It's easier than ever to submit events to the UVA Sustainability calendar, find information on working groups, sustainability courses, interdisciplinary research, and see all the ways you can get involved in creating a more sustainable future at UVA and beyond Grounds.
The new site is modeled after the UVA Sustainability Plan's three major themes: Engage, Steward and Discover.
Engage seeks to build unity and cohesiveness of communication, to foster sustainability literacy and awareness across Grounds and to the broader community, and to convey the breadth and interconnectedness of sustainability.
Steward seeks to ensure the stability and longevity of both natural and human environments to support the goals and functions of the University.
Discover seeks to promote and foster critical thinking about environmental sustainability issues in future and current leaders by seeking solutions both locally and globally via interdisciplinary teaching and research to reduce the impact of human activities on the environment.
Visit the new site and learn something new about UVA Sustainability!
---
Jane Centofante
Communications senior generalist
UVA Facilities Management
(434) 982-5846
janecentofante@virginia.edu