FM staff honored by TJAGLCS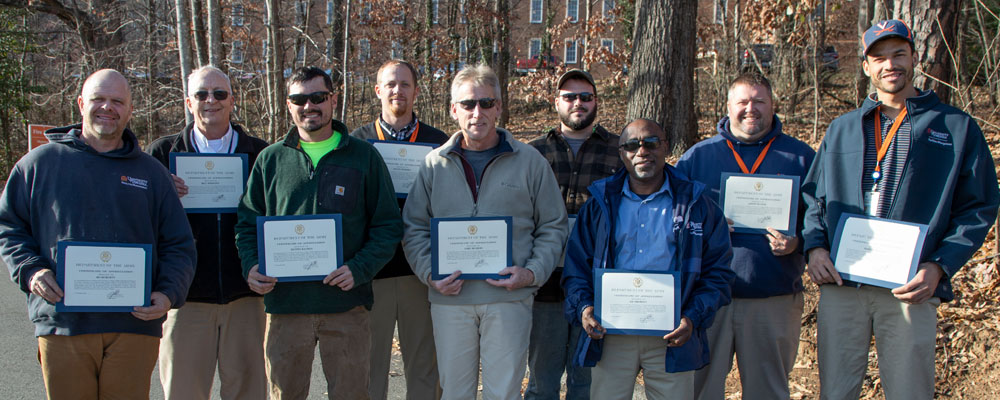 The Judge Advocate General's Legal Center and School (TJAGLCS) recently honored Facilities Management employees for their assistance with a water main break in late September.
Employees from North Grounds Zone Maintenance, Utilities, Systems Control and Geospatial Engineering Services were recognized for their contributions to the emergency repair. In the middle of the night on Sept. 21, TJAGLCS security discovered excessive flooding within the building. Systems Control alerted FM staff members who quickly turned off the water to the building while they repaired the water line and cleaned up the site.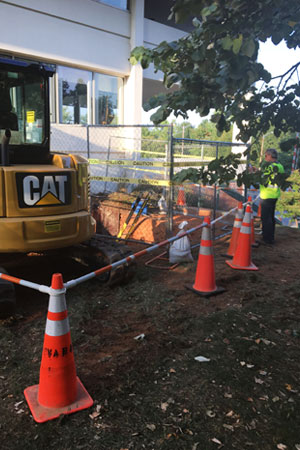 "[Facilities Management staff members] performed in an exemplary manner restoring utilities to the Judge Advocate General's Legal Center and School during the 2019 World-Wide Continuing Legal Education Course," according to a certificate of appreciation presented to staff by TJAGLCS commander, U.S. Army Brigadier General Joseph B. Berger III. "[The staff's] professionalism, hard work and determination allowed the organization to maintain operations throughout the disruption of water service."
The following employees were recognized for their contributions to this effort:
Utilities staff David Hermes, Bill Simmons, Bo Roberts, Gary Bickers, Dustin Watson, Ed Brobbey, Marcus Klaton and Josh Seiler.
North Grounds Zone staff Greg Gipson, Bernard Carroll, William Layne, George Collier and Richard Trauger.
Geospatial Engineering Services staff Jason McNew.
Systems Control Center staff David Hasson, Scott Layne, Andy Campbell, Greg Goff, Robert Heckman and Lucas Todd.
---
Jane Centofante
Communications senior generalist
UVA Facilities Management
(434) 982-5846
janecentofante@virginia.edu