Employee Appreciation Lunch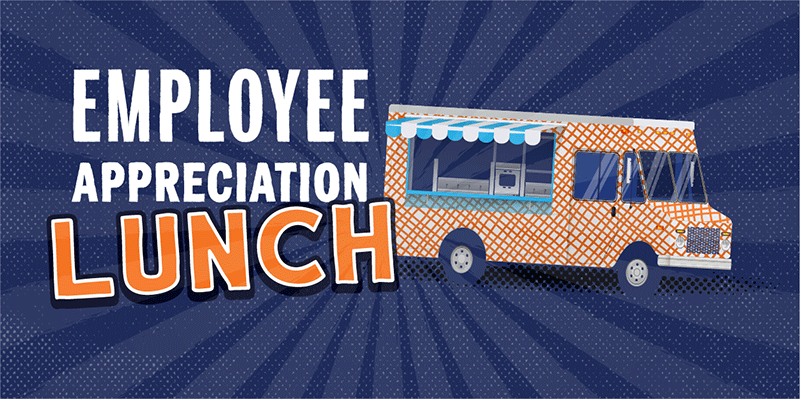 Facilities Management is hosting a new event for employees this year — the Employee Appreciation Lunch, set for Thursday, Oct. 3 from noon to 2 p.m. in the FM Yard, located behind the Leake Building.
This lunch — which has been organized in place of the annual Ice Cream Social and Fall BBQ — will feature a variety of food options, a cornhole tournament and raffle prizes.
This event will only be open to current and retired Facilities Management employees to ensure enough food options are available for everyone. All FM employees are allotted one hour at the event, check in with your supervisor if you plan to participate in the cornhole tournament which will likely exceed one hour.
Email Lela Garner (ldg6b@virginia.edu) or Molly Shifflett (mjs9de@virginia.edu) with any questions.
Important details:
Food — Food will be provided by numerous food trucks. Each employee can choose one savory entree and one sweet dessert.
Dessert options include: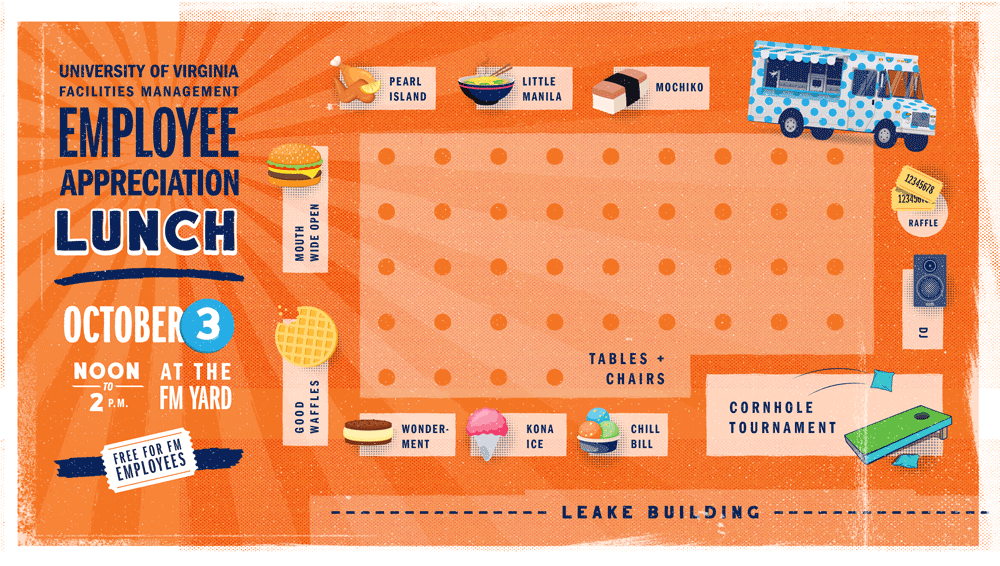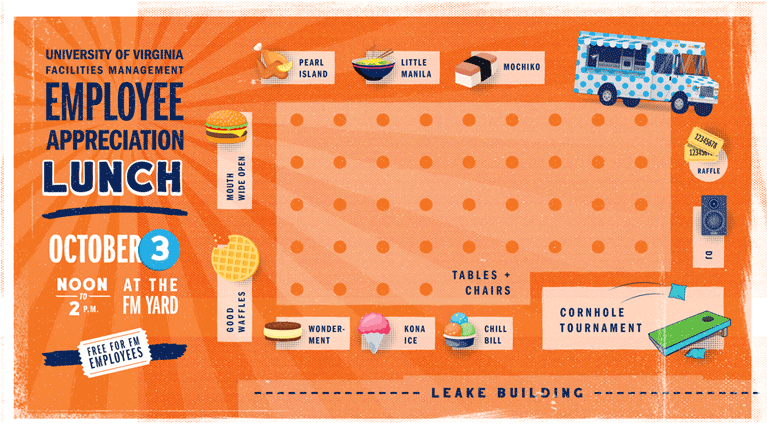 Cornhole Tournament — Participation in the tournament is free and restricted to Facilities Management employees. The tournament will be capped at 20 teams and include a prize for the winning team. The tournament will likely take the full two hours so be sure to check in with your supervisor to confirm the time commitment. Sign-up for the tournament is available online. If you need assistance with sign-up, visit the Service Desk who may submit the form on your behalf.
Prizes — FM will be raffling off multiple prizes to those who attend the event. Swing by for your chance to win!
Transportation — Parking & Transportation will provide a bus to help transport FM employees located near the Health System to and from the event. Buses will run a continuous 15-minute circuit from the FM Yard to the Health System area and back. More details to come about pick-up and drop-off locations.
---
Jane Centofante
Communications senior generalist
UVA Facilities Management
(434) 982-5846
janecentofante@virginia.edu