Vaccine updates
January 22, 2021
Some Facilities Management employees eligible to receive the COVID vaccine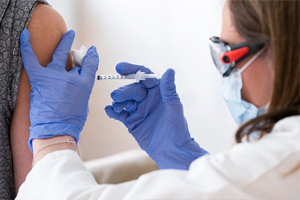 The University of Virginia continues to expand its vaccination of employees and community members.
Earlier this month, approximately 500 Facilities Management employees working within UVA Health buildings on a regular basis were invited to schedule their first doses of the COVID-19 vaccine. Additional groups will be eligible in the near future, including those over 65 years old or with underlying health conditions.
UVA Health Hospital Epidemiology has been tasked with aligning the roll-out with Virginia Department of Health guidelines regarding the different populations eligible to receive the vaccine according to the state's phased distribution. A vaccination planning group for Academic employees is currently making preparations for delivering vaccines to additional groups of people as VDH guidelines expand to those populations.
At the direction of FM leadership, Teresa Dillard has been communicating with eligible Facilities Management employees via email regarding vaccination scheduling. Only those who receive an email directly from Teresa Dillard, UVA Health Employee Health & Hospital Epidemiology or the Blue Ridge Health District are eligible to schedule their vaccine at this time.
Getting vaccinated is a voluntary choice and represents the best way to protect yourself from COVID-19. Take time to understand the risk factors and potential side effects associated with the vaccine. Carefully consider if it is appropriate for you to get vaccinated. If you have questions about specific medical conditions, please talk to your provider or specialist.
You are considered protected 2-4 weeks after your second dose of the vaccine. However, you must still practice physical distancing, wear your face covering, check in with HOOS Health Check, and wash your hands in order to protect those who have not yet received a vaccine.