UVA leader visits FM
July 27, 2021
Colette Sheehy thanks Facilities Management staff for their hard work
UVA Senior Vice President for Operations Colette Sheehy visited Facilities Management teams earlier this month, thanking staff for their hard work throughout the COVID-19 pandemic.
"I just wanted to have an opportunity to see you all and thank you all on behalf of leadership for everything you have done the last 16 months or so," Sheehy told the group attending the July 19 visit at Runk Dining Hall. Three different sessions were scheduled around Grounds for staff members to attend.
Sheehy recalled the numerous efforts of the department, including the support of student quarantine and isolation housing, enhancement of the University's HVAC air filtration and installation of large, open-air tents, thousands of hand sanitizer dispensers, hundreds of hands-free door openers, 2,200 plexiglass barriers and more than 56,000 safety signs.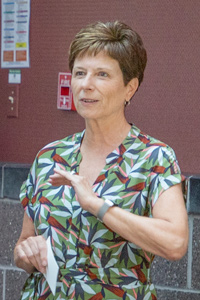 She also noted Facilities Management's support of the hospital's care of COVID patients and efforts to create additional negative pressure rooms within the University Hospital Expansion tower.
"And on top of it all, we had seven Final Exercises ceremonies and those events were an outstanding success," she said.
Sheehy encouraged employees to provide feedback to their supervisors regarding lessons learned over the last year and a half.
"We have all learned things over the last 16 months and I would encourage you to share those things with your supervisors, especially if you have found that what you had to do worked better than what you were doing before," she said.
---
Jane Centofante
Communications senior generalist
UVA Facilities Management
(434) 982-5846
janecentofante@virginia.edu