FM in the stands
January 25, 2021
Facilities Management staff are featured in the fan cutouts at John Paul Jones Arena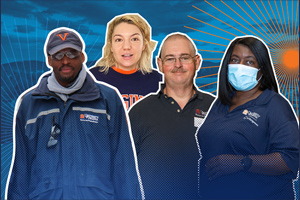 With the ongoing pandemic, attendance at John Paul Jones Arena was limited to family members of players and team staffers this season, until UVA Athletics launched its "Hoos in the Crowd" campaign, allowing fans to purchase photo cutouts of themselves to be placed in the stands.
The thousands of fan cutouts include a special section honoring University of Virginia staff who have made tremendous contributions to help our community during the COVID-19 pandemic. The For All Virginia fan cutouts include employees from Facilities Management as well as UVA Health, Student Financial Services and the Office of the Treasurer.
The Facilities Management team includes specialists and utility players who have made a tremendous difference in managing UVA's response to the COVID-19 pandemic.
In spring 2020, these employees developed and implemented enhanced cleaning protocols based on evolving guidance from the Centers for Disease Control (CDC) and industry experts, training custodial staff on best practices that remain in place. Throughout the summer, they designed, fabricated, and installed signs and barriers and rearranged furniture and fixtures to promote physical distancing across Grounds. They devised a plan to recycle window coverings from the renovation of Alderman Library when plexiglass for barriers became hard to find.
Facilities Management staff also installed thousands of hand sanitizer dispensers in hundreds of buildings in preparation for the return of students, along with more faculty and staff as the fall semester began. They studied airflow and HVAC systems and monitored evolving public health guidance to determine if changes should be made to reduce transmission of the virus indoors. They partnered with physicians on UVA's residence hall wastewater screening program and helped set up COVID testing sites and a UVA Health lab on Grounds. They coordinated the installation of tents across Grounds to provide students places to gather safely in small groups outdoors and spend time between classes. And during a time of great uncertainty, they kept the University running smoothly when many colleagues were working remotely.
Facilities Management would like to recognize the teams that supported the above efforts for their extraordinary contributions. The following employees were selected to be featured in the For All Virginia fan cutouts section: Stacy Barringer, Marip Bernard, Robert Bishop, Kelly Branch, Vibha Buckingham, Todd Campbell, Sona Chitadze, Jamyang Choedon, Svetlana Cupovic, Teresa Dillard, Moise Djunga, Nina Fortune, Brandon Garland, Katie Goodrich, Ryan Gumlock, Norman Hughes, Sheila Jones, Jamie Joyner, Doug Livingston, Abir Magar , Mike Merriam, Ken Moyers, Vincent Muscarella, Allen Peters, Corey Poole, Barbara Price, Stephanie Strother, Shawn Ragland, Cameron Ratliff, Ethan Rodriguez, Lydia Santangelo, Roi Seng, Warren "Hubba" Wood and Roland Zumbrunn.
UVA Today: Cutouts Add Personal Touch at JPJ
UVA Athletics: Hoos in the Crowd Fan Cutouts on Sale Now
---
Jane Centofante
Communications senior generalist
UVA Facilities Management
(434) 982-5846
janecentofante@virginia.edu