Aim Updates
Dear AiM Users,
We are excited to announce that enhancements are coming to AiM including new work types, categories, work codes, and enhanced permissioning that will improve data quality and security. The update will shift many users to FM's customer portal as a speedier way to request work orders and phases. If you are using an iOS device, it even allows voice to text to enter the description of your request.
Background
The initial AiM type, category, and work code structure was closely tied to a Maximo work order system that was implemented in the early 1990s. This allowed FM to operate Maximo and AiM in parallel for several years and gradually transition to AiM. FM is now free to create a work classification structure that meets today's needs and aligns with industry practice, primarily industry standard ANSI/APPA 1000-1-2017. A multi-departmental FM working group designed the updated data structure which was then vetted through an extensive review process. The diagram below summarizes this effort.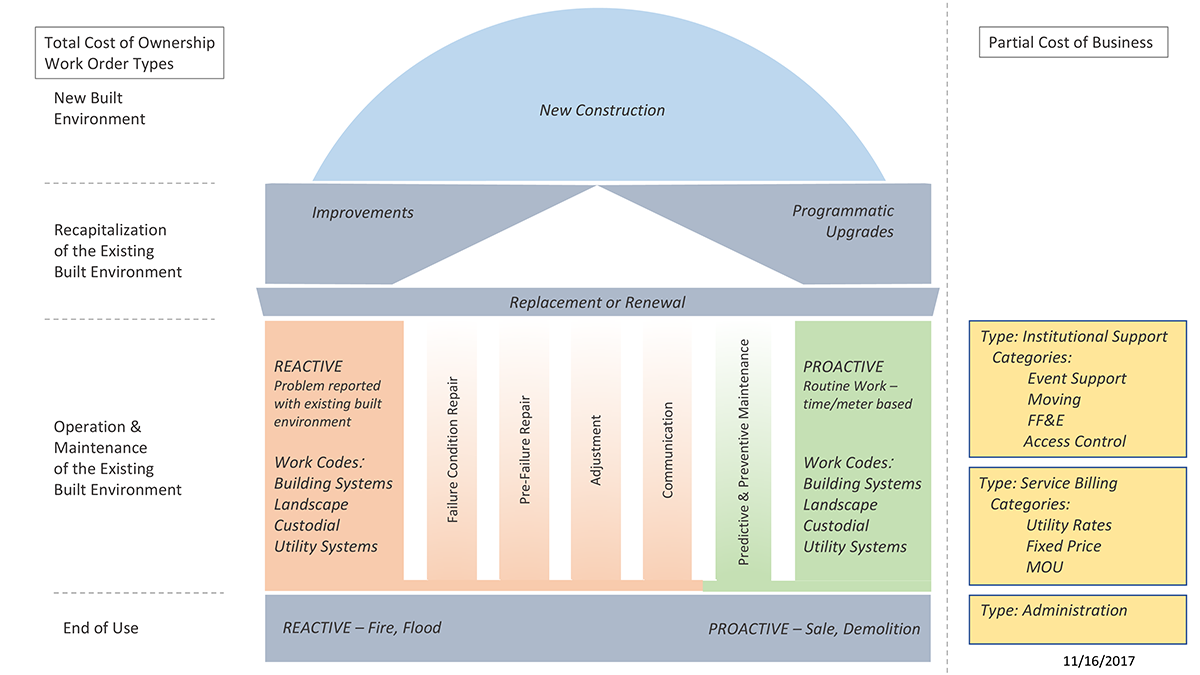 TCO Work Order Types - New built environment: new construction
Recapitalization of the existing built environment: improvements, programmatic upgrades, replacement or renewal
Operation and maintenance of the existing built environment: Reactive - Problem reported with existing built environment. Work Codes: Building Systems, Landscape, Custodial, Utility Systems. Failure condition repair; pre-failure repair; adjustment; communication.
Proactive - Routine work - time/meter based. Work codes: Building Systems, Landscape, Custodial, Utility Systems. Predictive and preventative maintenance.
Partial Cost of Business Type: Institutional Support. Categories:

Event Support
Moving
FF&E
Access Control

Partial Cost of Business Type: Service Billing. Categories:

Utility Rates
Fixed Price
MOU

End of use: Reactive - fire, flood. Proactive: Sale, Demolition. Partial Cost of Business Type: Administration
Click here to download the full Type, Category, Work Code structure.
Excerpts from ANSI/APPA 1000-2-2020