Work Management
Work management is the art of matching what someone needs with the best available resources to meet that need.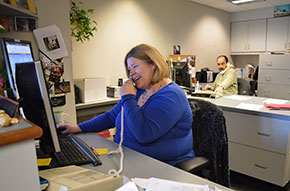 The Work Management department at Facilities Management plays a major role in meeting customer needs and providing an exceptional physical environment. This only happens in collaboration with people in many other departments. They may allocate budgets, account for costs, provide information systems, procure materials, manage risks, plan for emergencies, or deliver many other services to the institutional community.
Work Management supports the needs of the University through a variety of services that are constantly shaping to create the greatest value for customers and for the University. Services that are provided include:
Customer service
Customer relations management
Classroom improvement program management
Maintenance program management
Facility condition assessment
Materials receiving
Facilities Management fleet management
The service desk is the first point of contact for many customers. The customer relations managers proactively meet with customers to continuously improve working relationships, while paying special attention to changing customer needs and priorities.
Contact information
Customer service
Customer relations