Safety
We work diligently to create a safe work environment for over 1,200 Facilities Management employees.
Facilities Management understands that a safe work environment is essential to the health and well being of all employees.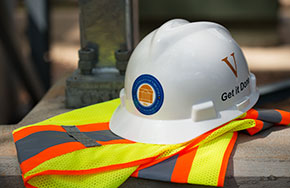 To insure that Facilities Management employees adhere to safe work practices while they are on the job, the Safety department staff educates employees on compliance measures and current safety codes and procedures.
Facilities Management employees are trained in asbestos awareness, chemical safety, fire safety, fall protection and accident prevention. Further training is job-specific.
If you see a safety issue on Grounds, please contact Brian Shifflett, safety program manager, at (434) 982-4776 or bks2g@virginia.edu.
Safety resources for faculty, staff and students

Laura Duckworth
Director
Phone: (434) 982-1551
Email: ld6pq@virginia.edu

Brian Shifflett
Safety Program Manager
Phone: (434) 982-4776
Email: bks2g@virginia.edu