Landscape
The visual appearance of the University's natural environment is our responsibility, and we take great pride in what we do.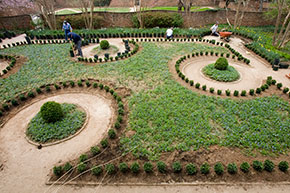 The Landscape division provides a full range of landscape maintenance and installation services including mowing, tree maintenance, turf maintenance, soil conservation and snow removal. We protect the safety of students, faculty, staff and visitors. In addition to supporting the exterior spaces on Grounds, we provide services to properties that the University owns.
We also support special events at the University, ranging from graduation to receptions for new faculty. You're invited to take advantage of our experience and resources by submitting an online service request form as soon as you decide to host an event.
Resources

Richard Hopkins
Superintendent
Phone: (434) 982-4668
Email: rmh3f@virginia.edu