Petroleum storage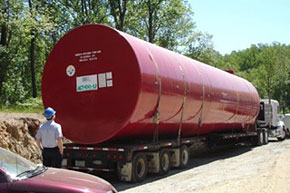 UVA Facilities Management is responsible for ensuring that petroleum products stored on Grounds are done so in a manner that is in conformance with current regulations, protective of the environment, and above all, accomplished safely. Facilities Management is ultimately responsible for the installation, operation and maintenance of most tanks on Grounds.
All tank modifications, installations, removals, and in place closures require a building permit issued by UVA's Building Code Official. Facilities Management is responsible for filing Virginia Department of Environmental Quality required tank registrations for regulated tanks.
Regulatory summary
Petroleum storage systems are regulated both by the federal government via the Environmental Protection Agency (EPA) and state government via the Department of Environmental Quality (DEQ). The university has over 130 petroleum storage tanks and containers that are subject to these regulations.
SPCC plans
The most encompassing petroleum storage regulation is the Federal Spill Prevention Control and Countermeasures regulation under 40 CFR 112. This regulation requires Spill Prevention, Control, and Countermeasures (SPCC) Plans to be implemented by organizations that conduct operations involving the storage, transfer, or consumption of oil or oil products, including but not limited to gasoline, diesel fuel, heating oil, animal fats and vegetable oils. Specifically, any facility that has an aggregate AST storage capacity greater than 1,320 gallons and/or a UST storage capacity greater than 42,000 gallons must have an SPCC Plan.
This regulation incorporates both aboveground storage tanks (ASTs), underground storage tanks (USTs), and other containers including 55-gallon and larger drums/containers. The University of Virginia (UVA) main campus and proximate locations in Charlottesville, Virginia are subject to these requirements.  UVA is in compliance with this regulation and maintains a SPCC Plan. The SPCC Program Manager at UVA Facilities Management maintains copies of the plan and distributes copies to SPCC Coordinators including Athletics, Parking and Transportation, and Facilities Management.
View a copy of the SPCC Plan (for security reasons, the locations of the individual tanks are not included)
The areas covered under the SPCC Plan includes, but is not limited to:
Spill Response Actions
Release Notifications
Spill Control Equipment
Personnel and Training
Tank and Piping Design
How to respond to a spill
As soon as a spill is discovered, the initial action should be to protect personal safety followed by preventing the pollutant from entering nearby drainage ditches or stormwater drop inlets. The person observing the spill should take immediate action to prevent further spillage and to confine the spilled material.
Please follow the procedures outlined in the Spill Response SOP in order to provide further spill control on site.
Emergency response contacts
UVA/local protection agencies
Environmental Health and Safety – (434) 982-4911
UVA SPCC program manager – Kristin Carter – (434) 982-5034
UVA Facilities Management Service Desk – (434) 924-1777
If a danger to the public health or safety exists, immediately notify the following:
University of Virginia Police Department – 911
City of Charlottesville Fire Department – 911
Petroleum storage tanks
There are specific federal and state regulations underground petroleum storage tanks (USTs) and aboveground petroleum storage tanks (ASTs). Further information on applicable requirements can be found below in the next sections.
Underground storage tank (UST) requirements at UVA
UVA is in compliance with DEQ UST regulations and our federally required SPCC Plan. Some aspects of our SPCC plan go beyond the UST regulatory requirements as a means to safeguard the environment and provide a higher level of service.
Regulated USTs
There are specific federal regulations, 40 CFR 280, covering a select group of underground petroleum storage tanks. Under the federal UST program, all UST systems used to store motor fuels must meet specific requirements designed to reduce the likelihood of a release to the environment.  At UVA, this applies to the USTs used to store fuel for fleet vehicles and emergency generators. Through 40 CFR 281, the Virginia DEQ has been given the authority to implement and enforce this regulation for which the State promulgated 9VAC25-580.
9VAC25-580 applies very rigorous requirements including but not limited to tank registration, design standards, leak detection, recordkeeping, corrective action measures, and operator training.  At UVA, the tanks covered under this regulation include the motor fuel USTs operated by Parking and Transportation and USTs serving emergency generators across Grounds. The DEQ conducts routine inspections to insure compliance.
At UVA, regulated USTs are the tank systems used to supply fuel to motor vehicles or emergency generators. These tanks must meet or exceed the minimum requirements under 9 VAC 25-580 and 40 CFR 280. Additional information on regulated UST requirements can be found in the Regulated UST Requirements document.
Because these requirements generally exceed the requirements of the SPCC Plan, the EPA states that these regulated USTs do not have to be covered under the facility SPCC Plan, however, for continuity and management purposes, UVA does include these tanks in the implementation of the SPCC Plan.
Unregulated USTs
Unregulated USTs are tanks that are used to store heating oil for use at the building where the tank is located. While technically these tanks are not regulated under the Federal and State UST regulations, they are regulated under UVA's federally required SPCC Plan. Under the SPCC Plan, all USTs at UVA must meet the following specific minimum design requirements, be routinely inspected, and maintained as necessary.  Further information can be found in the Unregulated UST Maintenance document.
Aboveground storage tanks (AST) requirements
All ASTs at UVA fall under the SPCC Plan and must meet all requirements set forth therein. Under the SPCC regulations, ASTs are defined as an aboveground tank or container having a capacity of 55 gallons or more and used to store petroleum products.
Construction and operations
Required components of an AST system include:
Double-walled
Overfill protection
Spill prevention
Leak detection – interstitial monitoring
Suitable foundation design
Security
Lighting
Collision protection
Monthly inspections
State regulated ASTs
The Department of Environmental Quality requires that tanks meeting certain guidelines be registered. Under 9VAC25-91-10 et seq. the DEQ regulates individual petroleum ASTs with capacities of 660 gallons or more at facilities with an aggregate storage capacity greater than 1,320 gallons.  The level to which a facility is regulated depends on the total volume capacity available at that facility. Facilities like UVA with an aggregate AST capacity below 25,000 gallons (only counting 660 gallon or larger ASTs) are only required to meet the provisions of Part II of the regulations including registration, notification and closure requirements. Emergency generator tanks that are part of the structure of the emergency generator, otherwise known as belly tanks or base tanks, are currently excluded from the aggregate AST capacity calculation according to 9VAC25-91-30.A.14. The few regulated aboveground storage tanks at UVA are those that are stand-alone tanks which are not integral to an emergency generator.
Unregulated ASTs
The majority of ASTs at UVA are not regulated by the DEQ. These are tanks that are integral to emergency generators. Both regulated and unregulated tanks are inspected monthly to make sure that all components are working properly and that the equipment is in excellent condition.
Emergency generators
Emergency generators installed at UVA must meet a number of environmental regulatory criteria including air emissions and petroleum storage regulations.
Regulatory requirements
Air regulation – All emergency generators must meet Federal air regulations under 40 CFR 63 Subpart ZZZZ and 40 CFR 60 Subpart IIII (Compression Ignition) or Subpart JJJJ (Spark Ignition).
Petroleum regulations – Diesel and gasoline fuels stored for use in emergency generators must meet Federal and State Regulations covering petroleum storage.  The applicable regulation depends on the tank configuration, i.e., underground, aboveground or base tank. In all cases the generator base tank must meet the requirements in UVA's Spill Prevention Control and Countermeasures Plan (SPCC). The main items include:
UST system requirements:
UST must be double-wall construction – ACT100U or equivalent
Underground piping must be double walled or in a chase
Underground metallic parts must be cathodically protected
Have intestinal monitoring port(s) for manual leak checks or have leak detection alarm installed, both lines and tank.
Have over fill protection device installed
Have spill bucket installed
Have locking cap
AST system requirements:
Have secondary containment – 110% capacity of main tank
ASTs must have leak detection with alarm
Have fuel gauge visible at fill port or over-fill alarm
Have spill protection container/bucket at fill
Should not be located immediately adjacent to storm drain
Security – locking access to fill and other plumbing
Tank decommissioning
Unregulated UST removal requirements
The removal of heating oil tanks and other unregulated tanks from the ground is to be accomplished following the same procedures as outlined for regulated USTs with the exception of soil sampling and DEQ notifications. UVA Facilities Management will visually examine the excavation and determine if soil sampling and/or soil removal, and DEQ notification will be necessary.
Abandonment in place (UST or AST)
A building permit issued by the UVA Building Official is required for all tank closures. Where it is deemed impractical by the UVA Code Official and Facilities Management, a petroleum storage tank can be abandoned in place. Financial reasons are not an acceptable reason to abandon a tank in place. For information on reasons why a tank can be abandonded in place and steps that are required to be taken to abandon a tank in place, please read the Abandonement In Place guidance document.
Temporary closure of USTs
Tanks that are currently in compliance with current regulations can be temporarily closed through a process that meets industry and regulatory requirements. Temporary closures are limited to one year. This is usually done to accommodate a renovation or construction work at a site where the tank will be put back into service after the work is complete. Consult with the SPCC program manager at (434) 982-4901 to get specific details on temporary closures.
Spill response
Spill response actions are detailed in Sections 7 through 9 of UVA's SPCC Plan. UVA maintains a spill response team capable of responding to petroleum and other types of chemical spills. However, as most spills will likely be discovered by and responded to first by other UVA staff, general spill response training is provided to key personnel located in the areas where petroleum products are stored and used.