Human Resources & Training
Facilities Management is a diverse organization of over 1,200 employees who make it their goal to provide environments that foster learning, research and growth at the University of Virginia.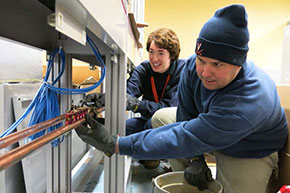 Responsible for daily grounds maintenance and on-going construction efforts, Facilities Management employees are skilled in fields that range from project management to recycling to building trades.
Facilities Management Human Resources & Training (HR&T) serves as a resource to employees at all levels of the organization in matters such as staffing, compensation, benefits, training and employee relations.
The HR&T staff helps employees interpret personnel policies set forth by the Virginia Department of Human Resources Management and University of Virginia Human Resources, guiding them through personal and professional matters while respecting each individual's right to confidentiality.
HR&T staff supports each individual in his or her educational pursuits and recognize many for personal and professional achievements through the Facilities Management Rewards & Recognition program. HR&T also acts as a vital resource in providing employees with news and information pertaining to changes within Facilities Management and the University.
HR&T publishes the Facilities Management newsletter, On Grounds, and offers regular updates and communications as needed.
Learn more about what we offer:
Need to contact one of our representatives? View our contact information »