Apprenticeship Program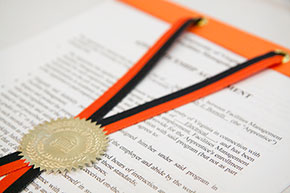 Established in 1982, UVA Facilities Management Apprenticeship Program offers highly motivated applicants an opportunity to learn a skilled trade through a combination of on-the-job training, technical education and classroom instruction in a four-year program.
The University's Apprenticeship Program was the first of its kind to be established by a state agency and has been a model for other programs. In addition to the success and longevity of the program, we are proud that the majority of graduated apprentices make a career at the University.
Each year, approximately six to nine new apprentices are brought into the program depending on business needs. Some of the trades represented in our program include: plumbing, electrical, carpentry, masonry, plastering and HVAC.
Each apprentice is a full-time University employee with salary and benefits. Apprentices train on the job with licensed journeymen, mentors, supervisors and others who help ensure the highest quality facilities management for the University and the Health System.
Applicants must be able to meet the physical requirements for their prospective trades. They must be a high school graduate or hold a General Education Development (GED) certificate and be at least 18 years of age by the time new apprentices begin work.