Apprenticeship curriculum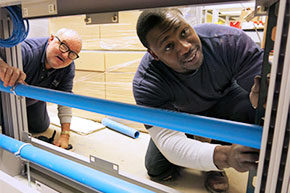 Each apprentice is responsible for successfully completing an outlined curriculum as a part of his or her apprenticeship.
Classroom instruction provides apprentices with information that complements their on-the-job training, giving them a well-rounded education and knowledge base as they learn their trade.
Classes are taken through the following institutions based on the apprentice's trade:
Generally, apprentices are scheduled for one class per semester for a total of six to eight classes to be completed during the four-year apprenticeship. Classes and books are paid for by UVA Facilities Management.