Apprenticeship application process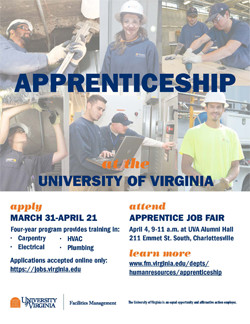 Apprenticeship Program applications will be accepted at the University of Virginia Jobs@UVA website from March 31-April 23, 2017.
UVA's program offers apprenticeships in carpentry, electrical, HVAC, masonry, plastering and plumbing. While exact openings vary from year to year, multiple trades are recruited annually.
The positions will be posted on March 31 on the Jobs@UVA website. Applications will be accepted online only from Friday, March 31 until Sunday, April 23.
All interested applicants can join us for our Informational Apprentice Job Fair set for Tuesday, April 4 from 9-11 a.m. at UVA's Alumni Hall, 211 Emmet Street South in Charlottesville.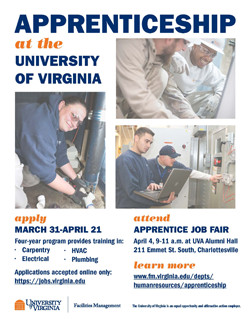 Apprenticeships are full-time, paid positions with UVA benefits. Apprentices learn their selected trade through a combination of on-the-job training, technical education and classroom instruction. This training is fully paid for by the University of Virginia.
Applicants must be at least 18 years of age and have a high school diploma or a General Education Development Certificate (GED) by August 2017. Applicants must be able to meet the physical requirements for their prospective trade.
The frequently asked questions and apprenticeship brochures may be of interest to prospective applicants who want to learn a trade while working as a full-time employee for UVA Facilities Management.