University Hospital Expansion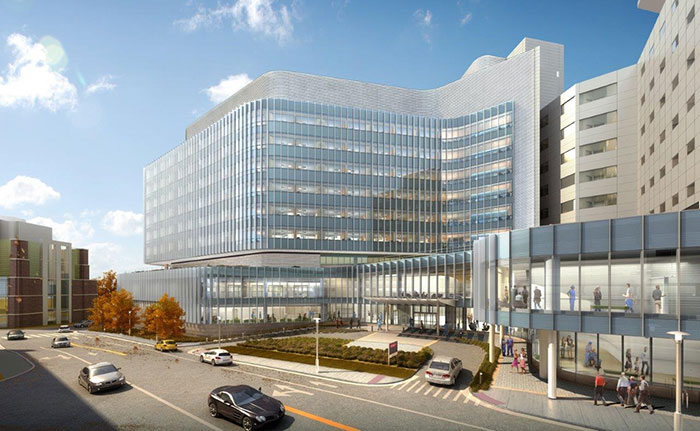 The University Hospital Expansion – Emergency Department, Operating Rooms, and Inpatient Bed Expansion will provide for the expansion of the current Emergency Department into the adjacent site that is the location of the old helipad no longer in use, expansion of the surgical services suite on the second level, development of a six story inpatient tower, and expansion of ancillary spaces on the lower level. The estimated new construction is approximately 425,000 square feet and the associated renovation is approximately 95,000 square feet. The work will encompass new drop off and entries into the Emergency Department for ambulance and ambulatory patients.
This work includes several enabling projects: relocation of the MRI's from the annex pavilion, underground utility work in Lee Street and Crispell Drive, protection of air intake louvers, interim ambulatory/ambulance drop off areas, and demolition of the existing MRI pavilion.
This project has a projected completion of the Plynth in Q4 of 2018, Tower in Q4 of 2019, and Renovations in Q4 of 2020.
Resources
In the media
UVA Hospital expansion continues to move forward »
The Cavalier Daily highlights the hospital expansion's progress.
Major expansion of UVA ER about to begin »
Daily Progress story detailing the background behind the expansion of the Emergency Department
Skanska's UVA Hospital Expansion »
Construction Global - Project Executive John Calvin discusses Skanska's aim to develop and expand UVA Hospital.
Major expansion of UVA ER about to begin »
Daily Progress story detailing the background behind the expansion of the Emergency Department
Contact information