Health System Education Resource Center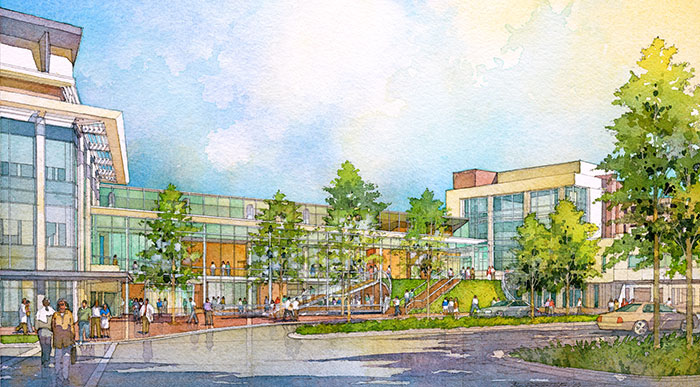 The Health System Education Resource Center project provides approximately 45,200 gross square feet for graduate medical and patient education, a relocated outpatient pharmacy, and a new centrally-located outpatient imaging center. These functions are directly responsive to the Health System's stated mission to provide excellence and innovation in the care of patients, the training of health professionals and the creation and sharing of health knowledge. It provides new conferencing space for resident and patient education and much needed dedicated resident workspace.
The project site is adjacent to the Emily Couric Clinical Cancer Center and the new elevator and stair tower for the Lee Street Garage, providing convenient access to the pharmacy for patients and staff leaving the Medical Center via the 11th Street or Lee Street garages, and it is adjacent to the main hospital bus stops. In addition, this project provides space for a new outpatient imaging center that significantly improves patient access and fulfills the need for diagnostic imaging services convenient to the Cancer Center and the Battle Building. This center, located in the lower level, will connect directly with the Couric Center main radiology area.
Resources
Contact information
Chris Pouncey, senior construction administration manager
(434) 981-3159
cp2xa@virginia.edu