Sustainability Council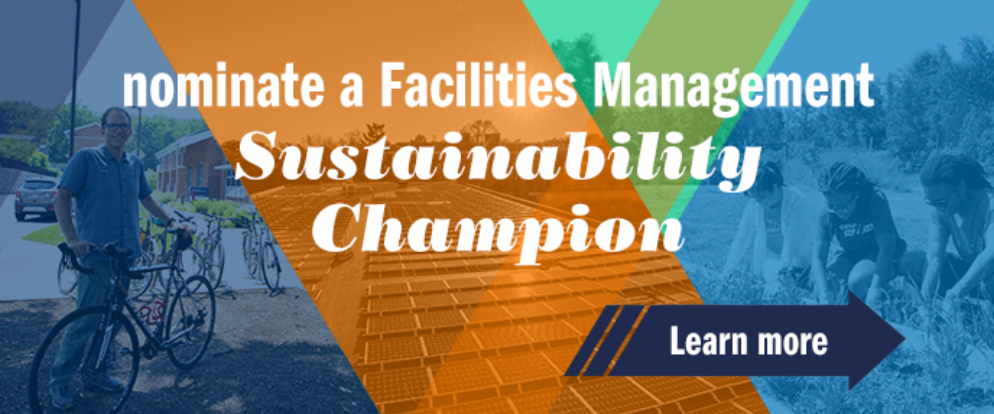 Facilities Management seeks to further develop our leadership in environmental stewardship for the university with sustainability embedded as a core value in our practices, our daily operations, and the actions of our individual staff. We strive to be an extraordinary example of a community within UVA working as a unified team toward achieving the sustainability goals of the University, and have formed the Sustainability Council to guide us. This council will serve an integral role in shaping the practices and understanding of sustainability throughout our organization and in connecting with the larger sustainability community at UVA and the Charlottesville region.
Our newest initiative – Facilities Management Sustainability Champions Recognition Program.
Vision
Inspire the Facilities Management community to commit to sustainability through active stewardship, engagement and discovery.
Members
Jamie Joyner (Co-Chair)
Dana Schroeder (Co-Chair)
Kristin Carter – Environmental Resources
Cheryl Gomez – Operations
Marcus Klaton – Apprentice Program
Travis Mawyer – Landscape
Tanyia Moore – Building Services, Housing
Ken Moyers – IT
Mike Payne – Maintenance
Ericka Rodgers – Energy & Utilities
Tracy Saul – Systems Control
Narges Sinaki – Safety
Tiffany Taylor – Building Services
Vinnie Vawter – Health Systems Physical Plant
Jesse Warren – Sustainability
Ex-Officio: Lela Garner
Guidelines
The council will be led by two chairs from different departments. There will be 12-15 members with representation from all departments. The ex-officio will be an employee in the Office for Sustainability.
At a minimum, the council will meet once per month for one hour. Each year, a work plan will be developed and implemented by the council. The initial work plan will include a strategy for Green Workplace certification for Facilities Management. An annual report to the Facilities Management chief facilities officer and directors will assess the work plan progress and will set recommendations for the following year's work plan.
Every year, half of the membership and one co-chair will be replaced with new members and a new co-chair who will serve a two-year term.
Goals
Build individuals' sustainability awareness and interest in taking action
Advance sustainability within Facilities Management's workplace operations and practices
Explore ways of further integrating sustainability into Facilities Management's departments and programs
Provide regular communication on key sustainability topics, on various levels and via various avenues
2018 work plan
Continue to implement UVA's Green Workplace program across Facilities Management workplaces
Continue to educate and inspire employees across all FM units through sustainability-related events, trainings, tours, demos, and conversations hosted by each member of the Sustainability Council with their own department, unit, or team
Coordinate content and distribution of monthly Core Topics Updates
Recognize Sustainability Champions across FM who have demonstrated a strong commitment to sustainability through their actions on Grounds and in our community
Zero waste departmental events – ice cream social, BBQ, etc.
Monthly sustainability column in the Facilities Management newsletter
Annual report to Facilities Management