Sustainability Champions
The Facilities Management Sustainability Council is excited to announce the Sustainability Champions Recognition Program. Modeled after the Occupational Health and Safety Champions, individuals can nominate Facilities Management employees for outstanding sustainability-related work. Champions will receive a cash reward and other prizes!
Submit a Nomination »
Program Description
The Sustainability Champions Recognition Program spotlights employees who exemplify Facilities Management's commitment to sustainability and have shown leadership to catalyze change for a more sustainable UVA. Anyone can nominate any Facilities Management employee at any level (no self-nominations, please). Actions big and small all matter! Using resources wisely, considering the environmental impact of our work or talking to others about the Facilities Management core initiative of sustainability are all actions that should be recognized and rewarded.
Do you know a coworker who always brings a reusable mug? Did your boss recently pilot a new waste reduction method? Is someone on your team an energy-saving hero? Do you have meetings with someone who is always asking how we can use resources more efficiently? Please nominate them so that we can continue to educate our Facilities Management community about what it means to be a Sustainability Champion and inspire others!
Nomination Methods
Use the nomination form
Call the Sustainability Office at (434) 297-7964
Tell a Sustainability Council member in person
Use the Core Topics feedback boxes in Skipwith or Leake
In your nomination, please include the nominee's full name, Facilities Management area and a few sentences about their sustainable actions, including specific examples. The Sustainability Council will choose the Sustainability Champion based on the nominee's impact as described by the nominator.
Past FM Sustainability Champions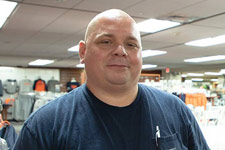 Shawn Ragland