Projects earn state community leader awards
August 4, 2021
Several UVA buildings were recognized for their leadership in green building design and construction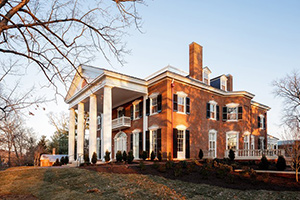 Each year, the Virginia chapter of the US Green Building Council (USGBC) convenes to recognize and celebrate the most innovative, green and sustainable new buildings across the state. This year, as with previous years, several University of Virginia buildings were recognized for their leadership in green building design and construction.
The historic renovation recently completed at the President's House on Carr's Hill was awarded USGBC Virginia's Rise to the Challenge Award. This award recognized the complex and collaborative effort required to refresh the historic house, which is listed on the National Register of Historic Places. Much care was taken to preserve the historical character of the building, which has hosted several U.S. presidents, while upgrading the building to be more efficient, sustainable, comfortable and inviting. The project's outcome will reduce the energy consumption and carbon footprint of the building by 40% and during renovation, over 95% of construction waste was diverted from the landfill through recycling and salvage efforts.
The recent baseball stadium expansion at Disharoon Park was also recognized by being awarded the Judge's Choice Award. Just in time for the UVA baseball team's nail-biting journey to the College World Series, this project expanded the existing stadium to enhance fan experience and player development. As one of the top attendance programs in the nation, this LEED Silver project increased seating capacity to 5,500 while prioritizing environmental stewardship. Compared to a typical stadium, Disharoon Park will reduce water use, energy use and carbon emissions by 30% or more and 94% of the project's construction waste was diverted from the landfill. An innovative LED field lighting system was also installed to provide premier field lighting conditions (to NCAA and ESPN television requirements) while minimizing light pollution to the surrounding environment.
Learn more about the USGBC Community Leader Awards >>
---
Ethan Heil
Sustainability and energy engineer
UVA Facilities Management
(434) 987-5734
heil@virginia.edu