Outstanding apprentice
February 17, 2021
Tyler Cameron honored with state award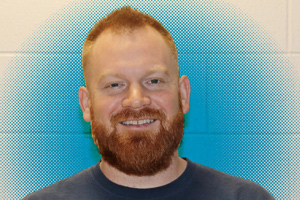 Tyler Cameron, plumber in Health System Physical Plant Zone 1, was recently honored as a 2020 Outstanding Apprentice by the Virginia Department of Labor and Industry.
Cameron graduated from the UVA Apprenticeship Program in 2020 and recently passed the state exam for his journey-level license. He was selected for his exceptional performance on the job, strong work ethic and leadership skills. In addition to maintaining an A average throughout all years of his classroom education, he has also been awarded outstanding performance awards through UVA Health, recognized as a Facilities Management Safety Champion due to his conduct after tracing and assisting in the neutralization of a natural gas leak and was selected as the UVA Apprenticeship Program's Class of 2020 Ed Ford Outstanding Apprentice Award recipient.
Cameron's strong communication skills and desire to learn have earned him a reputation as a superb team player both within the group of plumbers he supports, but also within other trade groups. He often supports communications between various trade groups working together on a project, ensuring that all groups are on the same page so work is completed smoothly and without delay.
The Virginia Department of Labor and Industry's Division of Registered Apprenticeship recognizes apprentices each year who have excelled during their apprenticeships in the areas of accuracy and efficiency, cooperation with supervisors and journeymen, initiative, leadership, decision-making ability, and outstanding accomplishments. Program sponsors nominate apprentices for this recognition who either completed or will complete their Apprenticeship Program during the current calendar year.
---
Jane Centofante
Communications senior generalist
UVA Facilities Management
(434) 982-5846
janecentofante@virginia.edu