Mindful driving
March 22, 2021
Students contribute to new FM training that will support safety and sustainability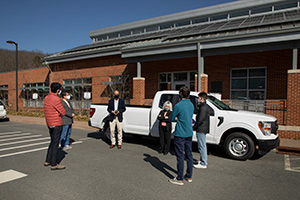 Facilities Management teams have been partnering with the School of Engineering to develop a new training course that will combine driving safely and boosting fuel efficiency.
Four UVA systems engineering students from the Department of Engineering Systems and Environment analyzed actual GPS data from a selection of Facilities Management Fleet vehicles as well as anonymous accident data from UVA Risk Management to help develop the training program. The students — Thomas Gresham, Josh Kim, James McDonald and Nick Scoggins — worked on this jointly funded capstone project under the direction of Ph.D. student Moeen Mostafavi, Associate Professor Michael Porter and Professor Brian Park.
The UVA Engineering team has been working directly with Transportation Operations and Fleet Manager Mike Duffy and Quality Assurance and Development Manager Sandra Smith to translate the data-driven training tips into the training program, "FM Fleet & UVA Engineering: Partners in Promoting Mindful Driving at FM."
The students analyzed a five-year history of accidents involving the Facilities Management Fleet (identifying information was removed from the data). Inattentiveness proved to be a significant cause of accidents and resulted in the "mindful" driver concept developed by Smith.
"Mindful driving is a suitable umbrella term for all facets of the program, including focusing on sustainable actions that support environmental and driver health," said Smith, who will co-host the training with Duffy. "What we've done is provide a customized program, based on real-life data and tailored to Facilities Management drivers."
The training program recently launched with an initial introduction to the course for several Facilities Management supervisors who have been asked to take on the role of "Mindful Driving Champions." The first official training program will take place on March 24 for approximately 30 employees. Successive programs will be offered for various groups of drivers over the next several months, in addition to a webpage with online resources.
Sandra Smith, who typically provides training for E&G Custodial Services, was asked to join the project to provide the engineering students with her professional training expertise.
"I can't stress enough how valuable Sandra has been to the Fleet's training initiative," said Duffy. "Without her exemplary skill and creativity in training design and delivery, we would be months, if not more, away from implementing this important training effort."
One new tactic included in the training is to "Take One More Minute," to complete a walkaround of the vehicle before you drive. "And to recognize the enormity of what [you're] doing; driving around students, staff and faculty," explains Duffy. "Really focus on that responsibility."
The training also includes multiple eco-driving tips, including the reduction of idling vehicles and harsh acceleration, which both can result in fuel savings and greenhouse gas emissions reductions. The students' project confirmed this data through the use of Derive Systems software, which was jointly purchased by Facilities Management and the School of Engineering. This software alters a vehicle's standard code to idle slower and shift differently to boost fuel efficiency. During the student's data collection process, the software was enabled in five vehicles and compared against data collected from five vehicles without the software.
Use of the Derive Systems software resulted in an almost six percent increase in fuel economy, saving each vehicle over 23 gallons of fuel and reducing 457 pounds in greenhouse gas emissions annually. This software is now enabled on 10 Facilities Management Fleet vehicles, with ongoing discussions to possibly expand to additional department vehicles as well as other fleets at the University.
"Through our joint efforts, the FM Fleet will be much further along in meeting UVA sustainability goals as outlined by President Ryan," said Duffy.
The development of this course will also contribute to the department's Sustainable Fleet Accreditation, which is renewed every two years.
---
Jane Centofante
Communications senior generalist
UVA Facilities Management
(434) 982-5846
janecentofante@virginia.edu