New Musculoskeletal Center Breaks Ground
UVA's new musculoskeletal center will provide comprehensive outpatient care, including sports medicine and joint replacement surgery as well as all orthopaedic specialty clinics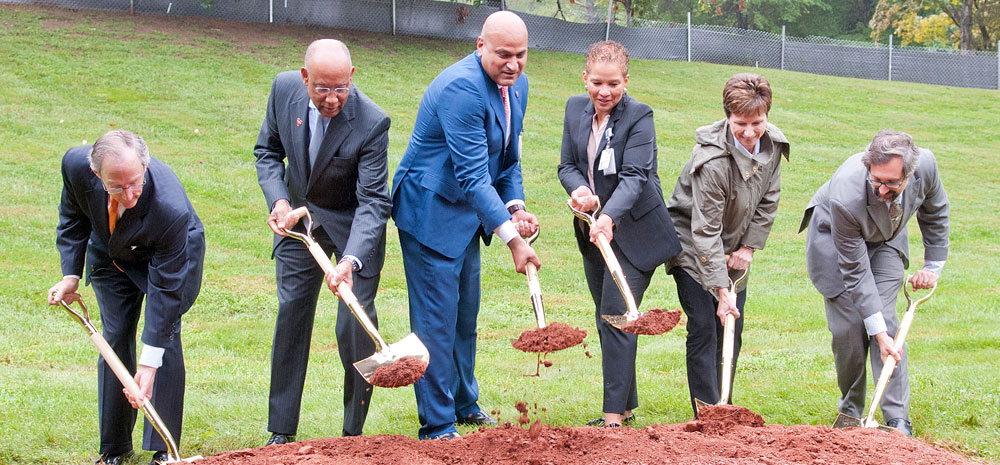 Earlier this month, Facilities Management and University of Virginia Health System staff celebrated the groundbreaking of the Ivy Mountain projects, which includes the Ivy Mountain Musculoskeletal Center and the Ivy Mountain Central Utility Plant. The new outpatient musculoskeletal care facility will be one of the largest and most comprehensive outpatient centers in the nation.
The 195,000-square-foot facility will include operating rooms, surgery support services, extensive imaging services, a robust clinical trials program, approximately 90 exam rooms for all major UVA Orthopaedic specialties, and consolidation of all administrative functions.
The projects — which are being managed by Capital Construction & Renovations Senior Project Manager Mashal Hartman — will be located on the site of the former Kluge Children's Rehabilitation Center on Ivy Road, surrounded by natural elements that will enhance the patient experience. Planning for the Ivy Mountain project started in 2016 and has involved countless hours of discussion and planning by a core group of leaders, in addition to more than 100 members of user groups. The center is expected to open to patients in early 2022.
Surgical and clinical services will be provided in one easily accessible location to optimize the patient experience. Clinical specialties include joint replacement, sports medicine, orthopaedic trauma, hand, spine, foot and ankle and prosthetics and orthotics.
The building is designed to accommodate growing patient demand for orthopaedic services and features six state-of-the-art operating rooms with a stand-alone sterile processing department; nine specially-designed, high-end extended recovery suites; the largest UVA imaging program outside the University Hospital that includes 10 digital radiography rooms, two MRIs, two fluoroscopy suites, standing CT and ultrasound rooms; rehabilitation spaces in the physical therapy gym; a 100-person capacity conference room; a retail and institutional pharmacy; a food venue for patients, visitors and staff; and a parking shelf adjacent to the building providing 350 spaces for both staff and visitor/patient parking.
The facility aspires to achieve a LEED Silver rating through various sustainable strategies and practices including adopting tactics for responsible water usage, improving energy performance, reducing greenhouse gas emissions and preserving the beauty of the existing site which will include pedestrian paths through a landscaped central garden.
To support the Ivy Mountain Musculoskeletal Center, and future developments on the site, the Ivy Mountain Central Utility Plant is being built in a parallel track to the project.
The combined project budget for both projects is $180 million. For both projects, the UVA CC&R project team is Mashal Hartman and John Marshall, the architect is ZGF Architects and the construction manager is Whiting-Turner.
---
Jane Centofante
Communications senior generalist
UVA Facilities Management
(434) 982-5846
janecentofante@virginia.edu