HSPP employee saves coworker
March 23, 2021
Hannibal Reid pushes Jordan Lamar out of way of car, gets hit instead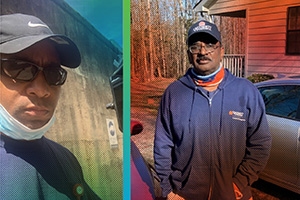 A Health System Physical Plant employee saved his co-worker's life last week.
While walking on the sidewalk along Lane Road near MR-4 on March 17, HSPP Zone 2 Trades Utility Senior Worker Hannibal Reid made the split-second decision to push Carpenter Jordan Lamar out of the way of an oncoming vehicle. Reid was then hit by the car, whose driver had lost control of the vehicle after suffering a medical emergency.
"At first it seemed so unreal…I thought it may have been a joke, and the car would swerve away, but then I just knew Lamar was in danger, so I pushed him out of the way," explained Reid, who was treated for his injuries at UVA Hospital and has since been released. He continues to recover at home and is being monitored to determine the extent of his injuries.
Lamar, who has worked at HSPP for 12 years, was walking with Reid discussing the work orders of the day and never even saw the car coming.
"I am very thankful Hannibal was able to look up and see the car and push me out of the way," Lamar said. "I'll be always grateful for that. I'm not a young person…it is my desire to retire soon, and no doubt, Hannibal maybe was thinking of that."
Reid said he believes his co-worker would have done the same for him if the situation were reversed, and that Lamar helped ensure he was cared for after the accident.
"[Lamar] says I helped him out, but that gentleman helped me out a lot that day," said Reid. "In my eyes, he was my hero — keeping me calm, because I was in a lot of pain."
Reid, who joined HSPP last year, says he has been touched by the messages and phone calls he has received from his fellow co-workers.
"The UVA family has reached out to me and a lot of people have contacted me, it really touches my heart," he said.
CBS19 News: Man pushes friend out of way of car, gets hit instead
---
Jane Centofante
Communications senior generalist
UVA Facilities Management
(434) 982-5846
janecentofante@virginia.edu