Green hacking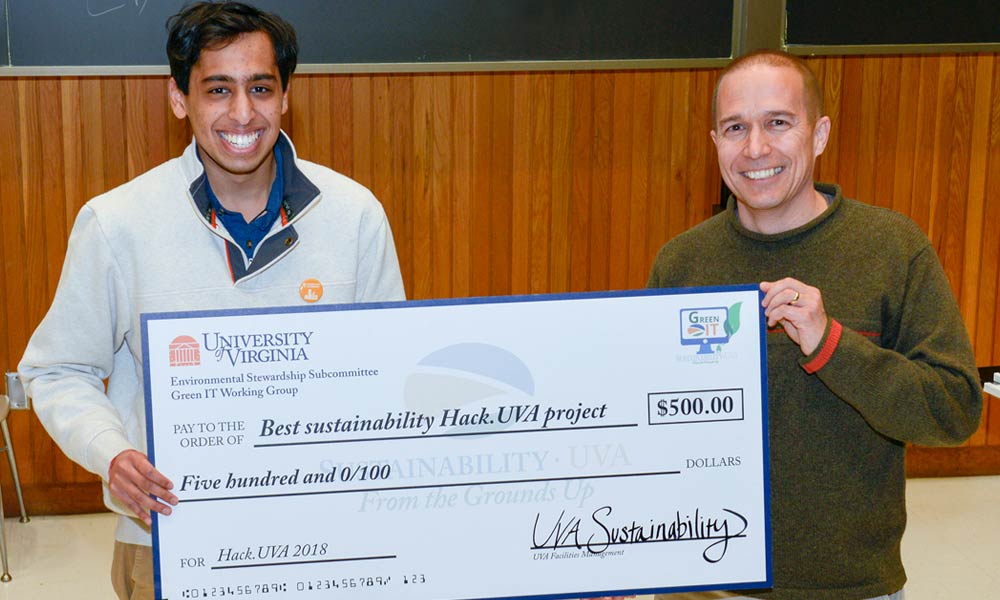 Hackathon programmers look at sustainability in IT
During the annual Hack.UVA event on March 24-25, students had 24 hours to create a software or hardware project (such as a web or mobile application) from scratch. A variety of sponsors offered up prizes for apps that achieved specific goals, including a $500 prize for the project that best demonstrated sustainability in IT. This prize, funded by the UVA Sustainability Plan, was sponsored by the Environmental Stewardship Subcommittee's Green IT Working Group.
A total of 850 students from 180 universities participated in the UVA event. Students worked in teams, presenting 80 projects competing for the different prizes.
The best sustainability project was awarded to Yash Jain, a freshman at Virginia Tech, for his app that analyzes software code for energy efficiency. The app compares code written by the user to the optimal code for efficiency, determining potential energy cost savings when using the optimized code.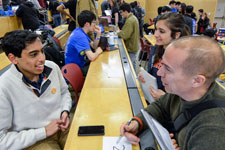 When programming code, efficiency is determined not only by the length of time it takes to complete a process within the program; but also by the percentage of CPU usage, which refers to how much of the computer or mobile device's processing capacity is in use.
In one example offered by Jain, the app determined that the non-optimized code was 50 times less efficient than the optimized code. The non-optimized code would not only result in a slower performance, but require more energy consumption as well, either of a mobile device's battery or, if using a desktop computer, of a building's electricity.
The app is useful for educational purposes, teaching programmers best practices for coding, as well as for use as a plugin for common developer tools in order to assess code for efficiency as it is written.
Judges included multiple staff members from Facilities Management, including Technology Officer Chris Smeds and UVA student Julia Conte, who are co-chairs of the University's Green IT Working Group, and Office for Sustainability Assistant Lela Garner.
Involvement in the hackathon event helped the Green IT Working Group engage students who are passionate about technology and sustainability and spread awareness of the importance of reducing the environmental impact of computing.
"I don't think many of the students had ever thought of the connection between computational efficiency and energy efficiency," said Smeds. "From an awareness standpoint, it was great to see them start thinking about how they can work to achieve sustainability goals with technology."
---
Jane Centofante
Communications senior generalist
UVA Facilities Management
(434) 982-5846
janecentofante@virginia.edu