Green Fleet
The University of Virginia Facilities Management Fleet recently earned the Sustainable Fleet Accreditation, recognizing its efforts to build a fleet of cleaner and more sustainable vehicles.

The University of Virginia Facilities Management Fleet recently earned the Sustainable Fleet Accreditation, becoming the only active university fleet in Virginia to receive this designation.
"It is exciting to be recognized for our efforts to reduce the University of Virginia's carbon footprint and lower greenhouse gas emissions," said Transportation Operations and Fleet Manager Michael Duffy. Duffy initiated the department's pursuit of the accreditation which recognizes the department's efforts to build a fleet of cleaner and more sustainable vehicles.
UVA is the sixth active university fleet in the U.S. to receive the accreditation, a joint program between the National Association of Fleet Administrators (NAFA) and Calstart. NAFA, the world's largest not-for-profit membership association for individuals who manage vehicular fleets for their employers, and Calstart, a nonprofit organization working to build a high-tech clean transportation industry, partnered to create this program which defines objective, meaningful standards and guidelines to reduce the environmental impact of fleet vehicles.
"The University of Virginia Facilities Management has successfully demonstrated that…real, meaningful progress is being made toward reducing [the fleet's] total emissions and the negative environmental impact made by extraneous carbon fuel usage," according to a statement released by NAFA and Calstart. "Your fleet is one of the true pioneers of this program."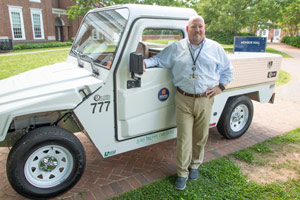 In the past year, the department has reduced its gasoline consumption by 3,200 gallons and its carbon emissions by 28 metric tons by replacing 10 of its older, less efficient vehicles with electric and hybrid vehicles. The team also reduced the department's number of older diesel vehicles by 50% down to just 13, resulting in a reduction of 2,500 gallons of diesel and 26 metric tons of emissions.
Facilities Management's electric vehicles produce zero emissions while driving, have a range of 150-170 miles and charge in just seven hours. The department also uses hybrid vans and box trucks, which use up to 25 percent less fuel, reducing carbon emissions and maintenance costs. The transition to using alternative fuel vehicles has involved some challenges as these vehicles cannot carry some of the heavy tools and equipment needed by some Facilities Management teams for specific jobs.
The vehicles also tend to have higher upfront costs than their conventional counterparts requiring cost analysis by the fleet management team. To examine cost efficiency, staff members track the miles per gallon performance using GPS analytics systems, which automatically record data about vehicles' mileage and fuel consumption.
The fleet management team's push to find new, innovative ways to reduce its carbon impact is part of a broader University-wide commitment to protect the environment. UVA's five-year Sustainability Plan, which launched in April 2016, identifies 23 goals and over 100 actions that strive for the vitality of our environment, health, and investments, both locally and globally.
"Reducing our fleet's emissions helps move the University toward meeting those goals, including a commitment to reduce greenhouse gas emissions by 25% below 2009 levels by 2025," said Duffy.
The route to achieve this accreditation over the past two years involved multiple departments within Facilities Management, including the department's leadership as well as staff members within Maintenance, the Office for Sustainability, Environmental Resources and Construction & Renovation Services.
"Collaboration was instrumental to the accreditation," Duffy said.
Sustainability Program Manager for Buildings & Operations Jesse Warren and Environmental Projects Manager Jess Wenger assisted with the development of a Sustainable Fleet Plan, which includes data examining the impact of reducing fuel consumption and emissions and was required for the accreditation process. Fleet Service Coordinator John Jordan and Newcomb Zone Manager Jamie Joyner worked with Duffy to research the use of electric vehicles at other universities and Construction & Renovation Services staff installed the infrastructure necessary to charge electric vehicles.
The fleet management team is continuing to examine the fleet's fuel consumption and emissions on an ongoing basis and is planning for additional alternative energy vehicles to join the fleet in the future.
---
Jane Centofante
Communications senior generalist
UVA Facilities Management
(434) 982-5846
janecentofante@virginia.edu