Founder's Day ceremony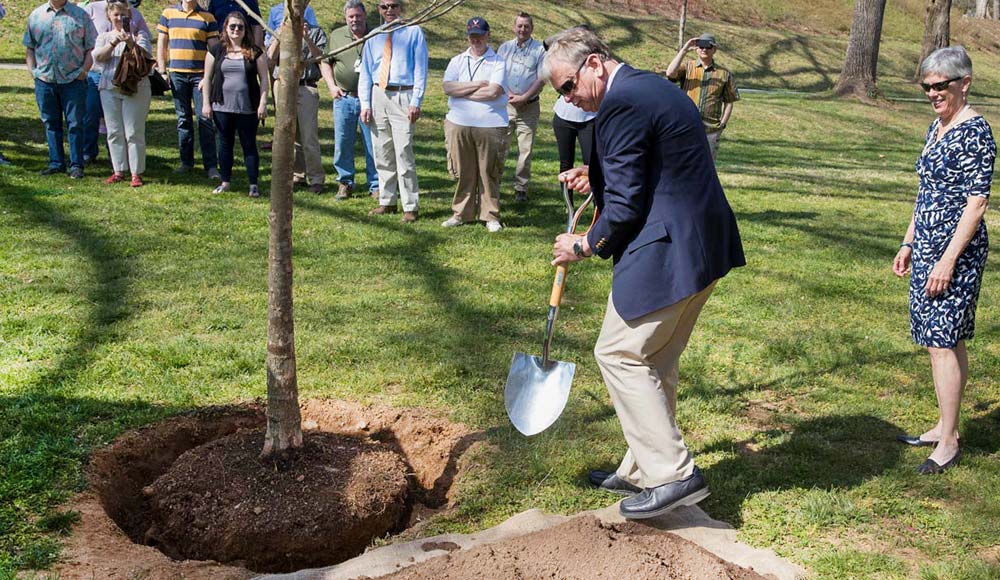 On Friday, April 13, the University marked founder Thomas Jefferson's 275th birthday with a selection of events, including a tree-planting ceremony honoring retiring Associate Director for Environmental Resources Jeff Sitler.
President Teresa Sullivan presided over the tree planting, an annual Founder's Day event honoring of an individual who has made significant and lasting contributions to UVA. Sitler recently retired from UVA after 21 years of service. He led innovative changes in the University's stormwater management practices and worked to educate students and tour groups about green infrastructure and water quality issues.
Sitler first came to UVA in 1998, joining the Environmental Health and Safety team, where he was first tasked with maintaining UVA's environmental compliance with the Environmental Protection Agency's Clean Water Act. Over time, he built a team that established new approaches to stormwater management at UVA.
The University's first major stormwater infrastructure project was the Dell pond installed in 2003, which received first place in the 2017 Best Maintained BMP category by the Chesapeake Stormwater Network. Over the years, Sitler provided regular tours of the Dell to many student, faculty and staff groups.
The sycamore tree planted in Sitler's honor is located west of the Dell tennis courts. The tree species and location were chosen by UVA's Arboretum and Landscape Committee.
---
Jane Centofante
Communications senior generalist
UVA Facilities Management
(434) 982-5846
janecentofante@virginia.edu