Expanding care
Hospital ED expansion begins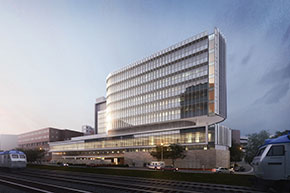 The University Hospital Expansion (UHE) project will provide for an expanded Emergency Department as well as additional operating rooms and inpatient beds in order to meet the needs of the growing Charlottesville area. Several enabling projects are underway to support the project, which will construct a 425,000-square-foot building to the east of the hospital on the corner of Lee Street and Crispell Drive.
The building — which will be located on the site of the ground helipad that is no longer in use — will connect floor-by-floor with the current hospital, providing for new drop-off and entries into the ED for ambulance and ambulatory patients, expansion of the surgical services suite on the second level, development of a six story inpatient tower and expansion of ancillary spaces on the lower level.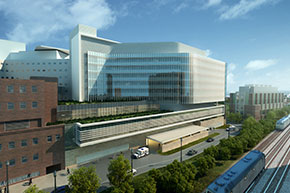 The project — estimated to cost around $400 million — is one of the largest and most complex in the University's history. Numerous enabling projects, including the relocation of the MRI pavilion and underground utility work along Lee Street and Crispell Drive, have involved multiple members of the Capital Construction & Renovations Health System team, including Senior Construction Administration Manager Chris Hoy, Construction Administration Manager Mark Humbertson, Senior Project Manager Chris Pouncey and Project Coordinator Rachelle Kolesar, who are managing the UHE project specifically. University Building Official staff and Health System Physical Plant administrators continue to review thousands of pages of documentation for the project, including drawings and specifications.
The project team has implemented the use of new technology to make all documents available electronically, in addition to the use of four-dimensional models. The project requires alternate traffic patterns surrounding the hospital and different drop-off locations for patients. Currently, valet services are available 24/7 in the drop-off area for Emergency Room patients.
The architect is Perkins + Will and Skanska USA Building, Inc. is the construction manager. Projected completion of the base plinth building is late 2018, the tower in late 2019 and renovations of existing spaces in late 2020.
Visit the project's webpage for up-to-date information »
Jane DeGeorge
Communications Generalist
Human Resources & Training
UVA Facilities Management
(434)982-5846
jad2tm@virginia.edu