Engineering Excellence

Energy & Utilities team receives award for hot well project
UVA Facilities Management and CHA Consulting recently received a 2018 Merit Award from the American Council of Engineering Companies of Virginia during their Engineering Excellence Awards on February 1.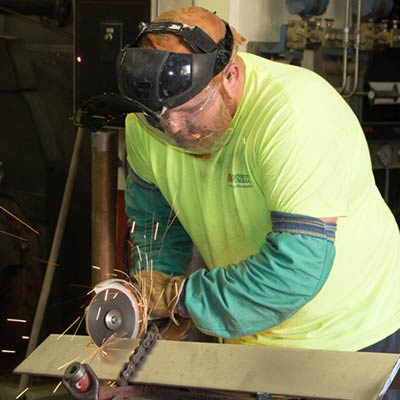 The award honored the team's work to provide the engineering and construction oversight of an emergency project, which replaced the hot well tank within the Main Heat Plant. The hot well tank receives all of the steam condensate returned from the many Academic, Research and Medical Center buildings connected to the central steam distribution system.
This critical project required a quick turnaround as this single system serves many buildings and repairs can only take place during the summer months when condensate return flow is at a minimum. The UVA Energy and Utilities team discovered that the leak in the hot well tank occurred due to corrosion from brine, which was the backwash from the water softeners in the open floor drain. The team designed a new hot well of more resistant, higher-grade stainless steel and rerouted the brine to the sanitary sewer in its own pipe.
Team members quickly designed and installed a temporary bypass system that was used during construction to prevent any interruption in service to the University. The project was completed successfully, with most of the work performed by the Utilities team, without any injuries.
---
Jane Centofante
Communications senior generalist
UVA Facilities Management
(434) 982-5846
janecentofante@virginia.edu