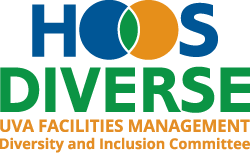 Welcome to Hoos Diverse!
Facilities Management embraces diversity, inclusion and equality within the University and those characteristics that make everyone unique. Join the Facilities Management Diversity and Inclusion Committee by getting involved and utilizing the resources compiled on the Hoo's Diverse webpage to champion diversity and inclusion within Facilities Management.
View the 2018 Cultural Values Assessment Survey Results

View the 2015 Facilities Management Diversity Survey results

Diversity statement
Creating a culture which celebrates the value of each Facilities Management member through engagement and education.
The Facilities Management Diversity Team defines diversity as those characteristics which make each person unique.
FM Ice Cream Social 2017
Background
In 2012, Facilities Management held workshops to address the four areas identified by the staff survey to improve employee satisfaction. The Diversity Momentum Action Team was created to initiate action to drive positive change. Over the course of two years, the team met with diversity experts across UVA to develop key recommendations to help initiate positive change within Facilities Management's workplace. The Facilities Management Diversity Council was created in December 2013 to continue the efforts started by the Diversity Momentum Action Team, and to foster greater respect and understanding of diversity within the organization.
Facilities Management Diversity and Inclusion Committee
Members
Caitlin Murtaugh, co-chair
Rollie Zumbrunn, co-chair
Sathish Anabathula
James Keller
Rona Rose
Cheryl Gomez
Lester Jackson
Stephanie Jimenez
Don Sundgren
Maria Rincon-Lizarazo, student representative
Employee Engagement Representatives
The Facilities Management Diversity and Inclusion Committee has started a departmental-wide initiative to have Employee Engagement Representatives throughout all areas of Facilities Management. This program supports the committee's goals to create an engaging environment that celebrates employees, improve supervisor-employee relationships and provide employee support. The representatives are employee volunteers and diversity committee members who keep employees in their assigned areas aware of ongoing programs and opportunities. They also listen to feedback from employees about what could be done to improve employee engagement and inclusion.
Members
Cheryl Gomez – Facilities Management directors
Caitlin Murtaugh – Facilities Planning & Construction
Lester Jackson, Jamel Smith and Alex DiGiacomo – Health System Physical Plant
Elsa Sherrill, Nina Morris and Richard Covington – Leake Building and Annex
Sathish Anabathula, June Bates, John Carey, Rich Hopkins, Stephanie Jimenez and Mike Merriam – Operations
Brian Pinkston, Amanda Farmer and James Keller – Project Services
Guidelines:
Diversity team members will serve for two years with no successive terms
New members will be nominated by the team
The team will have representation across the Facilities Management organization
Representation from the CFO office is required
Rotation of members will occur every December
The members will appoint two co-chairs every December
2015-16 work plan
Finalize and distribute Facilities Management diversity calendars
Sponsor first UVA Facilities Management Girl's Day
Increase committee visibility through Employee Engagement representatives
Provide outreach through Safe Space training, Facilities Management's ice cream social and annual BBQ, and Hoos Diverse webpages